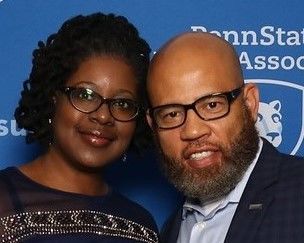 ERIE, Pa. — Three families with ties to Penn State Behrend have created scholarships that will support educational equity at the college. Their endowed gifts, which secured matching support from the University's recently concluded Educational Equity Matching Program, will directly support students whose gender, race or cultural background contributes to the diversity of Behrend's student body.
"Diversity is an essential element of a college community and the student experience," Chancellor Ralph Ford said. "When we learn and work alongside those with different lived experiences, we broaden our view of the world. The gifts of these generous donors and the commitment behind those gifts will benefit not only the scholarship recipients, but also the many students who will engage with them throughout their time at Behrend."
Sam Epps, a 1995 graduate of Penn State Behrend, knows how much a scholarship can help: He and his wife, Zabrina, both benefited from scholarships and other financial aid while in college.
The couple has created the Zabrina and Sam Epps Educational Equity Scholarship, which will provide similar support to a new generation of students.
Sam Epps is the political director of UNITE HERE Local 25, the union of hotel, restaurant and casino workers in the Washington, D.C., metro area. He also serves on the Alumni Council, the governing board of the Penn State Alumni Association.
"Education is an economic equalizer," he said. "This is the right time to invest in students, especially those in traditionally underrepresented communities. No matter where they come from, their gender, their race, or any other differences, we want students to know and feel that they belong in college, on campus, and at Penn State."
Nishi Gupta, a 1982 graduate, echoed that sentiment when she created the Gupta Family Educational Equity Scholarship. "I feel very strongly about providing educational opportunities to every person who wants them," she said.
Gupta retired from IBM in 2016. The Gupta family scholarship is her second gift to Penn State Behrend.
"I hope that the scholars who benefit from it and other students make an effort to proactively befriend those who may not be part of an existing community and discover that every person is an individual with unique attributes," she said.
The third gift, the Simoneau Family Educational Equity Scholarship, was created by Robert "Bob" Simoneau, a former NASA researcher who later served as director of the School of Engineering and Engineering Technology at Penn State Behrend.
Simoneau and his late wife, Donna — a teacher and social worker who focused on children with special needs — raised nine children. "We're a large, complex, multi-racial family," he said. "We are very pleased that Penn State has put some of its resources toward supporting student equity and need, and we're proud to support the effort."
These gifts will advance "A Greater Penn State for 21st Century Excellence," a focused campaign that seeks to elevate Penn State's position as a leading public university in a world defined by rapid change and global connections. With the support of alumni and friends, "A Greater Penn State" seeks to fulfill the three key imperatives of a 21st-century public university: keeping the doors to higher education open to hardworking students regardless of financial well-being; creating transformative experiences that go beyond the classroom; and impacting the world by serving communities and fueling discovery, innovation and entrepreneurship. To learn more about "A Greater Penn State for 21st Century Excellence," visit greaterpennstate.psu.edu.
Contact
Robb Frederick
Assistant director, news and information, Penn State Behrend