Ricardo Estremera hopes to represent Puerto Rico in 3,000-meter race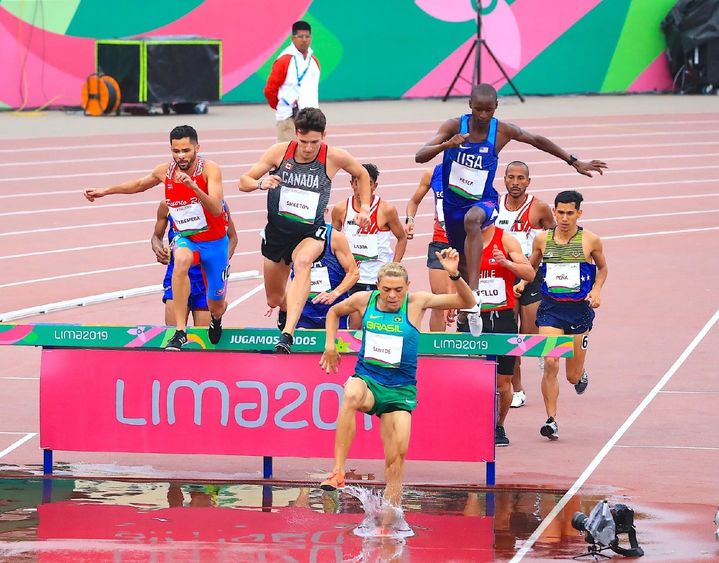 In Missouri, in a tune-up race for the Tokyo Olympics, Ricardo Estremera landed awkwardly on his right foot. He runs the 3,000-meter steeplechase, which originated in England, where runners jumped walls and crossed streams as they raced to the church one town over.
Estremera knew something was wrong, but he ran through it, pushing forward on adrenaline. After the race, during his cool-down, he could barely walk.
"The pain was unbearable," he said.
He had strained his Achilles tendon, which connects the calf muscle to the heel. If it tears, his running career will likely be over. Estremera, an assistant teaching professor of Spanish at Penn State Behrend, is 35. That's retirement-home age for most Olympic-caliber runners.
So he took a break from training. He skipped the Olympic trials, hoping -- though there is no guarantee -- that his world ranking will still put him on Puerto Rico's Olympic team.
The weeks ahead will be critical. If he does run, he might aggravate the injury. Or maybe he doesn't. Maybe his body is so tuned to the track and the jumps and the water in the pit that he earns a spot on the Olympic team and finds himself flying once more to a race, this time in Tokyo, which is the only track that matters now.
A run through water
Olympic steeplechase is a race built on adjustments. It's a track run, but each lap includes four hurdles and one water jump. Those obstacles disrupt the runners' pace, particularly near the end of the race, which covers nearly two miles.
"It's not like a 5K, where you try to maintain a certain pace," Estremera said. "It's more like a cross country race, where you have hills and slopes and different surfaces. Your speed matters, but how well you recover after the jumps is what puts you out in front."
The hurdles are 36 inches high. They're long and braced, like a balance beam.
"If you hit one," Estremera said, "it's not going down. You are."
The water jump is a sloped pit dug just behind a hurdle. There, runners jump for distance. Estremera lands near the far edge, with one foot half-submerged; the other never gets wet.
"If your technique is good, the water doesn't really affect you," he said. "Not in the summer, anyway. It was different when I was an undergraduate, running outdoors at the end of March, with snow on the ground. When you hit that water, the cold shot all the way through you. It was awful."
He was a junior in college, at the State University of New York at Albany, when he first ran in the event. He was a distance runner – an NCAA Division I champion in cross country. His coach, hoping to add a few points in a close match for the America East Conference Championship, asked him to run the steeplechase.
"I had never gone over a hurdle in my life," Estremera said.
His first race was at the RPI Invitational. He won. Two days later, at the conference championships, he finished third.
"In a weekend, my time improved by 26 seconds," he said. "My coach saw that and said, 'This is your event.'"
As a senior, he set the school record in steeplechase three times. He placed 11th overall, and eighth among all Americans, at the NCAA Outdoor Track & Field Championship. That won him a slot on Puerto Rico's national team.
A costly fall
Estremera missed the cut for the 2016 Olympics by 2.7 seconds. He fell in the qualifying run, and he couldn't make up the time.
"It's hard to move past something like that," he said. "You work for years for just one race, and when it slips away … that's devastating."
He immediately began training for 2020. He ran daily, logging as many as 100 miles per week. He won the silver at the Central American and Caribbean Championships. He traveled to invitation races in Florida, Texas and California, and then to Spain, Belgium and France.
The pandemic upended everything. The Olympics were postponed. Estremera built a gym in his basement – a DIY squat rack with 4x4 lumber and big weight plates he bought on Facebook Marketplace.
He trained twice a day. He cut back on his mileage but stepped up the intensity, running faster. He registered for the few elite races that were still on the schedule.
He fit them around his academic commitments – teaching, meetings and completing his doctorate, which centers on the sociolinguistics of immigrant families.
"I live two lives," he said. "I have an academic life, and I have a life in athletics. They are very different worlds, but the combination gives me balance. I need to be able to move from one to the other. When all my time and focus is on athletics, I stop liking it in the same way."
For now, however, the focus is entirely on his right foot. The Olympic games open July 23. He needs to be training.
"I'm rested," he said. "I just have to test it and see how it goes. I'm staying positive. I have trained too hard, for too long, to just walk away from this."
Contact
Robb Frederick
Assistant director, news and information, Penn State Behrend