Mars rover engineer and first female NFL official also will be part of 2021-22 program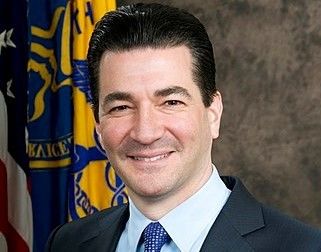 Dr. Scott Gottlieb, the former commissioner of the U.S. Food and Drug Administration (FDA), will visit Penn State Behrend as part of the college's 2021-22 Speaker Series. He will discuss the development and distribution of COVID-19 vaccines, the resistance to vaccine mandates, and the precautions that can better prepare the nation for the next pandemic.
Gottlieb served as FDA commissioner under former President Donald Trump. He previously worked as deputy FDA commissioner for medical and scientific affairs and as administrator of the Centers for Medicare and Medicaid Services.
His Nov. 11 talk at Behrend begins at 7:30 p.m. in McGarvey Commons, in the college's Reed Union Building. The program is free and open to the public.
"The Speaker Series provides opportunities for those in our campus community and beyond to hear firsthand from individuals who are shaping our culture," said Ken Miller, senior director of administration and student affairs at Behrend. "Scott Gottlieb is one of the nation's most influential public health experts, and his experience and perspective are important at this point in the pandemic."
The Speaker Series is designed to spark conversation and provoke thought about the most compelling issues and events in our society. In addition to Gottlieb, the 2021-22 Speaker Series will feature:
Moogega "Moo" Cooper, a NASA engineer who contributed to the Mars rover "Perseverance" mission. Her work at NASA's Jet Propulsion Laboratory ensured that the rover did not carry earthly contaminants onto Mars. Cooper will visit Behrend Oct. 18.
Olivee May, an eSports broadcaster who produces interviews and sideline reports for the North American League of Legends Championship Series. May, who also has worked with star players and team staff at Riot Games and Blizzard Entertainment, will visit Behrend Jan. 24; her talk will include discussion of the college's new eSports team, which competes in the Eastern College Athletic Conference.
Sarah Thomas, the first female National Football League (NFL) referee. Her hat, whistle and flag from a 2015 game between the Kansas City Chiefs and the Houston Texans are on display at the Pro Football Hall of Fame. In February, Thomas became an officiating MVP: She was part of the team that refereed Super Bowl LV. She will visit Behrend April 5.
The Speaker Series at Penn State Behrend is made possible by the college's Student Activity Fee, the Division of Student Affairs and the Harriet Behrend Ninow Memorial Lecture Series Fund. For more information, visit behrend.psu.edu/speakerseries.
Contact
Robb Frederick
Assistant director, news and information, Penn State Behrend