Penn State food pantries are supporting students and making it easier to receive assistance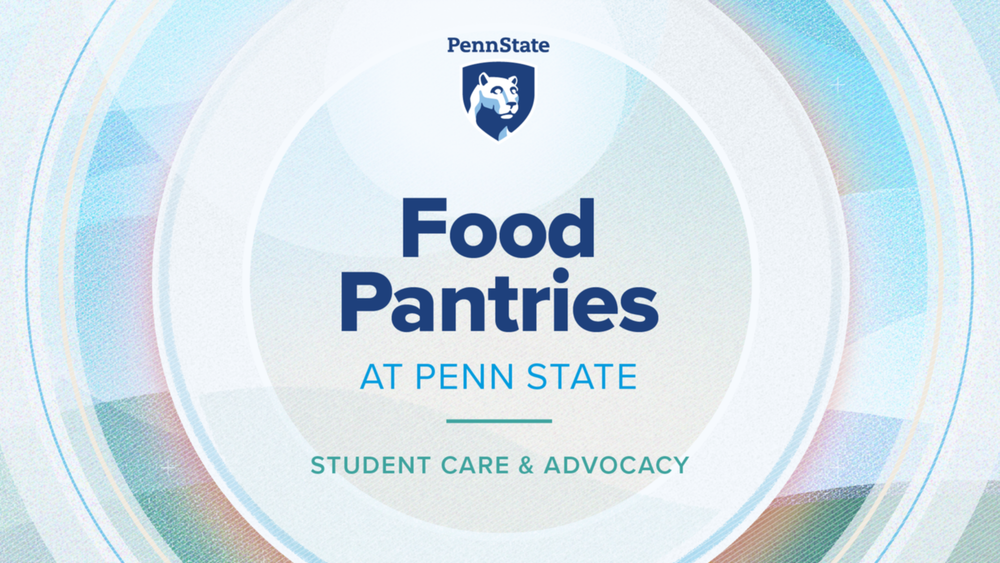 UNIVERSITY PARK, Pa. — Across the University, Penn State offers various resources to help students with food and housing insecurity, financial issues and basic needs. Among these efforts, Penn State's campus food pantries are helping to support students and alleviate everyday stressors such as figuring out what food to put on the table.
Notably, the Lion's Pantry at University Park is currently undergoing a dual-phase renovation featuring additions to expand its services and to provide fresh, refrigerated and frozen foods. The pantry has reopened its space on Services Road this semester for in-person shopping after temporarily closing for the first phase of renovations and serving students out of Market East, located in Findlay Commons.
Though, Penn State's food pantries aren't just experiencing physical changes. By developing new solutions like online ordering and expanding their networks of support, campus pantries are improving their operations for both current and future students. 
"Food and housing insecurity has been a hidden problem among college students across the country, and the person beside you may be struggling without you knowing" said Tim Balliett, director of the Center for Character, Conscience, and Public Purpose. "Providing food to those in need can make a very tangible and noticeable difference in their lives and in their success as students. It may be the difference between whether that individual has a meal that day or not."
Growth at the Lion's Pantry
Emily Griffin, a fourth-year student majoring in community, environment, and development and president of the University Park Lion's Pantry, explained that the students working with the Lion's Pantry are excited about the organization's future. 
"We trust students and know that it may be difficult to come forward and ask for help," said Griffin. "A lot of people are busy with jobs, classes or families. We've always wanted individuals to feel safe when they visit."
To provide the highest level of service and food items for students, work will continue this fall and spring to prepare the space to host refrigeration and freezers. A second phase of renovations, in which the pantry will close again temporarily, will occur next summer to make several cosmetic and functional upgrades. Plans about pantry operations for summer 2022 are forthcoming.
Innovation at campus pantries
Online ordering has been particularly popular since the onset of the pandemic, as many pantries across the University remained open to continue to serve students in need. Pantry coordinators expressed that online ordering has made the process more convenient and discrete for students, volunteers and advisers.
The WE cARE Food Pantry at Penn State Harrisburg, which relies on both employees and student volunteers, kept their online ordering system even as the University returned to an in-person experience for fall 2021. 
Rob Coffman, director of Enrollment Management, and Andrea Mull, RN, health educator and associate director for Student Health Services, explained that the Harrisburg campus' WE cARE online system includes various options to optimize how they pack their orders, such as the date and time of pick up, how heavy the bags may be and how far the individual must walk. 
"You just simply don't know what someone else is dealing with, and you should treat others with kindness, always," said Ashley Schools, financial coordinator at Penn State Harrisburg, who runs the campus' pantry alongside Coffman and Mull. "It's about being as welcoming and inviting as possible, and we train our student volunteers to be both sensitive on the topic and to understand how to appropriately respond in certain situations."
Some pantries, such as the Penn State Behrend Lion's Pantry, have been contactless from the start by utilizing online ordering systems and offering various pick-up locations for "on the go" necessities. Notably, Behrend's Lion's Pantry offers toiletry items such as period and dental care products.
As a contactless pantry, Behrend students may pick up their order within the Smith Chapel. In addition, the Behrend Lion's Pantry is available on the Penn State Go app, which leads directly to their online ordering form.
"Ultimately, more people need to talk about food insecurity and make it commonplace," said Hannah Moran, former coordinator for civic and community engagement at Penn State Behrend, who helped run the campus pantry. "We provide bags of necessities in locations around campus for students to grab, as part of our efforts to put the message out there." 
What the future holds
Leslie Pillen, associate director of farm and food systems in the Sustainability Institute, expressed that future, new storage like refrigerators in the University Park Lion's Pantry will enable improved partnerships between the pantry and Student Farm, both of which she advises.
"In the past, students had a hard time with produce because fresh food can't be kept after hours without a fridge," said Pillen. "Working around this, they were able to bring in some items that were more shelf-stable like potatoes, onions and apples to distribute them over time. With the renovation and subsequent discussions on feasible crops, I look forward to the Student Farm providing fresh produce based on student needs and wants."
Additionally, student leaders aim to utilize the Penn State Eats app in the future to connect with students and offer a permanent online ordering system, similar to popular food apps such as GrubHub or Uber Eats.
"When you log into the app, you will see the Lion's Pantry as a shopping option, which will help keep it top of mind," Griffin said. "I also think the task force and other campus resources, like the libraries, dieticians and others, help pull it all together to go about making impactful change."
Ultimately, Pillen shared that these efforts are not just about getting food on the table, but also changing individuals' understanding of what it means to be a college student and the role proper nutrition plays in academic success.
"Food insecurity for a college student is a stereotype that's almost viewed as a 'rite of passage' by having both insufficient quantity and quality of food," Pillen said. "That isn't true. Everyone deserves proper nutrition for a healthy life, regardless of their situation. We need to look at food insecurity on an individual and national level to address the issue while keeping the topic mainstream."
All Penn State campuses have food pantries on campus or in the community. For students who are experiencing food insecurity or who are uncertain about their needs, the University offers a range of guidance, support and resources.
How can you help?
Campus pantries across the Commonwealth benefit from community assistance through donations and volunteering. To make monetary donations, visit the University Development website.