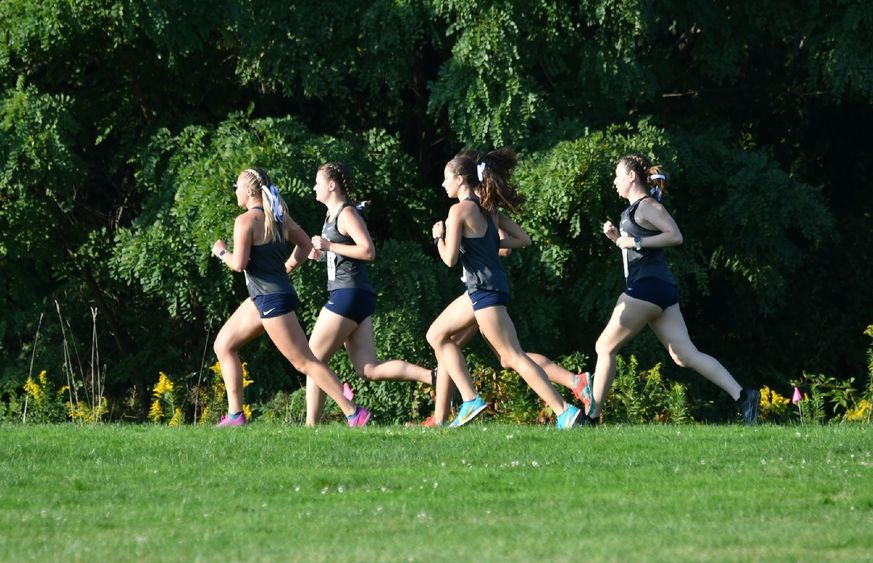 Penn State Behrend's cross country teams won the Allegheny Mountain Collegiate Conference championships on Oct. 30. Olivia Nola, a freshman from Erie, won the individual women's title.
Other scores and highlights from last week:
Men's soccer
Medaille 1, Penn State Behrend 0
Goalkeeper Sam York, a junior from Akron, Ohio, made five saves – his most since a Sept. 29 win over John Carroll.
Women's soccer
Penn State Behrend 7, Medaille 0
Brenna McGuire, a senior from McDonald, scored four goals against Medaille, three of them in the first 12 minutes of the game.
Men's cross country
First (of five teams) at the AMCC championships in Alfred, New York
Phoenix Myers, a senior from Erie, led the Lions, finishing the 8K race in 29:47.63. He finished second in a field of 39 runners.
Women's cross country
First (of seven teams) at the AMCC championships in Alfred, New York
Olivia Nola, a freshman from Erie, won the individual title, finishing the 6K race in 26:57.53. She was nearly two minutes faster than the second-best finisher.
Women's volleyball
Penn State Behrend 3, Mt. Aloysius 0
Penn State Behrend 3, Medaille 0
For the second consecutive year, the Lions were undefeated in AMCC play. Kristin Reiland, a senior from Fairview, had 11 kills, six digs and five block assists against Mt. Aloysius. Dani Kosslow, a senior from Pittsburgh, added 31 assists and five aces.
Men's swimming and diving
Alfred State 164, Penn State Behrend 130
Penn State Behrend 102, Chatham 50
Jake Schmidt, a graduate student from Erie, won three events against Alfred State: He finished first in the 100 freestyle (48.32), the 200 freestyle (1:48.73) and the 500 freestyle (5:08.58). He also swam a leg of the 400 free relay, which the Lions won.
Women's swimming and diving
Penn State Behrend 162, Alfred State 123
Chatham 126, Penn State Behrend 105
The 400-meter free relay team – Marcella Puglia, Emma Webster, Aliya Webster and Bella Nadzam – won against Alfred State, finishing in 4:01.39. Julia Sank, a sophomore from North East, won the 1-meter and 3-meter diving events.
Men's water polo
Gannon 21, Penn State Behrend 14
The 14 goals against Gannon were the most scored by the Lions in a game this season. Ryan Carpico, a freshman from Skippack; Eugene Kruger, a freshman from Alpharetta, Georgia; and Ryan Kenney, a junior from Skippack, each scored three.
Women's bowling
Pitt-Bradford 825, Penn State Behrend 812
Pitt-Bradford 803-Penn State Behrend 700
Pitt-Bradford 4, Penn State Behrend 3 (Baker format)
Natalie Denny, a senior from Harborcreek, led the Lions with a total pinfall of 331. She also recorded a single-game high score of 191 points.
More information
Scores, updates and video links for Penn State Behrend athletics are posted at psblions.com.
Contact
Robb Frederick
Assistant director, news and information, Penn State Behrend
Jill Yamma
Sports information director, Penn State Erie, The Behrend College