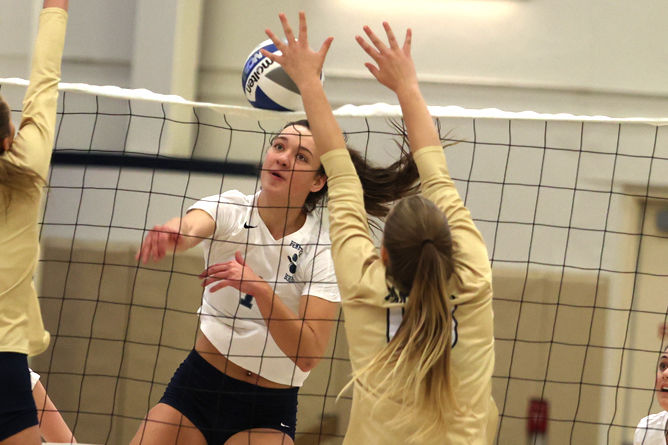 UNIVERSITY PARK, Pa. — The Penn State Behrend women's volleyball team swept Alfred State in the Allegheny Mountain Collegiate Conference (AMCC) championship match, ending the season with a 22-5 record. The team will face Calvin University in the first round of the NCAA Division III tournament on Thursday, Nov. 11.
Other scores and highlights from last week:
Men's soccer
Mt. Aloysius 2, Penn State Behrend 1
The Lions lost in overtime in the AMCC semifinals, ending their season with a 12-5 record. John Ziobro, a sophomore from Westtown, New York, scored his first goal of the season, hitting the lower-left corner of the net early in the first half.
Women's soccer
Penn State Behrend 2, Pitt-Greensburg 0 (AMCC championship)
Penn State Behrend 6, Penn State Altoona 0
The Lions won a 15th AMCC conference championship with a 2-0 victory over Pitt-Greensburg. Brenna McGuire, a senior from McDonald, and Isabella Mollica, a sophomore from Moon Township, scored the goals. The team will face Wesleyan in the first round of the NCAA Division III tournament on Nov. 13.
Women's volleyball
Penn State Behrend 3, Alfred State 0
Penn State Behrend 3, Pitt-Bradford 0
Kristin Reiland, a senior from Fairview, had 14 kills, nine digs and four block assists against Pitt-Bradford. Brooke Joncas, a junior from Corry, had 11 kills, five digs and three aces against Alfred State.
Men's swimming and diving
Baldwin Wallace 118, Penn State Behrend 105
The Behrend relay team — Tim Compton, Matt Karenbauer, Jake Niziol and Dan Tanaskovic — won the 200 medley, finishing in 1:42.06. Baldwin Wallace trailed by just 0.14 seconds.
Women's swimming and diving
Baldwin Wallace 144, Penn State Behrend 65
Marcella Puglia, a senior from Beaver Falls, won the 1,000 free, finishing in 11:30.89, and the 500 free, finishing in 5:33.16.
Men's wrestling
Joe Newara, a senior from Harborcreek, won twice at heavyweight at the Mount Union Invitational, pinning a wrestler from Hiram and winning by fall over another from Brewton-Parker.
Women's bowling
Roberts Wesleyan 915, Penn State Behrend 767
Mercyhurst 912, Penn State Behrend 775
Roberts Wesleyan 984, Penn State Behrend 863
Daemen 752, Penn State Behrend 729
Medaille 925, Penn State Behrend 851
Walsh 868, Penn State Behrend 788
Pitt-Bradford 751, Penn State Behrend 715
D'Youville 813, Penn State Behrend 684
Daemen 876, Penn State Behrend 777 (Baker format)
Penn State Behrend 716, Pitt-Bradford 662 (Baker format)
Reegan Malis, a freshman from Butler, led the Lions with a 161.2 average across five games on the first day of the Medaille Invite.
Scores, updates and video links for Penn State Behrend athletics are posted at psblions.com.
Contact
Robb Frederick
Assistant director, news and information, Penn State Behrend
Jill Yamma
Sports information director, Penn State Erie, The Behrend College