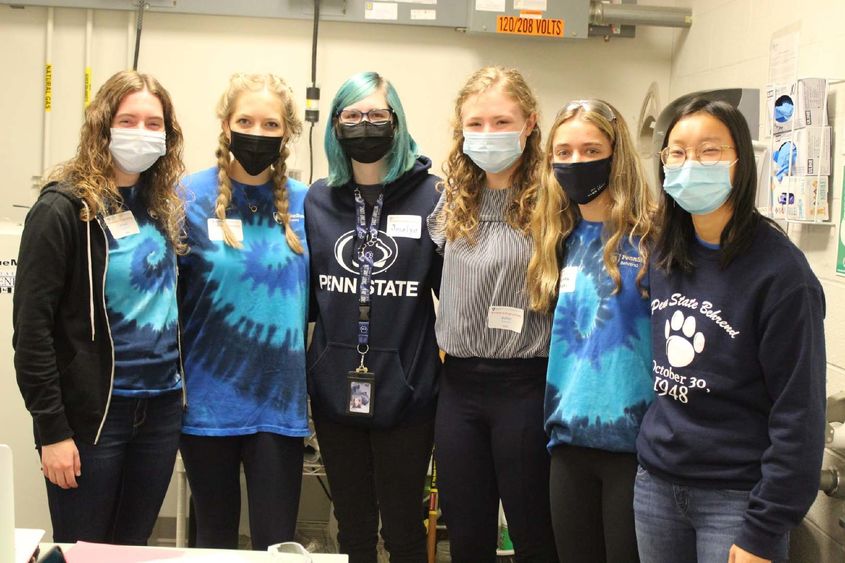 ERIE, Pa. — "Does anyone know what extrusion is?" Nicole Gailey, director of R&D and innovation at Trivium Packaging, asked a group of six girls in a workshop at Penn State Behrend's Women in Engineering program.
The girls were shaping homemade dough – rolling, kneading and squeezing it through various accessories.
In other words: Extrusion.
"Did you put toothpaste on your toothbrush this morning?" Gailey asked. "That is extrusion."
The workshop, "Ready, Set, Dough," explored the process of shaping material and forcing it through an opening. It was one of more than a dozen hands-on workshops offered during the Women in Engineering program – Behrend's first large-scale, in-person youth-outreach program since the start of the pandemic.
"When it was hot, it tended to come out faster and smoother," said Caitlin Riley, a student from Fort LeBoeuf. She was one of 105 students, most of them female, who visited Behrend for the program.
More than 20 area schools participated in this year's Women in Engineering day, which was coordinated by the college's Youth Education Outreach office. Engineers from Zurn, Wabtec, TechnipFMC, Trivium Packaging and Snap-Tite led the workshops.
"Our goal is to introduce students to all of the aspects of engineering," said Melanie Ford, director of Youth Education Outreach and an assistant teaching professor of computer science and software engineering. "A lot of people don't know what engineers do.
"The hands-on environment opens up a dialogue," Ford said. "That opens you to new possibilities. I want to reach the students who have the potential but haven't thought about engineering, and then encourage that."
In Gailey's workshop, the girls brainstormed ideas for a new bottle shape. One group proposed a pyramid design, which would prevent the bottle from rolling.
Gailey encouraged them to keep thinking, and to not be self-conscious as they offered new ideas.
"You should hear some of the conversations we have at work," she said. "They sound ridiculous, but sometimes they turn into the next best thing."
The group also heard from Ashley Seamon, a Behrend student from McDonald, Pennsylvania. She delivered the program's keynote address. She challenged the girls to reach outside their comfort zone and not be afraid to fail.
"I expected to be a minority as a woman in engineering," Seamon said. "That shouldn't be discouraging. It should be motivating. Don't be scared of it at all."
She encouraged the group to keep trying new things, even if that leads them to fields other than engineering.
"Do not lose your curiosity," she said, "because that is what will take you places in life."
Contact
Robb Frederick
Assistant director, news and information, Penn State Behrend