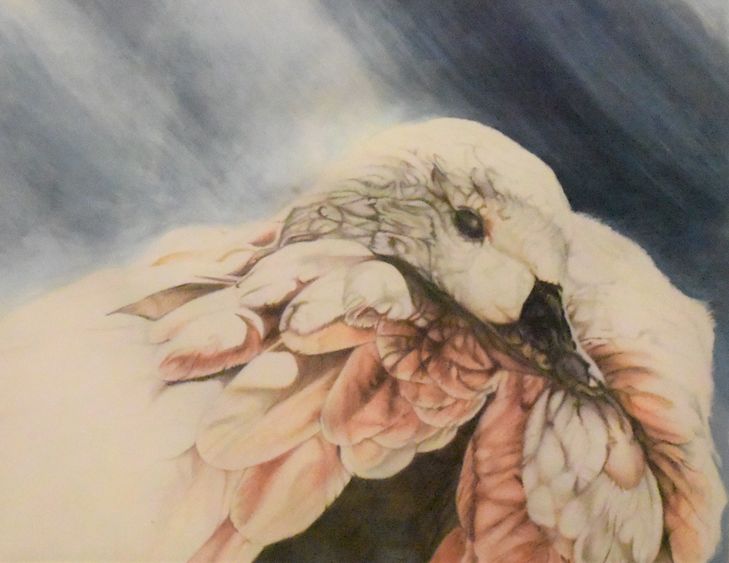 Early in the pandemic, when Penn State Behrend transitioned to a period of remote learning, Lee Shadeck, a counselor at the college's Personal Counseling Center, found himself working from home. With some extra time on his hands, he decided to paint the garage.
The original plan was to install new siding. But maybe painting it could be fun.
"I thought, 'Maybe I can get weird and paint it instead,'" he said. "So I painted a mural on the side of my garage."
The home is in a remote area. With his neighbors isolating, Shadeck figured no one would see the mural. So he got creative. And then he just kept painting.
"It's just so peaceful and calming and therapeutic," he said. "I have just fallen in love with it."
As he tapped into his creative side, Shadeck, who has never taken an art class, decided to revive a Behrend tradition: a student, faculty and staff art show.
"Our students have so many things going on in their lives right now," he said. "I want to encourage them to find an outlet of some kind."
Members of the Behrend community submitted 30 pieces of art, which the personal counseling office has hung in the Wintergarden of Reed Union Building. The show opened Nov. 16.
The entries will be judged, and winners will receive gift cards for art supplies. Shadeck hopes the artists gain something more from the experience.
"Art can be a meditative process," he said. "It allows you to escape everyday stresses."
Cognitive neuroscientists have studied the effect of creating art and found that the process can reduce stress markers in the brain and bring about positive mental states.
Shadeck believes art can be a positive outlet for college students. Many are still adapting to the pandemic, in addition to their normal stress loads. Behrend's personal counseling office has seen an increase in the number of students who are seeking help.
"There has been way, way more anxiety than before, because people have been in their own bubble, and then have to come out of it," he said. "There is a lot of self-growth and discovery ahead of us."
He believes art, music and other creative activities can help.
"Everybody has a creative outlet," he said. "Tapping into that, and utilizing it when you need it, is important. If we do that instead of being on TikTok or social media, it's a much healthier outlet."
Contact
Robb Frederick
Assistant director, news and information, Penn State Behrend