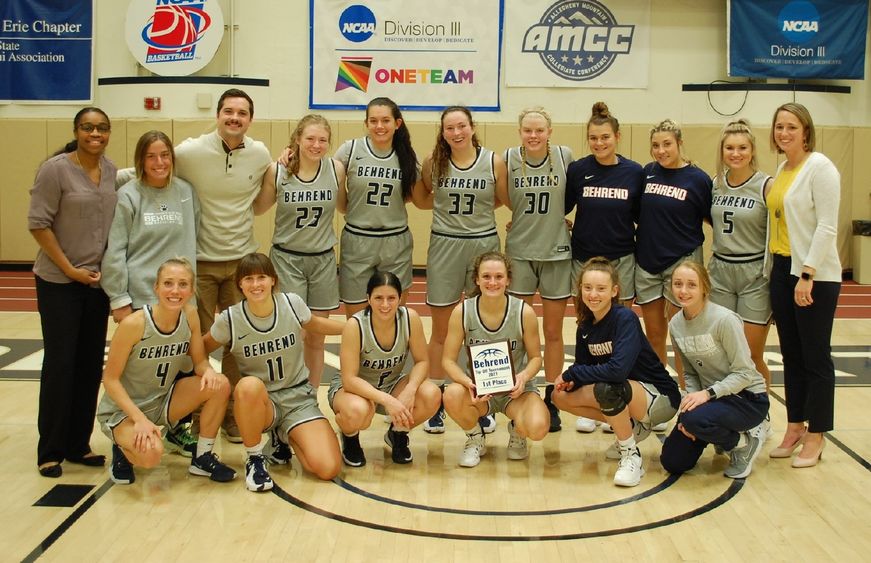 The Penn State Behrend women's basketball team won the Tip-Off Tournament with an 85-65 victory over Grove City. Kara Haslett, a senior from Baden, finished the weekend with 36 points, 13 rebounds, five assists and four steals. She was named Tournament MVP.
Other scores and highlights from last week:
Men's soccer
Rutgers-Newark 4, Penn State Behrend 2
Penn State Behrend 2, Misericordia 1
The Lions exited the Eastern College Athletic Conference tournament with a loss to Rutgers-Newark in the semifinals. Goalkeeper Sam York, a junior from Akron, Ohio, made a career-high 12 saves.
Women's soccer
Wesleyan 1, Penn State Behrend 0
The goal by Wesleyan in the NCAA Division III Tournament was the first point scored on the Lions in 11 games. Behrend ends its season with a 19-2 record.
Men's basketball
Waynesburg 60, Penn State Behrend 57 (OT)
Penn State Behrend 74, Thiel 51
PJ Gourley, a senior from Butler, led the Lions with 25 points against Thiel. RJ Marsh, a junior from State College, had a career-high 10 rebounds against Waynesburg.
Women's basketball
Penn State Behrend 85, Grove City 65
Penn State Behrend 91, SUNY Canton 60
Chatham 68, Penn State Behrend 60
Caitlin Carnuche, a senior from New Castle, scored 25 points – including five three-pointers – against Grove City. She was named to the All-Tournament Team.
Men's cross country
Phoenix Myers, a senior from Erie, led the Lions at the NCAA Division III Regionals, hosted by SUNY Geneseo. He finished the 8K race in 26:03.4, placing 24th in a field of 158 runners.
Women's cross country
Olivia Nola, a freshman from Erie, led the Lions at the NCAA Division III Regionals, hosted by SUNY Geneseo. She finished the 6K race in 24:51.9, placing 44th in a field of 141 runners.
Women's volleyball
Calvin 3, Penn State Behrend 0
The Lions exited the NCAA Division III Regionals with a loss to fifth-ranked Calvin. The team ends the season with a 22-6 record.
Men's wrestling
Joe Newara, a senior from Harborcreek, pinned his first two opponents at the Washington & Jefferson Invitational. Newara, a heavyweight, lost in double-overtime in the match for sixth place.
Men's water polo
Mount St. Mary's 17, Penn State Behrend 6
Jack Holl, a freshman from Greenwich, Connecticut, scored two goals in the first quarter.
Women's bowling
Pitt-Greensburg 727, Penn State Behrend 699
Penn State Behrend 840, Penn State Altoona 681
St. Vincent 876, Penn State Behrend 762
La Roche 807, Penn State Behrend 784
Pitt-Bradford 730, Penn State Behrend 687
The team competed at the La Roche Invitational. All matches were in the Baker format.
Scores, updates and video links for Penn State Behrend athletics are posted at psblions.com.
Contact
Robb Frederick
Assistant director, news and information, Penn State Behrend
Jill Yamma
Sports information director, Penn State Erie, The Behrend College