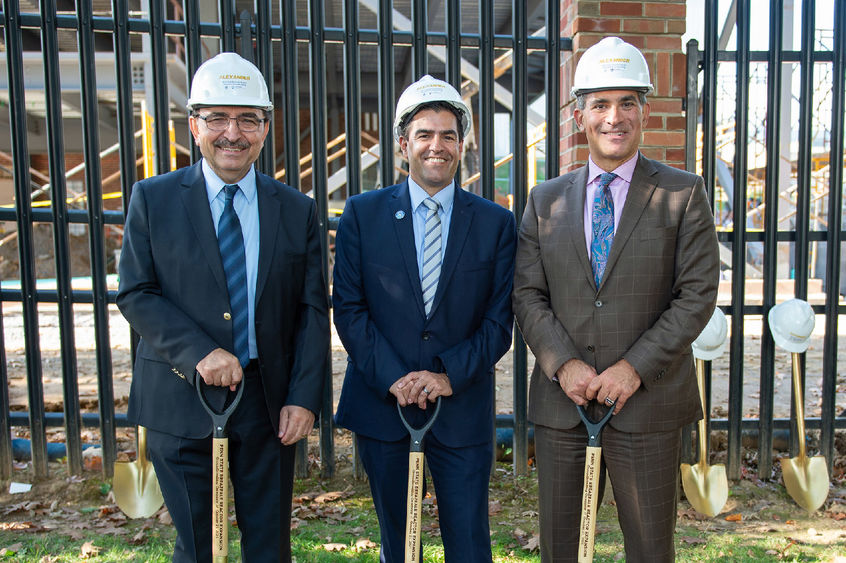 UNIVERSITY Park, Pa. — Penn State's Radiation Science & Engineering Center and the Ken and Mary Alice Lindquist Department of Nuclear Engineering broke ground on a 10,000-square-foot, $9.5 million expansion of the Breazeale Reactor on Oct. 21. The nation's first licensed and longest continuously operating nuclear research reactor, Breazeale's expansion will accommodate an equipment donation valued at $9.8 million and facilitate more advanced neutron beam research as well as the growth of nuclear engineering at Penn State. 
With support from the College of Engineering, the Ken and Mary Alice Lindquist Department of Nuclear Engineering and RSEC will launch a joint initiative as part of the expansion to continue fostering novel studies in fundamental and applied research for Penn State faculty and students, industry and collaborative universities and institutes. 
"The Breazeale Reactor has had several upgrades since its founding in 1955," said Kenan 
Ünlü, RSEC director and professor of nuclear engineering. "A significant redesign and installation of five new beam ports was completed in 2018, but we needed a new and expanded neutron beam hall to make full use of the reactor's capabilities and to establish state-of-the-art neutron beam facilities."
The upgrades and space will accommodate the Small Angle Neutron Scattering instrument, which will allow researchers to measure how neutrons scatter when they interact with a variety of sample materials. The instrument will also control a variety of parameters to track when investigating different aspects of the samples, revealing information about the materials' composition and interactions. 
The instrument, donated by Helmholtz-Zentrum Berlin in Germany, will be transferred to Penn State in late spring of 2022 when the new beam hall construction is completed. Installation of the instrument will make Breazeale the only university research reactor with a SANS facility in the United States, according to Ünlü, positioning Penn State as a leader in neutron science.
The SANS instrument is expected to serve as a platform for cross-disciplinary collaboration across units and campuses, including the College of Engineering; Eberly College of Science; College of Earth and Mineral Science; Penn State Erie, The Behrend College; the Huck Institutes of Life Sciences and the Materials Research Institute, according to Jean Paul Allain, head of nuclear engineering. As such, the expansion will also include office spaces for RSEC staff, nuclear engineering faculty, graduate students and visiting scientists who will collaborate with Penn State faculty on the SANS instrument and the Breazeale Reactor.
"The education and research mission of the nuclear engineering department and RSEC have enjoyed a strategic partnership for many decades in the College of Engineering," Allain said. "Strengthening already close ties, the college is making a significant investment in both the department of nuclear engineering and RSEC."
Leadership from both units ceremoniously broke ground to symbolically commence construction along with Lora Weiss, senior vice president for research at Penn State; Justin Schwartz, Harold and Inge Marcus Dean in the College of Engineering; Thomas Walsh, vice president and USNE regional leader, Stantec; Dwayne Rush, project manager in the Penn State Office of Physical Plant; Anthony Atchley, senior associate dean in the College of Engineering; Coleman Smith, a third-year student majoring in nuclear engineering; Alibek Kenges, a graduate student pursuing a degree in nuclear engineering; Michael Sgriccia, senior project manager, Alexander Building Construction; Brian Schmoke, RSEC facilities specialist; Jeffrey Geuther, RSEC associate director for operation; and Craig Dubler, director of facilities in the College of Engineering.
"The partnership between Drs. Ünlü and Allain to not only organize the physical upgrades but to also initiate truly transformative research and curriculum efforts is a stellar example of the interdisciplinary work that positions the Penn State as a leader in nuclear research," Schwartz said. "Penn State is becoming one of the nation's premier neutron science destinations — a vibrant hub of students and researchers engaged in multidisciplinary education and research."