Forthcoming open textbook 'Engineering Psychology' by Penn State Behrend faculty member Lisa Jo Elliott among content freely available for download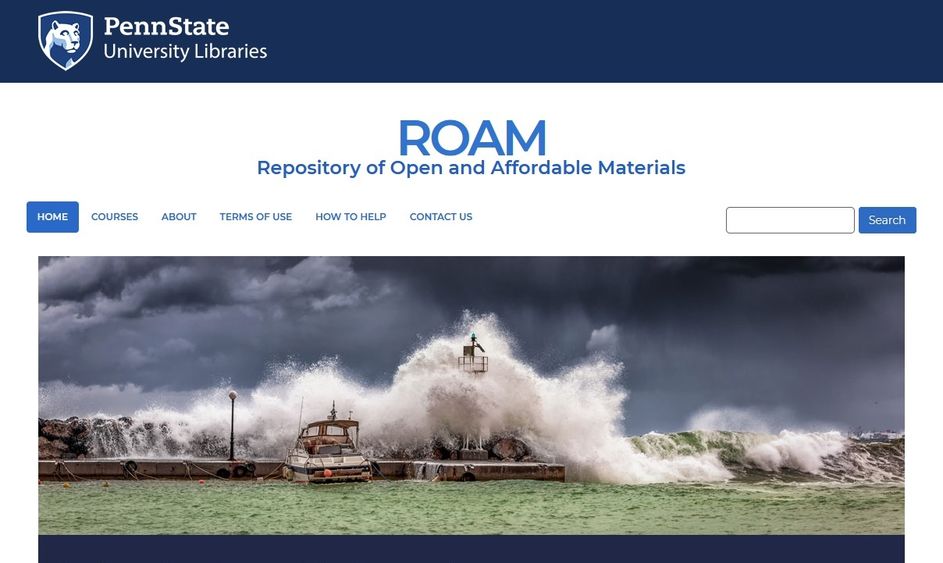 UNIVERSITY PARK, Pa. — Penn State University Libraries' Open Publishing unit recently launched ROAM, a newly expanded online publication service for openly licensed educational materials authored by Penn State faculty. Short for "Repository of Open and Affordable Materials," the platform builds on a service created and previously hosted by the College of Earth and Mineral Sciences (EMS) that published most of the college's courseware free of charge for anyone to access. ROAM will extend EMS' vision to include content from all disciplines and campuses across the University.
"ROAM is built on the strong foundation of University Libraries' enduring commitment to equitable access to information, student success and openness," said Rebecca Miller Waltz, interim associate dean for learning and undergraduate services, University Libraries. "Just as ScholarSphere makes Penn State publications, data and presentations openly available, ROAM will make the high-quality open and affordable educational resources created at Penn State available to our community and the world."
Bryan McGeary, Penn State's learning design and open education engagement librarian, coordinates and contributes to numerous efforts designed to promote and integrate open education into the student experience across the University. McGeary views the repository as a means by which Penn State can participate in a wider global movement in education.
"Open educational resources (OER), like those housed in ROAM, benefit students and faculty by providing free access to course materials and new opportunities for pedagogical innovation," he said. "With the worldwide access that ROAM provides to Penn State OER, the University is poised to be an international leader in open and affordable education."
ROAM joins a suite of University Libraries platforms and initiatives designed to make scholarly materials more freely and widely accessible. As such, it is an important milestone in the Libraries' efforts to deliver open content.
"This platform has long been a vision for many at Penn State, including members of the Open and Affordable Educational Resources Working Group, who have been working since 2017 to advance the integration of open and affordable materials into courses at Penn State," Waltz added.
One example of the fruit borne by this important work is the forthcoming publication in ROAM of "Engineering Psychology," a 300-page textbook authored by Lisa Jo Elliott, assistant teaching professor of psychology at Penn State Behrend. Developed through a cooperative effort between Penn State and the Open Education Network, the textbook will be freely available for download from ROAM in early 2022.
In addition to the wide array of content in ROAM, other examples of Penn State-authored OER can be found on the University's OER website.
Libraries Open Publishing, the University Libraries' Open Access imprint, is a unit within the Research Informatics and Publishing department. Libraries Open Publishing provides tools and support for Penn State-affiliated authors and groups to publish full-featured electronic scholarly journals, searchable annotated bibliographies, monographs and topical web portals using a variety of digital platforms. All publications are free to view online and download. Copyright is retained by the individual authors where possible, or by the journals or sponsoring entity. Almost all are licensed for use under a Creative Commons license.
For more information about the program, visit openpublishing.psu.edu or contact Ally Laird at [email protected].