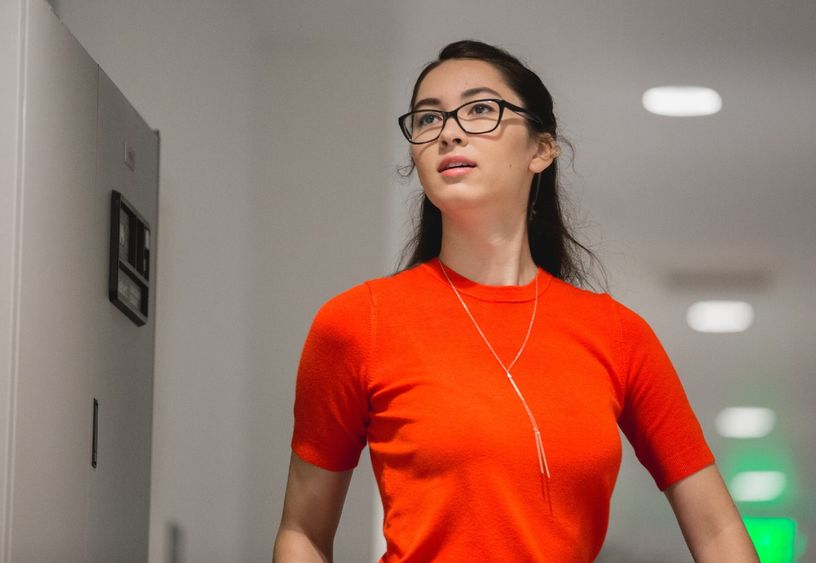 "I'm a grinder. I go hard all day, every day. I'm a workaholic gremlin who wants to do everything. But I sacrifice a lot for it. The grind is incredibly taxing on the physical, mental and social health of the people who participate in it."
-- Esports broadcaster Ovilee May, a producer and content creator for G4TV, at a Jan. 24 Penn State Behrend Speaker Series event.
May started in esports as a social media manager for Team Liquid, a stable of pro gamers that grew out of the StarCraft community. She went on to work at Yahoo, Riot Games, and as a broadcast host and commentator at LCS, the marquee League of Legends tournament series.
"The first time I played League of Legends, I thought it was the most overly complex, stupid, waste-of-time, toxic game in the entire world," she said. "But I went on to play it all weekend, with back-to-back all-nighters. I became completely obsessed."
Esports is creating a generational shift in competitive play — a move from what May calls "stick-and-ball" sports to high-stakes video-gaming. Last year's League of Legends World Championship Final was viewed by nearly 74 million people. That was seven times the size of the audience for the World Series.
The league's pro teams have sponsors, hype songs and massive fan bases on Twitter and Twitch. There are collegiate leagues, too, including at Penn State Behrend: The college's esports team competes in the Eastern College Athletic Conference, with matches played in a new gaming lab in Perry Hall. The team has more than 40 members, with squads for Overwatch, Rocket League and Valorant, among other games.
May toured the gaming lab and met with members of the Behrend esports team. Much of that discussion, and the program in McGarvey Commons that followed, focused on how gamers can build careers in esports.
"The world is yours right now," May said. "Every day, more and more people are opening their eyes to our industry. Everyone is trying to build out their team.
"Starting is always the hardest part," she said. "You want to make a phenomenal first impression, right? But maybe you stumble at that first step. That's OK. What's important is what you do after that. How do you keep moving forward?"
Contact
Robb Frederick
Assistant director, news and information, Penn State Behrend