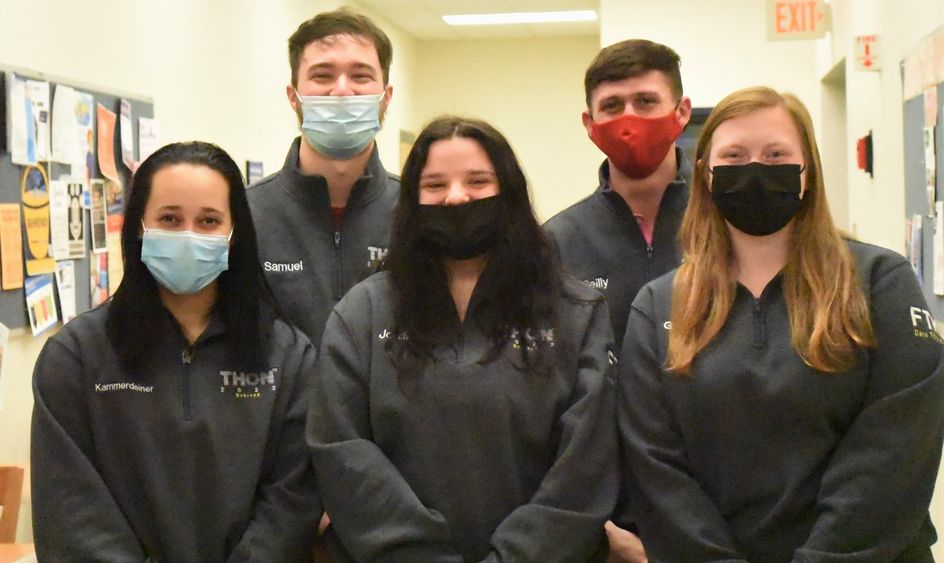 ERIE, Pa. — Tyler Reilly bought new Crocs. Fluffy ones, with soft fleece linings.
He knew he'd need them. Reilly, a senior at Penn State Behrend, spent the weekend at the Bryce Jordan Center, at Penn State's University Park campus, dancing in the Penn State IFC/Panhellenic Dance Marathon, or THON. He was one of five dancers who represented Behrend at the event, which raised a record $13.7 million to support families that are battling childhood cancer.
THON is the largest student-run philanthropy in the world — a yearlong effort that culminates in a 46-hour, no-sitting, no-sleeping dance marathon. The Behrend team raised nearly $37,000 for this year's marathon.
"I had been dreaming about this since my freshman year," said Reilly, who is studying accounting and project and supply chain management.
He joined the Behrend-based fundraising effort, Behrend Benefiting THON, in part because of a cousin, Kimberly, who died from leukemia.
"The memories of Kimberly will last in my family's heart forever," he said. "That's something that one day will never have to be said again, due to the amazing organization that is THON."
He joined four other Behrend students — Samuel Andrew, Jordan Belfiore, Jennifer Gustafson and Leah Kammerdeiner — on the THON dance floor. Each was supported by student volunteers throughout the dance marathon, which ended Feb. 20.
Belfiore, a senior, joined Behrend Benefiting THON in her first year at the college. She was particularly excited about THON's return to an in-person experience: After a virtual event in 2021, dancers returned to the Bryce Jordan Center this year, with a masking requirement and other COVID precautions in place.
"The energy in the Jordan Center is unmatched on THON weekend," Belfiore said. "We scream-sing to songs, cry during family hour, and have fun with each other. It's something that you will never fully know until you go."
Jennifer Gustafson, a senior and the executive director of Behrend Benefiting THON, spent the weeks leading up to THON preparing her body and mind for the dance marathon. She cut caffeine from her diet — caffeine and energy supplements are not permitted during the event — and broke in a new pair of shoes.
"I mentally prepared by reminding myself why I was going to stand for 46 hours," she said. "This was likely one of the hardest things I will ever do in my lifetime, but I knew that with the support of my friends and family, I could do it for all those who can't."
Like Reilly, she feels a personal connection to families that are fighting cancer: A family friend died from pediatric cancer in 2016.
"Seeing the emotional toll that cancer had on his family, my family, and the community, I knew that I wanted to get involved with helping to find a cure," she said.
Contact
Robb Frederick
Assistant director, news and information, Penn State Behrend