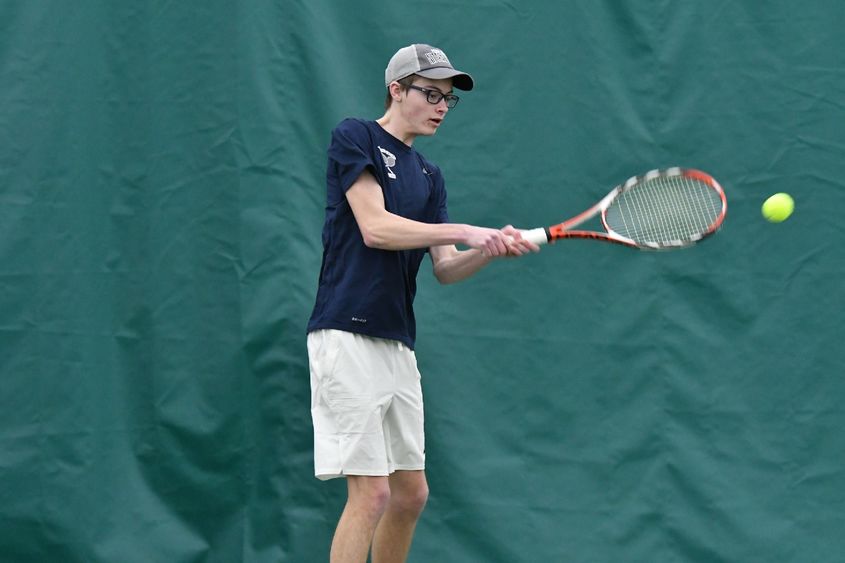 The Penn State Behrend men's tennis team split a pair of nonconference matches, defeating Alfred State but losing to Westminster. The college's basketball, baseball, volleyball, bowling, water polo and wrestling teams also were in action last week.
Here are the scores and highlights:
Men's basketball
Medaille 70, Penn State Behrend 63
The Lions exited the Allegheny Mountain Collegiate Conference tournament in the semifinal round. Kenny Fukon, a senior from Cranberry Township, scored 24 points. PJ Gourley, a senior from Butler, scored 19.
Women's basketball
Pitt-Greensburg 80, Penn State Behrend 78
The Lions exited the AMCC tournament in the semifinal round. Kara Haslett, a senior from Baden, scored a career-high 33 points. Brianna Dean, a junior from New Castle, had nine rebounds.
Baseball
Penn State Behrend 5, Eastern Mennonite University 3
Eastern Mennonite University 7, Penn State Behrend 5
Chase Palmer, a freshman from Brookville, hit a home run in the sixth inning of the opener. He also hit a two-RBI single.
Men's volleyball
Penn State Behrend 3, St. Vincent 2
Geneva 3, Penn State Behrend 2
JP Goodsel, a graduate student from Corry, recorded a career-high 21 kills against Geneva. Diego Ortiz, a junior from San Juan, Puerto Rico, had 42 assists.
Men's tennis
Penn State Behrend 9, Alfred State 0
Westminster 6, Penn State Behrend 3
Mitchell May, a junior from Erie, was undefeated in singles play. With Jonathan Laier, a freshman from Lansing, Michigan, he won at No. 1 doubles against Westminster, with a score of 8-7.
Women's bowling
D'Youville 918, Penn State Behrend 771
Mercyhurst 904, Penn State Behrend 820
Medaille 915, Penn State Behrend 816
Penn State Behrend 1,008, Medaille 954
Roberts Wesleyan 912, Penn State Behrend 856
Pitt-Bradford 871, Penn State Behrend 813
Daemen 913, Penn State Behrend 747
Pitt-Bradford 902, Penn State Behrend 799
Reegan Malis, a freshman from Butler, bowled a 266 against Medaille on the first day of the Medaille Invite. Bella Pilyih, a sophomore from Pittsburgh, bowled a 202.
Wrestling
The Lions ended their season at the NCAA Southeast Regional at Lycoming College. Cole Ruffo, a senior from Mercer, lost by decision, 7-3, in the consolation bracket at 149 pounds. Joe Newara, a senior from Harborcreek, lost by decision, 6-3, in the consolation bracket at heavyweight.
Women's water polo
Gannon 18, Penn State Behrend 5
Wittenberg 15, Penn State Behrend 8
Virginia Military Institute 19, Penn State Behrend 3
Shannon Young, a junior from Roseville, California, scored three goals against Gannon. Goalie Chloe Dodgen, a junior from Riverside, California, made six saves against Gannon and 10 against Wittenberg.
Scores, updates and video links for Penn State Behrend athletics are posted at psblions.com.
Contact
Robb Frederick
Assistant director, news and information, Penn State Behrend
Jill Yamma
Sports information director, Penn State Erie, The Behrend College