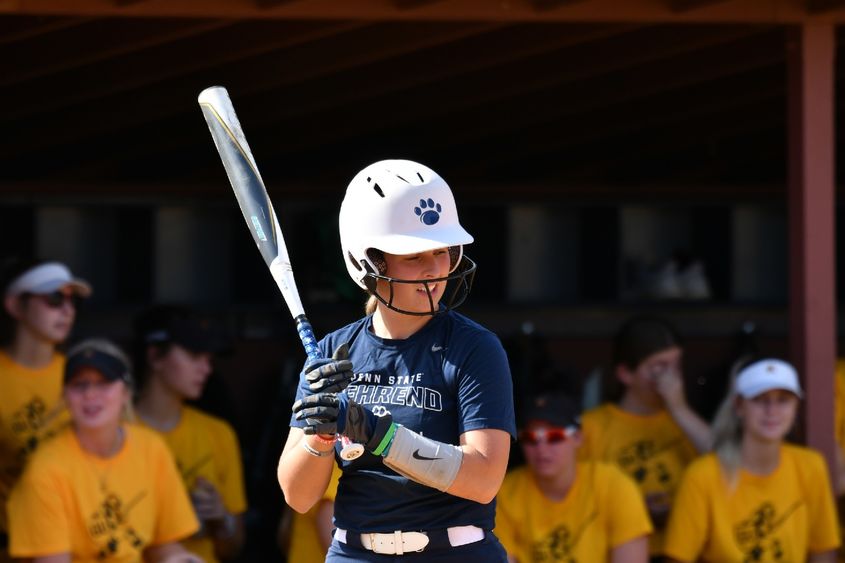 The Penn State Behrend softball team opened its 2022 season with a five-inning victory over Sage during Spring Break play in Florida. Cami McNany, a junior from Emlenton, hit a grand slam in the bottom of the fifth inning.
Behrend's baseball, basketball, volleyball, track and field, bowling and water polo teams also were in action last week. Here are the scores and highlights:
Men's basketball
Rutgers-Newark 66, Penn State Behrend 50
Penn State Behrend 58, Manhattanville 48
The Lions exited the Eastern College Athletic Conference tournament in the semifinal round. In the quarterfinals, Kenny Fukon, a senior from Cranberry Township, scored 17 points.
Women's basketball
Carnegie Mellon 80, Penn State Behrend 60
Penn State Behrend 77, Westminster 58
The Lions lost in the championship game of the ECAC tournament. Kara Haslett, a senior from Baden, and Rachel Majewski, a freshman from Erie, each scored 12 points. In the semifinals, Alanna Dibble, a senior from Lakewood, New York, scored 23 points.
Baseball
Penn State Behrend 6, Kenyon 3
Anthony Slate, a sophomore from Hopewell, hit a triple in the bottom of the eighth inning, driving in two runs and giving the Lions the lead.
Softball
Nebraska Wesleyan 8, Penn State Behrend 0 (6 innings)
Penn State Behrend 11, Sage 3 (5 innings)
Renssalaer Polytechnic Institute 8, Penn State Behrend 7
Jocelyn McNany, a freshman from Cranberry Township, had three hits, including a double, and scored three runs in her collegiate debut. Ashleigh Schmidt, a senior from Sarver, pitched five innings, striking out three batters.
Men's volleyball
Penn State Behrend 3, Penn State Altoona 0
Penn State Behrend 3, Hiram 0
Penn State Behrend 3, Medaille 0
JP Goodsel, a graduate student from Corry, recorded 11 kills and six digs against Medaille. Alex Jackson, a sophomore from Cochranton, had 19 assists.
Men's track and field
Thirteenth (of 48 teams) at the All-Atlantic Region Track and Field Conference Championships.
Braeden Smith, a senior from Erie, placed third in the high jump, clearing a height of 2.05 meters. Samuel Hetrick, a sophomore from New Bethlehem, placed fourth, with a height of 2.02 meters. Antonio Stello, a senior from Punxsutawney, placed ninth in the 60-meter sprint, finishing in 7.08 seconds.
Women's track and field
Olivia Nola, a freshman from Erie, placed 12th in the 3K race, finishing in 10:51.52.
Women's bowling
Roberts Wesleyan 872, Penn State Behrend 792
Pitt-Bradford 813, Penn State Behrend 754
Mercyhurst 977, Penn State Behrend 808
Walsh 817, Penn State Behrend 807
Pitt-Bradford 801, Penn State Behrend 798
Penn State Behrend 892, Walsh 801
Medaille 944, Penn State Behrend 761
Daemen 918, Penn State Behrend 679
Walsh 930, Penn State Behrend 814
Ashley Debich, a sophomore from Leechburg, bowled a 236 in the match against Daemen. Abigail Lanker, a freshman from Sunbury, Ohio, bowled a 206 against Walsh.
Women's water polo
Fresno Pacific 22, Penn State Behrend 4
La Verne 16, Penn State Behrend 4
Shannon Young, a junior from Roseville, California, and Emily McNaughton, a junior from Wexford, each scored twice against Fresno Pacific. Chloe Dodgen, a junior from Riverside, California, made 17 saves.
Scores, updates and video links for Penn State Behrend athletics are posted at psblions.com.
Contact
Robb Frederick
Assistant director, news and information, Penn State Behrend
Jill Yamma
Sports information director, Penn State Erie, The Behrend College