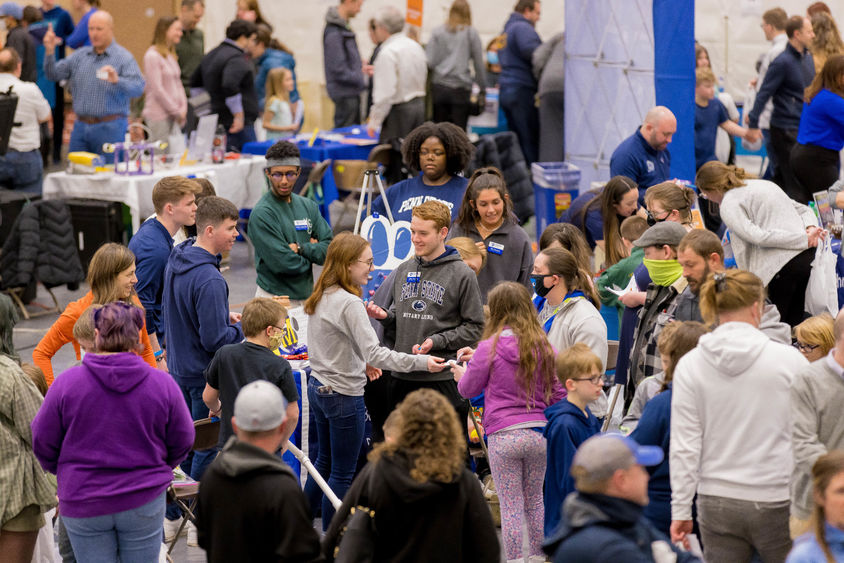 "Joey – don't touch."
That admonishment, familiar to any parent who has led a child through a public space, didn't apply at the seventh Penn State Behrend STEAM Fair, which filled Junker Center with interactive, hands-on exhibits that were designed to stir interest in science, technology, engineering, arts and mathematics.
The March 14 event, co-sponsored by Wabtec and WQLN Public Media, featured 75 activity stations, including 3D doodle pens, water bubbles, a wind tunnel, remote-control LEGO robots, a virtual-reality orchestra and an Easter egg zipline. More than 30 companies, community organizations and Behrend clubs participated.
"It's a great opportunity to get the kids out at this time of year to explore science and expand their horizons," said John McDonough, a Cub Scout leader who brought a group from Pack 9, which meets at St. Luke's Church. He paired the STEAM fair trip with a visit to Yahn Planetarium at Penn State Behrend.
"It's huge, getting back to hands-on experiences and being around people again," he said. "We really missed it."
As he talked, Patrick McDonough, 10, built a glider plane out of index cards and straws and launched it toward a target on the wall. Then they moved on to a nature display.
"What I really thought was interesting was the Asbury Woods activity, dissecting an owl pellet," Patrick said. "I found the body of a mole inside."
Throughout the room, volunteers used hands-on activities to teach the basics of science and engineering. A group from Parker LORD demonstrated some of the company's adhesive products and showed components of a helicopter rotor.
"This sheds some positive light on STEM careers," said Kimberly Hultman, a chemical process engineer for the company.
Nearby, children took turns on a sit-and-spin disc, holding weights in each hand and moving their arms in and out to speed up or slow their rotation.
"I liked the spinner, because you could go slow or fast," said Mia Jack, 8. "All of this is helping me learn science and math and stuff."
Her mother, Casey Jack, appreciated that the STEAM Fair was open to the public at no charge. More than 1,300 people attended.
"It's nice to be able to experience so much in one place," she said. "The last couple of years, we haven't been able to do so many hands-on activities."
Contact
Robb Frederick
Assistant director, news and information, Penn State Behrend