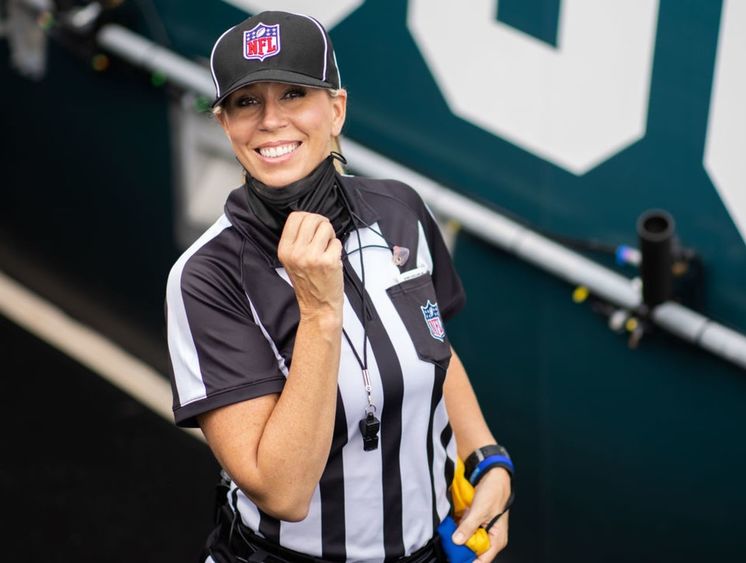 In the tunnel at Raymond James Stadium, where the home team, the Tampa Bay Buccaneers, would beat the Chiefs in Super Bowl LV, Sarah Thomas got into game mode.
"I flip a switch," she told ESPN. "When I walk through that tunnel, I can't imagine working anywhere else."
Thomas, a Mississippi native, was the first woman to work on an NFL officiating crew. She was a line judge, and then a down judge – a new, gender-neutral title for what had been called the head linesman – managing the line of scrimmage.
In Tampa, she shattered a glass ceiling. She stood in the tunnel, her parents' initials written in Sharpie under her black-and-white jersey. Then she went to work. Her hat, whistle and flag were collected at the end of the game, which the Buccaneers won, 31-9. The items are now on display in the Pro Football Hall of Fame.
Thomas will discuss her career in the NFL during an April 5 visit to Penn State Behrend. Her talk, which is open to the public, will begin at 7:30 p.m. in McGarvey Commons, in the Reed Union Building. The program concludes the college's 2021-22 Speaker Series, which also has featured Dr. Scott Gottlieb, the former commissioner of the U.S. Food and Drug Administration; Moogega "Moo" Cooper, a NASA engineer who worked on the Mars rover "Perseverance"; and esports broadcaster Ovilee May.
Thomas attended the University of Mobile on a basketball scholarship. She came to football later, in 1996, when she accompanied her brother to an orientation meeting for aspiring officials. She was already comfortable being the only woman in a room.
"I was raised with brothers," she told Elle magazine. "I played in a men's basketball league. I have never allowed my gender to be a crutch or a reason for people to act a certain way."
For 10 years, she officiated youth games. In 2007, she was hired by Conference USA, a network of southern universities that compete in the NCAA's Division I. That led to a series of firsts: Thomas was the first woman to officiate a major college football game, the first to officiate a bowl game, and, in 2011, the first to officiate in a Big Ten stadium.
The NFL noticed. In 2015, Thomas was added to the league's officiating roster. Her first pro game, on Sept. 13, 2015, pitted the Kansas City Chiefs against the Houston Texans. The Chiefs won by a touchdown.
Thomas is often the only woman on the field. But in Tampa, at the Super Bowl, as the coaches lined up to greet the officials, something was different: The coaching staff for the Buccaneers included two women – a defensive line assistant and an assistant strength and conditioning coach. The women shook hands and went to work.
Contact
Robb Frederick
Assistant director, news and information, Penn State Behrend