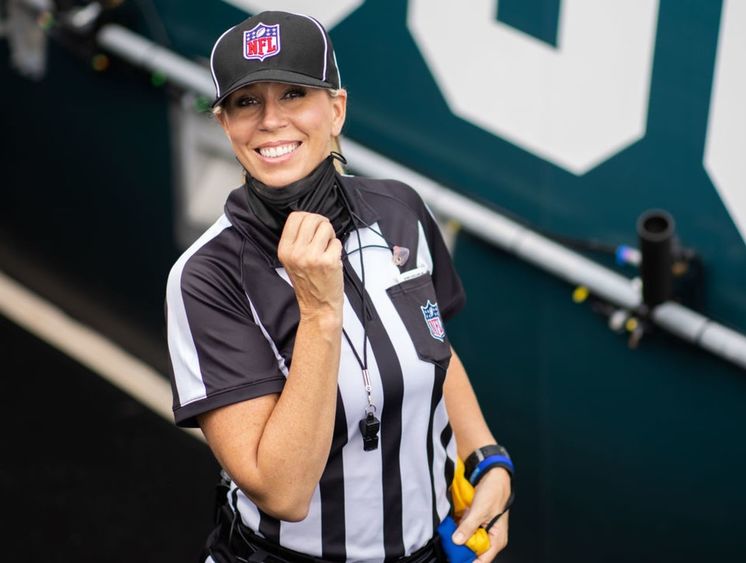 ERIE, Pa. — "So often we're told, 'You can't,' or 'You won't,' or 'You shouldn't,' and we want to use that as an excuse, or a roadblock. Don't. Look at it as a speed bump. The quicker you get over a speed bump, the faster that thing is in your rearview mirror," said Sarah Thomas, the first woman to officiate an NFL game, during an April 5 Speaker Series program at Penn State Behrend.
In 1996, after being kicked out of a basketball rec league — the men weren't comfortable guarding her, the commissioner said — Thomas accompanied her brother to a meeting for aspiring football officials.
"I didn't know that a woman hadn't done it," she said. "I also didn't know that I was going to get paid. That was a nice surprise."
For 10 years, she refereed youth games. She'd put her uniform on in the car, or in a restroom.
"I took every snap I could get," she said.
She worked her way up to Conference USA, a network of southern universities. She was the first woman to officiate a college bowl game, and the first to officiate in a Big Ten stadium.
Her first NFL game was in 2015. She had to tuck her ponytail under her hat.
"The players didn't care that I was a woman," she said. "They just see stripes."
She started as a line judge, watching for players who were offsides, or encroaching, or who had stepped out of bounds. Now, she's a down judge — a new, gender-neutral title for what had been called the head linesman.
She's used to scrutiny.
"No matter what you do, right or wrong, someone is always watching how you carry yourself," she said. "That's not just football. That's life. How you carry yourself matters. Your attitude matters.
"It's important, I think, to not go through life trying to prove people wrong," she said. "You'll just exhaust yourself. There will always be someone saying you can't, or you shouldn't, or you aren't good enough. Instead of worrying about them, prove to yourself that you belong."
Contact
Robb Frederick
Assistant director, news and information, Penn State Behrend