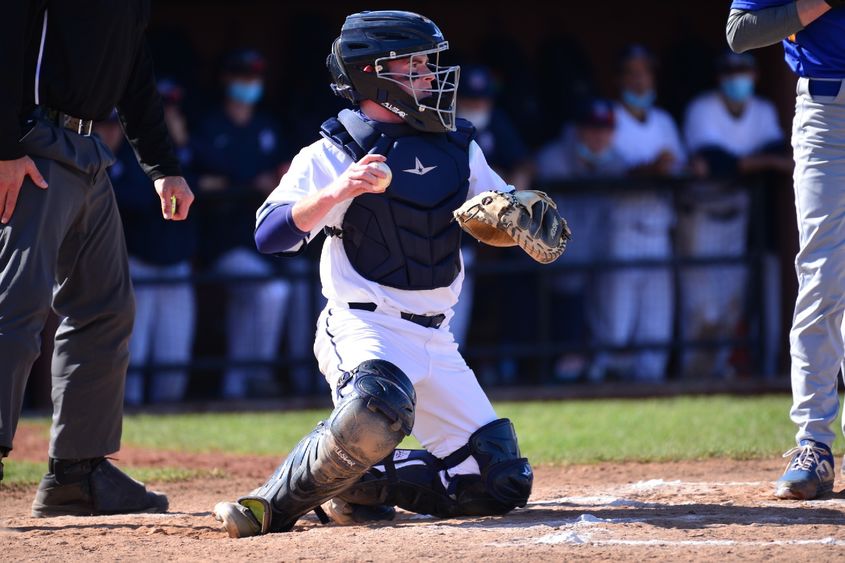 The Penn State Behrend baseball team has won its last six games, including a 15-2 victory over Hiram on April 15. Ten players had a hit in that game. Three players – Zack Bowen, Chase Palmer and John Berger – had three hits.
Behrend's softball, track and field, volleyball and golf teams also were in action last week. Here are the scores and highlights:
Baseball
Penn State Behrend 6, Penn State Altoona 3
Penn State Behrend 18, Penn State Altoona 12
Penn State Behrend 15, Hiram 2
Penn State Behrend 7, Medaille 1
Penn State Behrend 6, Medaille 1
Zack Bowen, a senior from Pittsburgh, had six hits against Penn State Altoona, including a home run, three doubles and a triple. He scored seven runs. Derrick Shields, a junior from Waterford, pitched all seven innings of the first game against Medaille. He struck out a career-high 11 batters.
Softball
Penn State Behrend 12, Mt. Aloysius 11
Penn State Behrend 2, Mt. Aloysius 1
Penn State Behrend 5, La Roche 0
Penn State Behrend 11, La Roche 8
The Lions scored six runs in the fifth inning of the nightcap against La Roche. Kylee Bundy, a senior from DuBois, connected for her 100th career hit.
Men's track and field
Jake Rose, a senior from Lawrence Park, won the shot put at Thiel's Tomcat Invitational, completing a 13.52-meter throw. Matthew Laslavic, a freshman from Zelienople, placed second in the javelin with a 52.76-meter throw. Both qualified for the All-Atlantic Regional Track and Field Conference Championships.
Women's track and field
Olivia Nola, a freshman from Erie, won the 1,500-meter race at Thiel's Tomcat Invitational, finishing in 4:54.89. She placed second in the 800-meter race, finishing in 2:28.51. Ivy Laffan, a freshman from Waterford, won the 400-meter race, finishing in 60.20.
Men's volleyball
Springfield 3, Penn State Behrend 0
The Lions exited the NCAA championship tournament in the first round, losing to top-ranked Springfield. The team ends its season with a 22-8 record.
Men's golf
Eighth (of nine teams) at the Mercyhurst Invitational
Seventh (of nine teams) at the Gannon Spring Invitational
Alex Pol, a senior from Erie, led the team at Mercyhurst. He carded a 78 and tied for 17th overall.  Ryan Johnson led at Gannon, carding a 78 and tying for eighth place.
Scores, updates and video links for Penn State Behrend athletics are posted at psblions.com.
Contact
Robb Frederick
Assistant director, news and information, Penn State Behrend
Jill Yamma
Sports information director, Penn State Erie, The Behrend College