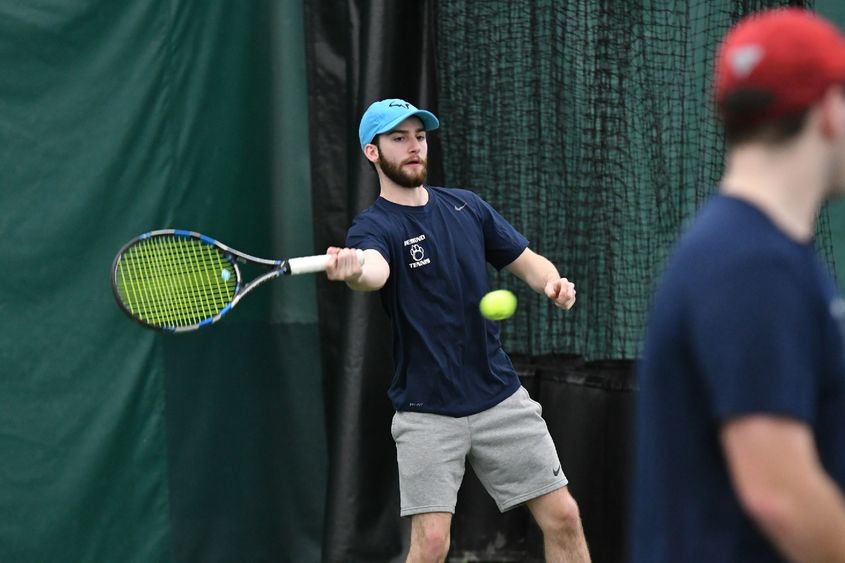 ERIE, Pa. — The Penn State Behrend men's tennis team won the Allegheny Mountain Collegiate Conference championship, defeating Penn State Altoona, 5-1. The team earned an automatic bid to the NCAA Division III tournament.
Behrend's baseball, softball, water polo and track and field teams also were in action last week. Here are the scores and highlights:
Baseball
Penn State Behrend 8, Westminster 7 (9 innings)
Penn State Behrend 6, Westminster 1
Allegheny 5, Penn State Behrend 4
Penn State Behrend 17, Hilbert 2
Penn State Behrend 10, Hilbert 0
Isaac Stouffer, a junior from Punxsutawney, hit a home run in the nightcap against Westminster. Three innings later, he hit a two-run triple.
Softball
Marietta 8, Penn State Behrend 0 (5 innings)
Marietta 12, Penn State Behrend 10
Penn State Behrend 5, Pitt-Bradford 0
Penn State Behrend 17, Pitt-Bradford 4
The Lions scored 17 runs in two innings in the nightcap against Pitt-Bradford. In the opener, Ashleigh Schmidt, a senior from Sarver, threw a one-hit shutout, striking out nine batters.
Men's track and field
Dan Dabrowski, a sophomore from Harborcreek, won the discus event at the Behrend Invitational, completing a throw of 48.81 meters – a school record. Samuel Hetrick, a sophomore from New Bethlehem, won the high jump and the long jump.
Women's track and field
Caroline Upham, a senior from Erie, won the high jump at the Behrend Invitational, clearing a height of 1.55 meters. She qualified for the All-Atlantic Regional Track and Field Conference Championships. Olivia Nola, a freshman from Erie, won the 5K at the Slippery Rock University Invitational, finishing in 18:24.41 – a personal best.
Men's tennis
Penn State Behrend 5, Penn State Altoona 1 (AMCC championship)
Penn State Behrend 5, Medaille 3
Allegheny 9, Penn State Behrend 0
Mitchell May, a junior from Erie, and Jonathon Laier, a freshman from Lansing, Michigan, won at No. 1 doubles in the AMCC title match, finishing with a score of 8-2. Laier also won at No. 1 singles, finishing 6-4, 6-2. He was named to the All-Tournament Team.
Women's water polo
Carthage 13, Penn State Behrend 12
Penn State Behrend 19, Connecticut 15
Washington and Jefferson 12, Penn State Behrend 11
Augustana 17, Penn State Behrend 2
Shannon Young, a junior from Roseville, California, scored five goals against Carthage. Marley Persch, a freshman from Hudsonville, Michigan, scored five against Connecticut.
Scores, updates and video links for Penn State Behrend athletics are posted at psblions.com.
Contact
Robb Frederick
Assistant director, news and information, Penn State Behrend
Jill Yamma
Sports information director, Penn State Erie, The Behrend College