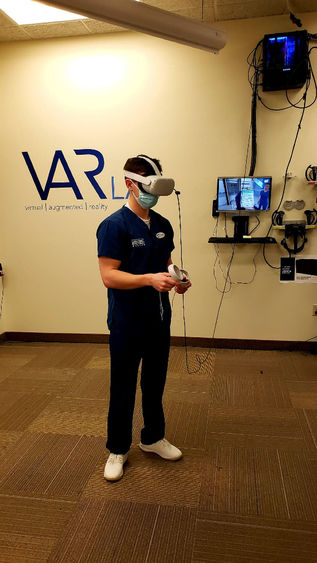 ERIE, Pa. — As the COVID-19 pandemic pushed nursing education into a digital world, the benefits of virtual reality (VR) simulation in the classroom became quite apparent. Privy to its advantages are Debra Loop, assistant teaching professor and simulation laboratory coordinator, and nursing instructor, Heidi Rich; both women plan to incorporate VR simulation into the Spring 306 Pediatrics Nursing Class at Penn State Erie's Behrend College.
As part of a joint VR project with the Fayette campus, a $5,000 Teaching Transformation and Innovation Grant from the Schreyer Institute for Teaching Excellence was awarded to cover the cost of the VR software. Using an already-established VR simulation lab at the Behrend campus run by Christopher Shelton, assistant professor and director of the virtual and augmented reality lab, Loop piloted the diabetic ketoacidosis (DKA) and asthma scenarios for her pediatrics students.
Loop has long recognized the importance of VR and stays up-to-date on translational and innovation trends by attending simulation conferences and joining simulation organizations. Through exposing herself to these events and organizations, she discovered the Oxford Medical Simulation company.
"I learned about Oxford Medical Simulation several years ago through my own interest of exploring VR," said Loop. "Because of COVID, we could not do the pilot study as we had intended with the VR headsets. So, they provided free scenarios to educators, and we took advantage of that by using the on-screen version while the students were isolated."
As part of the Next Generation NCLEX initiative, Behrend is exploring active learning strategies as an alternative to high-fidelity simulator purchase and maintenance. While Behrend's nursing simulation lab is still undergoing certain technology updates, Loop wanted to supplement her student's hands-on simulation learning with the high-quality VR pediatric simulation. The VR simulation provides very specific scenario attributes such as parents being present, which isn't always possible in the hands-on portion due to staffing limitations.
"Some hospital units are smaller, and the students don't often see acute pediatric patients, so we thought providing a realistic pediatric simulation would be greatly beneficial. The pediatric simulation would help to supplement their learning and make it a better experience for the students at Behrend. We plan to explore the variety of other pediatric scenarios available in the future."
In the most recent VR simulation pilot, 42 junior students participated two at a time for 20-minute increments using Oculus headsets in Shelton's simulation lab. Each scenario included opportunities to delegate tasks to a patient care technician, the ability to interact with both child and parent, administer medicine, wash hands, obtain a history and perform an assessment, and perform bedside tasks. After the 20-minute session, students received a report and rationale on their performance and debriefed after-the-fact.  
"The pediatric scenarios gave each student the ability to be the primary nurse, to be independent and make decisions on their own. There's nobody to fall back on," stated Loop. "Through the VR simulation, we are able to standardize the experience, so that every student will be able to be exposed to the same knowledge."
Throughout this process, Loop has maintained that she was very pleased with the outcome and believes it is a great way for each individual student to be more independent in their own work and gain better knowledge of hospital technology and overall care for the patient.
Loop received valuable student feedback that will in turn help improve the VR simulation experience for future nursing students.
Students impressions included: "The VR simulation allows for more of a collaborative hands-on experience where we get to physically assess patients, as well as documentation and oral communication," and "I enjoyed the VR simulation because it allowed you more independence and for you to see where you are at that very moment. I also enjoyed how it provided you with many options to choose from with communication, and how by asking the right questions can help the nursing process."
Loop is confident in the new interactive classroom addition and looks forward to permanently integrating the VR simulation into her student's learning curriculum. She hopes to soon submit a proposal for future funding to establish Behrend's own nursing VR simulation program.