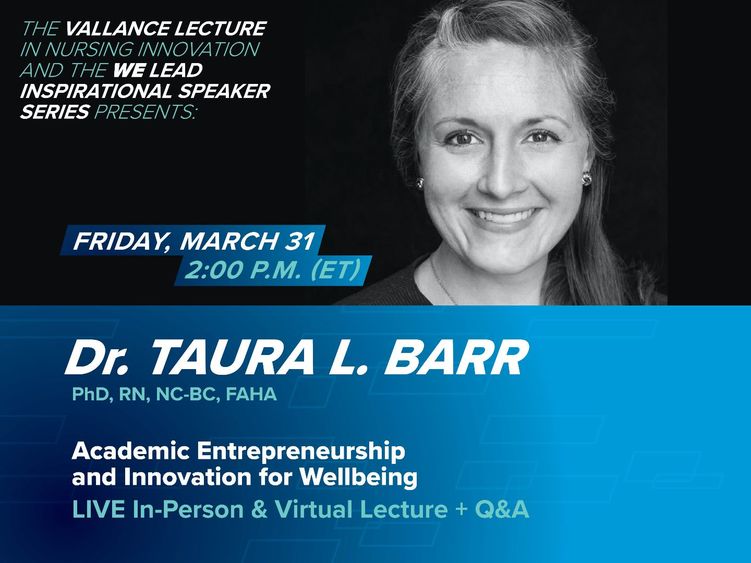 UNIVERSITY PARK, Pa. — Taura L. Barr, associate professor of clinical nursing at Ohio State University's College of Nursing, will be the speaker at the Penn State Ross and Carol Nese College of Nursing's 2023 joint Jean Vallance Lecture in Nursing Innovation/WE LEAD Inspirational Leader Speaker Series from 2 to 4 p.m. on Friday, March 31, at the Wyndham Garden State College. The lecture will be offered in-person as well as via webinar.
The lecture is free and open to the public with required registration that can be accessed here.
Barr's presentation "Academic Entrepreneurship and Innovation for Wellbeing" will be followed by a Q&A session.
In conjunction with the Vallance Lecture, the WE LEAD Nursing Leadership Academy will be holding a student poster viewing and reception after Barr's presentation. The WE LEAD Nursing Leadership Academy is a college initiative that aims to develop, foster, and champion the leadership competencies of emerging and established nurse leaders, preparing them to build a culture of health around the world using experiential learning to add depth to the student experience, covering topics like entrepreneurship, negotiation, and innovation.
"We are thrilled that Dr. Barr has accepted our invitation to give the lecture this year. She embodies the spirit of intellectual curiosity that characterizes the Vallance lectureship, and her leadership in advancing cultures of innovation and wellness will challenge our thinking and provide new perspectives for the work we do," said Susan Leight, director of the Ross and Carol Nese College of Nursing Leadership Initiative.
Barr is an internationally recognized nurse scientist, entrepreneur, and certified integrative nurse coach with expertise in innovation, entrepreneurship, and neuroimmunology. She has been a nurse for 19 years, 13 of which were spent in academia. During her academic tenure, her team raised over $15 million in grants, contracts, venture, and strategic partnering financing for their research programs and in 2021, secured a $500,000 clinical trial with a large pharmaceutical partner to develop a point of care assay for stroke triage.
Additionally, Barr is an associate professor at the Ohio State University College of Nursing and founder of five companies — most notably Valtari Bio, a stroke neuroimmunology company — and is a consultant in Deep Roots Healing Inc., where she partners with innovative organizations and individuals to build cultures of innovation that prioritize well-being.
Barr's personal mission is to inspire others to nurture their creative and innovative spirit while enhancing their well-being and living a holistic lifestyle in body, mind, and spirit.
The Jean Vallance Lecture in Nursing Innovation is an endowed lecture series presented by the Nese College of Nursing to honor Jean S. Vallance, a 30-year resident of State College who died in 1997. Vallance helped organize the Family Planning Clinic, later known as Family Health Services, to bring low-cost health care to women in central Pennsylvania. She was among the first nurses in Pennsylvania to be registered as a certified registered nurse practitioner. Her husband, Theodore Vallance, was a former associate dean in the Penn State College of Health and Human Development and an avid supporter of the College of Nursing.