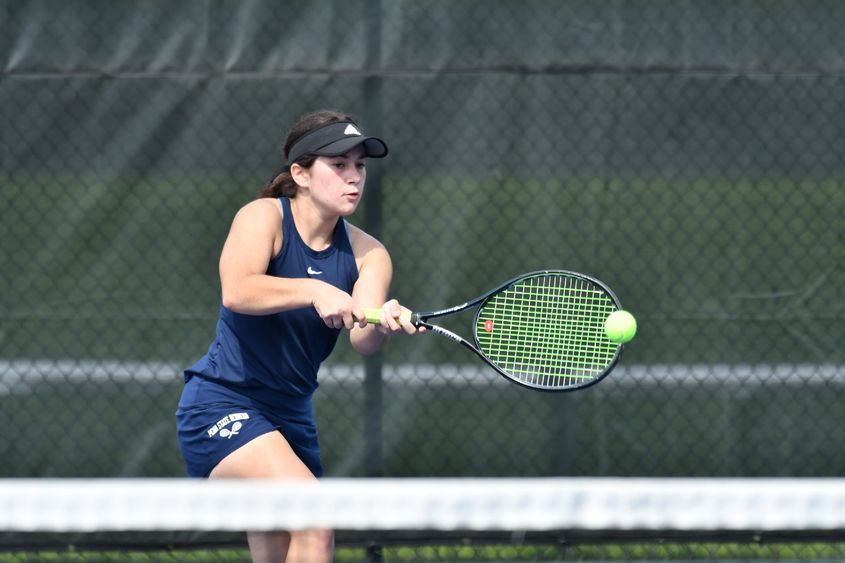 ERIE, Pa. — The Penn State Behrend women's tennis team swept Mt. Aloysius on Sept. 24, earning a second Allegheny Mountain Collegiate Conference victory. The team hosts La Roche on Friday, Sept. 30.
Behrend's soccer, golf, volleyball and water polo teams also were in action last week. Here are the scores and highlights:
Men's soccer
Penn State Behrend 2, Marietta 1
Geneva 2, Penn State Behrend 1
Blake Cooper, a sophomore from Murrysville, scored the game-winning goal against Marietta with 36 seconds left in the match.
Women's soccer
Carnegie Mellon 2, Penn State Behrend 0
Case Western 3, Penn State Behrend 0
Goalkeeper Riley Morningstar, a freshman from North Huntingdon, made a season-best nine saves against Carnegie Mellon.
Men's golf
Fourteenth (of 16 teams) at the Guy and Jeanne Kuhn Memorial Tournament
Ryan Johnson, a senior from Centre Hall, led the Lions with a two-day score of 159. He tied for 40th place in a field of 84 golfers.
Women's volleyball
York 3, Penn State Behrend 1
Penn State Behrend 3, Alfred 0
Brooke Joncas, a senior from Corry, and Hannah Phillips, a junior from Pittsburgh, each recorded 12 kills and seven digs against Alfred. Meg Goodsel, a junior from Corry, added 27 digs.
Men's tennis
Nazareth 5, Penn State Behrend 4
Ritvik Nadikude, a freshman from Hyderabad, India, and Jonathon Laier, a sophomore from Lansing, Michigan, won at No. 1 doubles against Nazareth, finishing with an 8-5 score. Nadikude also won at No. 1 singles (6-2, 7-5). Laier won at No. 2 singles (6-4, 0-6, 6-0).
Women's tennis
Allegheny 9, Penn State Behrend 0
Penn State Behrend 9, Mt. Aloysius 0
Penn State Behrend 6, Fredonia 3
Erica Jasinski, a senior from Fairview, and Rachel Weber, a senior from Allison Park, won at No. 1 doubles against Mt. Aloysius, finishing with a score of 8-0. Jasinski also won at No. 1 singles, and Weber at No. 2 singles – both in straight sets.
Men's water polo
Mount St. Mary's 28, Penn State Behrend 14
Jack Holl, a sophomore from Greenwich, Connecticut, scored five goals against Mount St. Mary's. Ryan Kenney, a senior from Skippack, and Eugene Kruger, a sophomore from Pleasanton, California, each scored three.
Scores, updates and video links for Penn State Behrend athletics are posted at psblions.com.
Contact
Robb Frederick
Assistant director, news and information, Penn State Behrend
Jill Yamma
Sports information director, Penn State Erie, The Behrend College