Nominations open now for 2024 awards through the Schreyer Institute for Teaching Excellence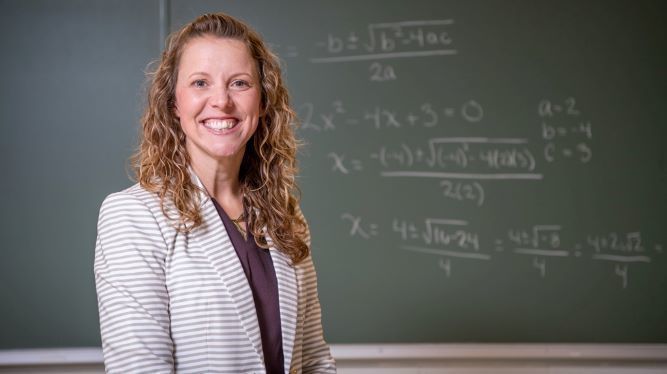 UNIVERSITY PARK, Pa. — Too often students learn math through disconnected formulas, rules and procedures, but void of underlying concepts, explained Courtney Nagle, associate professor of mathematics education at Penn State Behrend and a recipient of the 2022 Milton S. Eisenhower Award for Distinguished Teaching.
Nagle's classroom, however, is a space where student thinking is nurtured, according to the students who nominated her for the Eisenhower Teaching Award, one of the University's highest awards for undergraduate teaching.
Nagle said she strives to build understanding so students can view themselves as capable thinkers. She explained that she aims to create a risk-free classroom where students feel safe and valued, and where she is open to questions and embraces all student thinking.
One of Nagle's student nominators applauded how she paces content to meet students where they are.
"Dr. Nagle understands that learning content takes longer than teaching content, and because of that, many other students and I have been successful in her class and have been able to apply what she taught us in later classes," the student wrote.
Another student nominator recounted how she helped her to fall in love with mathematics. 
"When I had Dr. Nagle for Math 140 (Calculus I) my freshman year, I had no interest in calculus and did not believe the class could teach me anything I did not already know," the student wrote. "Dr. Nagle fixed my poor attitude by challenging my conceptual knowledge and pushing me to be the best mathematician I could be. She connected the mathematics we were doing to real world applications, which gave the content meaning to me. I was so inspired by her that I went to her office to discuss changing majors from Engineering to Secondary Mathematics Education."
Nagle said receiving the 2022 Milton S. Eisenhower Award for Distinguished Teaching has meant the world to her.
"This has been one of my greatest accomplishments in my 16-year career at Penn State," she said. "The award is both rewarding and inspiring as I think about how to expand upon my past successes while continuing to meet the needs of future students."
About the Eisenhower Teaching Award and How to Nominate
The Milton S. Eisenhower Award for Distinguished Teaching is given each year by the University to two tenured faculty members, one from the University Park campus and one from a Commonwealth Campus. Eisenhower recipients are not only expected to demonstrate excellence in undergraduate teaching, but they must also have shared their expertise and mentored other Penn State educators. The award comes with a $2,500 cash prize. 
Any member of the Penn State community, broadly defined, may nominate a faculty member for a teaching award by completing a form on the Schreyer Institute's website, which also provides the eligibility criteria. If a nominee is endorsed by their college or campus, they are asked to provide supporting documents such as recommendation letters, a teaching philosophy statement and evidence of their teaching improvement activities.  
Nominations are accepted year-round, and those submitted before June 30, 2023 will be considered for the 2024 awards. The 2023 awards, which will be based on nominations submitted prior to June 30, 2022, will be announced in April 2023 along with several other University undergraduate teaching awards.