The final entry in a three-part series about the impact of 'A Greater Penn State'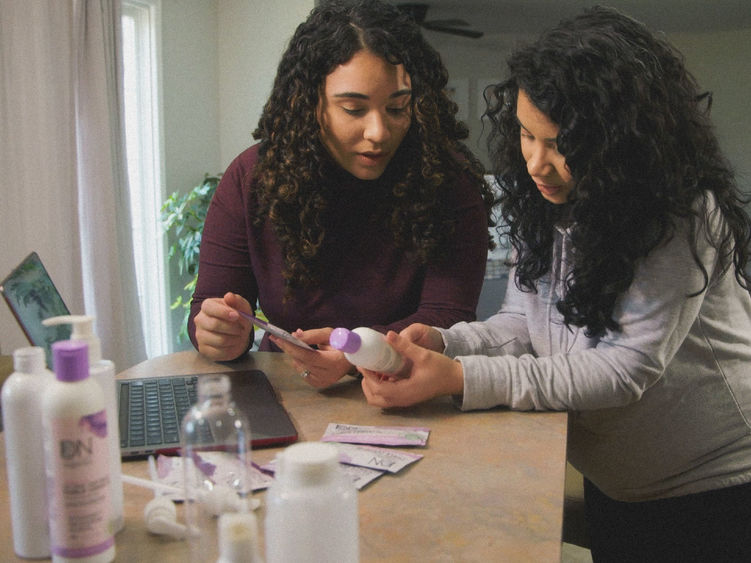 READING, Pa. — When sisters and Penn State Berks graduates Nicol Varona Cancelmo, class of 2013, and Cory Varona-Corniel, class of 2011, were growing up in the Dominican Republic, they hated their curly hair, and they spent years fighting it with chemical straightening. As adults, though, they came to embrace its natural texture, and they wanted to make it easier for other women to love their curly hair, too. They used their Penn State educations to launch a company, DN Organics, to sell safe and effective products — and they used the support of the Berks LaunchBox powered by Penn State to network with other entrepreneurs and mentors, build an online shopping platform, and grow their business.
"What makes me most proud to be a part of the Penn State community is the network of support, and the fact that you feel like family," said Varona Cancelmo in a video interview. "Having others that we can lean on for help in building our business has been instrumental to our success."
One of 21 sites that are part of the Invent Penn State LaunchBox & Innovation Network, the Berks LaunchBox and related economic development programs at the campus received a total of $1.2 million in philanthropic support, matched 1:1 with University funds, during "A Greater Penn State for 21st Century Excellence." The campaign, which concluded on June 30, raised more than $2.2 billion for the three key imperatives of a modern land-grant institution: opening the doors of higher education to students from every background; creating transformative experiences for both students and citizens; and impacting the larger world through research, outreach and service. While the nearly $844.5 million raised for the last imperative advanced a wide range of priorities across the University, the campaign focused attention on three opportunities for impact: economic development, resource security, and human health.
A greater Penn State, a greater Pennsylvania economy
When Invent Penn State launched in 2015, the University invested $30 million in seed funding for the effort, intended to drive economic development, job creation and student career success. Fulfilling the vision and potential of the initiative would depend, however, upon partnership with donors who were committed to the LaunchBox and innovation spaces in their own communities. During "A Greater Penn State," the LaunchBox Matching Program offered a 1:1 match for endowments created on behalf of the entrepreneurship education centers, with naming opportunities available for gifts of $1 million or more. By the conclusion of the campaign, five sites had been named in recognition of donor support: Altoona LaunchBox supported by the Hite Family, Happy Valley LaunchBox powered by PNC Bank, Hazleton LaunchBox supported by Pasco L. Schiavo, Esq., James R. Meehl Innovation Commons powered by Penn State Behrend, and Shenango LaunchBox powered by the Greater Sharon Community.
Penn State supporters also could leverage University funding for other select initiatives through the Economic Development Incentive Matching Program. In the years to come, endowments will fund internships for Penn State Wilkes-Barre students, entrepreneurship and innovation programming in the College of Agricultural Sciences, professional mentorship for CommAgency participants in the Donald P. Bellisario College of Communications, and other programs across the institution. These gifts were often an expression of the donors' personal passions and stories: Penn State alumni Robert and Linda Malecky created an endowment to encourage participants in Invent Penn State's Summer Founders Program to develop products and services designed to positively impact the lives of people with disabilities. Their gift was inspired by their own experience as parents of a child with a neuroimmune disorder.
"We thought the Summer Founders program was a great catalyst for getting people engaged with entrepreneurial ventures, and we wanted to combine that support with an area of entrepreneurism that is perhaps underserved," said Robert Malecky. "We hope our gift will lead to real, tangible solutions that make people's lives better. But we also want to draw attention to the idea that successful ventures can grow from products and services that meet the needs of people with disabilities, whether those are for-profit or nonprofit ventures. So we're very excited to partner with Penn State to make all that happen."
Scholarships now, energy for the future
The campaign also took on challenges with impact far beyond the commonwealth, including the global need for safe, secure and abundant resources. Penn State's strengths in the energy sector, including the top-ranked John and Willie Leone Department of Energy and Mineral Engineering in the College of Earth and Mineral Sciences, have made it a destination for students like Akhdan Mir, an energy engineering major. Through the Millennium Scholars Program, Mir receives both financial support from the Charles and Mary Zebula Millennium Scholars Scholarship and a sense of support and community from his peers and faculty members.
"With my research, I will help create the next generation battery to be implemented in renewable energy technologies," said Mir. "This research has made me excited to pursue a Ph.D. and eventually start my own company. The Millennium Scholars program has been instrumental in providing me opportunities for mentorship and professional development. As a young scientist, I am committed to doing my part in keeping the planet sustainable for future generations."
Support for Penn State, support for patients and families
The success of "A Greater Penn State" will not only be felt far into the future. It's having an impact now, in the lives of the individuals and families who are able to access world-class health care thanks to philanthropy, and for the physicians, faculty and students of Penn State's medical programs. Dr. Cynthia Chuang is both: As the chief of the Division of General Internal Medicine, she was on the frontlines of Penn State Health's COVID-19 response, and as the Robert E. Dye M.D. Professor at Penn State College of Medicine, she teaches future leaders of the profession. She also is a member of a Four Diamonds family.
"My daughter Emma beat cancer years ago, but my family and I are forever grateful for Four Diamonds' support and for the Penn State student-volunteers who fundraise for the organization year in and year out," said Chuang. "As a researcher, I know the impact of those dollars in the lab. As a mother, I know the impact of that support on patients and families."
Over the course of the campaign, more than $165 million was raised for children's health by Children's Miracle Network and Four Diamonds, and through gifts made directly to Penn State Health Children's Hospital.
"A Greater Penn State" also saw the naming of Penn State's College of Nursing by Ross and Carol Nese and a $25 million commitment from Highmark for research and care at the Penn State Cancer Institute.
Longtime philanthropic leaders also prioritized medical research and care through their campaign giving. The Carlino Family Inflammatory Bowel Disease Center at Penn State Health was named in honor of donors Peter and Marshia Carlino. Peter and Ann Tombros continued their long-standing history of giving to multiple programs at Penn State when they made a landmark commitment to priorities across Penn State, including two funds that honor Ann's late father, State College physician Dr. Esker W. Cullen, and will support future generations of health care researchers and leaders.
Peter Tombros, who served as volunteer chair of the University's last campaign, "For the Future: The Campaign for Penn State Students" and as a vice chair in "A Greater Penn State," captured the motivation for many of the nearly 700,000 donors who made gifts during the recent effort. "Penn State has enriched our lives in countless ways, and our support has been repaid a thousand times over, not only through the immense satisfaction of seeing the University rise to become one of the top institutions in the world, but also through the wonderful personal rewards of meeting so many Penn Staters and seeing what they can achieve with our help," said Tombros. "We hope that our legacy at the University will encourage others to find their own way of contributing to the success of Penn State and Penn Staters."
With the record-breaking success of "A Greater Penn State for 21st Century Excellence," which raised $2.2 billion from 2016 to 2022, philanthropy is helping to sustain the University's tradition of education, research and service to communities across the commonwealth and around the globe. Scholarships enable our institution to open doors and welcome students from every background, support for transformative experiences allows our students and faculty to fulfill their vast potential for leadership, and gifts toward discovery and excellence help us to serve and impact the world we share. To learn more about the impact of giving and the continuing need for support, visit raise.psu.edu.