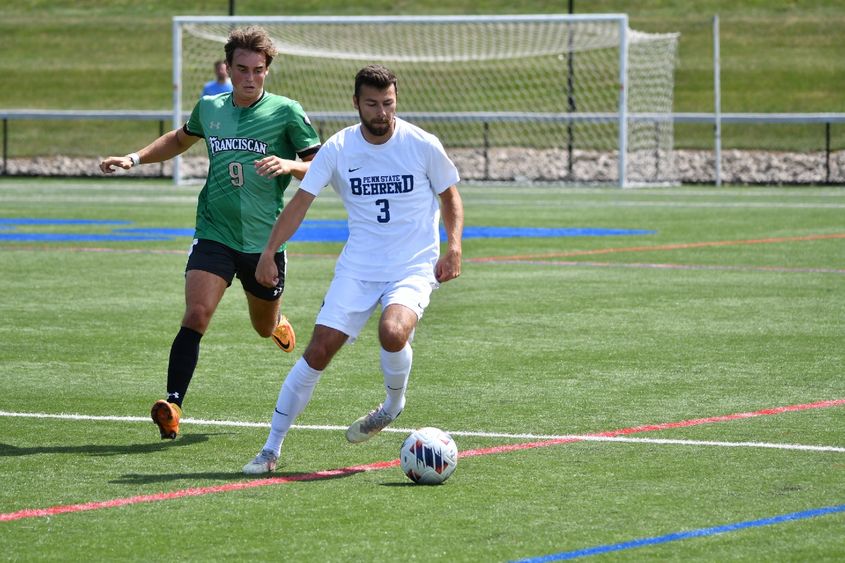 ERIE, Pa. — The Penn State Behrend men's soccer team posted its seventh consecutive shutout with a 4-0 win against Pitt-Greensburg on Oct. 22. The Lions, who are tied for first place in the Allegheny Mountain Collegiate Conference, have scored 30 goals during that stretch.
Behrend's volleyball, water polo, bowling, and swimming and diving teams also were in action last week. Here are the scores and highlights:
Men's soccer
Penn State Behrend 4, Pitt-Greensburg 0
Penn State Behrend 9, Hilbert 0
Justin Hockenberger, a senior from Spencerport, New York, scored four goals against Hilbert. He also scored against Pitt-Greensburg.
Women's soccer
Pitt-Greensburg 3, Penn State Behrend 1
Penn State Behrend 5, Hilbert 0
Five different players scored against Hilbert. Mia Zec, a junior from Cranberry Township, struck first, on a penalty kick in the 17th minute.
Women's volleyball
Penn State Behrend 3, Pitt-Greensburg 0
Penn State Behrend 3, Hilbert 0
Sarah Cole, a senior from Jackson Center, hit a season-high 12 kills against Hilbert. Meg Goodsel, a junior from Corry, contributed 33 of the team's 37 assists.
Men's swimming and diving
Penn State Behrend 194, Westminster 104
Tim Compton, a sophomore from Pittsburgh, won the 200 butterfly (1:58.40), the 100 butterfly (53:41) and the 200 IM (2:02.18) at the season opener at the Junker Center. He also swam a leg of the 200 medley relay, which the Lions won.
Women's swimming and diving
Westminster 167, Penn State Behrend 103
Emma Webster, a junior from Bradford, won the 100 backstroke (1:06.14) and the 200 backstroke (2:20.39) in the season opener at the Junker Center.
Men's water polo
Washington & Jefferson 14, Penn State Behrend 6
Johns Hopkins 21, Penn State Behrend 5
Connecticut 18, Penn State Behrend 12
Jack Holl, a sophomore from Greenwich, Connecticut, scored seven goals against Connecticut at the Division III Eastern Championships. He scored three more against Johns Hopkins.
Women's bowling
Penn State Behrend 790, La Roche 742
Daemen 835, Penn State Behrend 778
Penn State Behrend 872, Pitt-Greensburg 695
Penn State Behrend 777, Pitt-Greensburg 729
Daemen 765, Penn State Behrend 737
Abigail Lanker, a sophomore from Sunbury, Ohio, had the top team score in two matches at the Grapevine Classic. She finished with a 171 average and was named to the All-Tournament team.
Scores, updates and video links for Penn State Behrend athletics are posted at psblions.com.
Contact
Robb Frederick
Assistant director, news and information, Penn State Behrend
Jill Yamma
Sports information director, Penn State Erie, The Behrend College