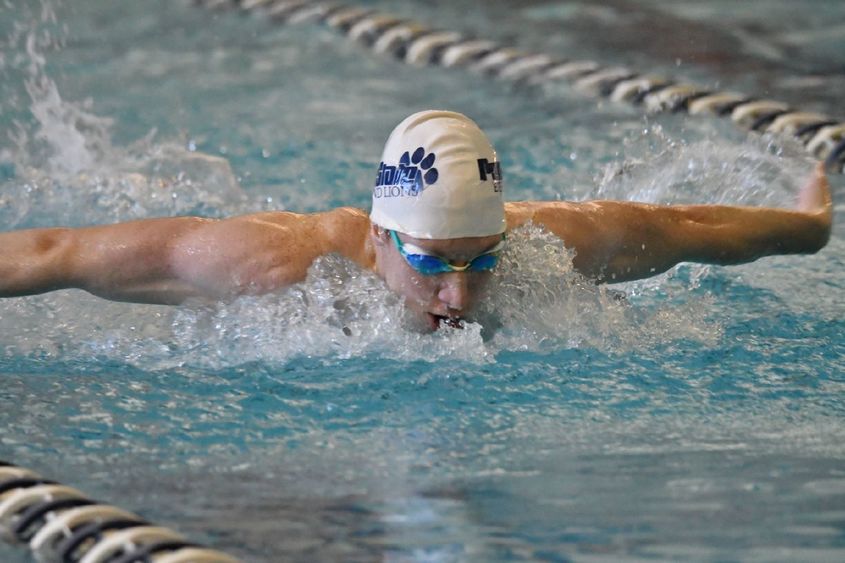 ERIE, Pa. — Penn State Behrend swimmer Tim Compton, a sophomore from Pittsburgh, set a pool record in the 400 IM at Pitt-Bradford on Nov. 5. He finished in 4:18.55. He also won the 200 freestyle, finishing in 1:50.14.
Behrend's soccer, volleyball and bowling teams also were in action last week. Here are the scores and highlights:
Men's soccer
Mt. Aloysius 1, Penn State Behrend 1 (AMCC championship)
Penn State Behrend 4, Pitt-Greensburg 0
Blake Cooper, a sophomore from Murrysville, scored Behrend's lone goal in the Allegheny Mountain Collegiate Conference championship game. The Lions, who had not given up a goal since Oct. 1, lost the title on penalty kicks, 4-5, after two overtime periods.
Women's soccer
Pitt-Greensburg 3, Penn State Behrend 2 (OT, AMCC championship)
Penn State Behrend 3, Mt. Aloysius 0
Trinity Prestash, a sophomore from Philipsburg, scored two goals in the AMCC semifinal game and two more in the final. She had seven goals in her last three games of the season.
Women's volleyball
Alfred State 3, Penn State Behrend 0 (AMCC championship)
Penn State Behrend 3, Mt. Aloysius 1
 Hannah Phillips, a junior from Pittsburgh, led the Lions against Alfred State with a match-high 19 kills. Brooke Joncas, a senior from Corry, added 16 kills. Meg Goodsel, a junior from Corry, had 32 assists.
Men's swimming and diving
Penn State Behrend 136, Pitt-Bradford 80
Dan Tanaskovic, a junior from Monaca, won the 100 backstroke (58.06) and the 100 freestyle (50.45). Jacob Eshelman, a senior from Franklin, won the 100 breaststroke (1:04.03) and the 200 backstroke (2:03.35). Each also swam a leg of the team's 200 medley relay, which won in 1:42.13.
Women's swimming
Penn State Behrend 122, Pitt-Bradford 66
Isabel Sheridan, a freshman from Allentown, won three individual events: the 1,000 freestyle (11:57.28), 200 backstroke (2:27.23) and the 400 IM (5:11.22). She also swam a leg of the team's 200 medley relay, which won in 2:04.88.
Women's bowling
Ursuline 753, Penn State Behrend 676
La Roche 812, Penn State Behrend 768
St. Vincent 957, Penn State Behrend 863
Penn State Behrend 807, Pitt-Greensburg 655
Ursuline 999, Penn State Behrend 972
Penn State Behrend 761, Pitt-Greensburg 669
Penn State Behrend 702, Pitt-Greensburg 690
Scores, updates and video links for Penn State Behrend athletics are posted at psblions.com.
Contact
Robb Frederick
Assistant director, news and information, Penn State Behrend
Jill Yamma
Sports information director, Penn State Erie, The Behrend College