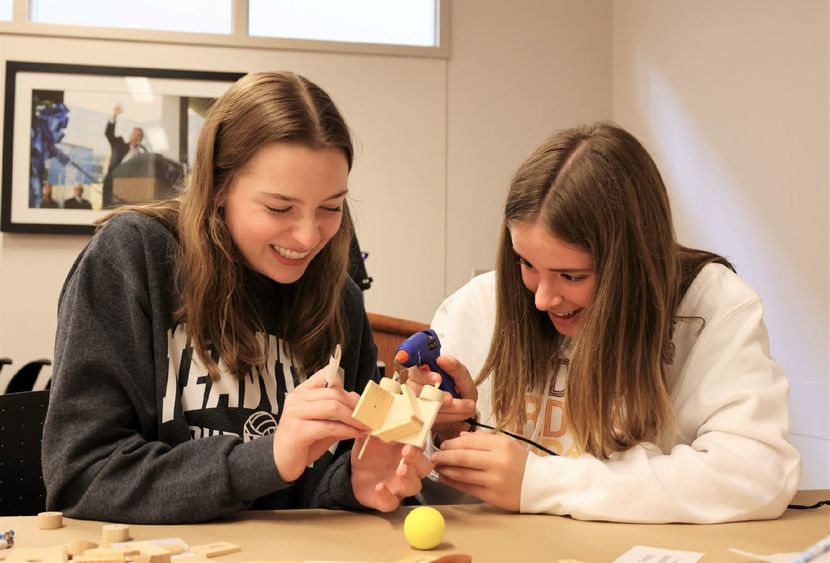 ERIE, Pa. — As a woman who works in engineering, Catherine DiLuzio often feels like a unicorn.
"People look at you like you can't exist," she told an auditorium full of high school students at Penn State Behrend's Burke Center.
DiLuzio, a 2012 Behrend graduate, was the keynote speaker at Behrend's Women in Engineering day, an outreach program that introduces high school students to varied career options within the field of engineering. She works at Zurn Industries.
DiLuzio did not offer a dramatic origin story — spouting off the Pythagorean theory as a toddler, for example, or rewiring the house at age 10.
"Those kinds of stories are amazing, and I hear them all the time," she said. "I look at myself and think maybe I am too normal. I don't have an interesting story as to why I became an engineer."
Instead, she said, she was just someone who was "pretty good" at math and science and was willing to work hard.
That message fits the tone of the Women in Engineering day program, said Abbe Biebel, a K-12 program educator in Behrend's office of Youth Education Outreach. The day featured a series of hands-on workshops, which were led by professional engineers — volunteers from National Fuel Gas, Acutec Precision Aerospace, Parker LORD and other companies. In one session, students designed model cars, which they tested on different road surfaces. In another, they used cardboard tubes and tape to simulate a natural gas pipeline.
"I like that it has been a lot of group work," said Jenna Bosco, a junior from Meadville. "I didn't realize there was so much group work in engineering."
The group dynamics taught the girls about "soft skills," in addition to engineering basics. Students from 28 schools participated in the program.
"You learn a lot, working with other people," said Dannica McChesney, a sophomore from Union City. "You learn how to let them take charge sometimes."
The program also served as an introduction to college.
"I think it is insightful that we get to see campus, rather than sitting in a high school classroom," said Sydney Holt, a junior from Meadville. "And the hands-on activities are a lot easier to understand."
Lindsey Moir attended Women in Engineering Day while in high school. This year, she returned as an adult volunteer. She works as a controls engineer at Wabtec.
"I want to mentor girls so they know that whatever field they are in, the opportunities are endless in engineering," she said.
Contact
Robb Frederick
Assistant director, news and information, Penn State Behrend