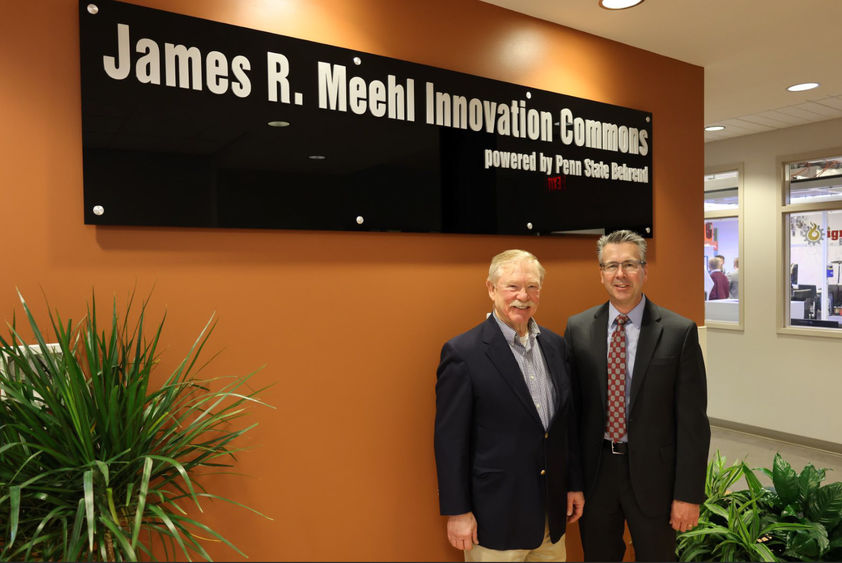 ERIE, Pa. — A $2.13 million endowment has expanded Penn State Behrend's James R. Meehl Innovation Commons, a product design and prototyping lab where students have supported more than 240 projects for local entrepreneurs, startups and community groups.
That work has led to 15 new companies and 15 patent applications that name Behrend students as co-inventors.
The lab, part of the Invent Penn State network, was the first site for the Northwest Pennsylvania Innovation Beehive Network, a partnership of institutions in the Erie region. It offers early-stage product design, computer-aided drafting, no-cost 3D printing, app development and Industry 4.0 training, among other services.
The endowment was created through an array of private and corporate gifts with a combined value of more than $1.06 million — an amount that was matched 1:1 by Penn State's LaunchBox Matching Program, which is now concluded. In recognition of the largest of the gifts, from the family of the late James R. Meehl, the lab has been named the James R. Meehl Innovation Commons. A dedication event was held on Jan. 12.
James Meehl was the former owner of Eureka Electrical Products, in North East. The business is the oldest continuously operating company in Erie County.
The endowment will expand staffing at the lab, accelerate the move into app development and fund the acquisition of new equipment, including a custom high-speed 3D printer that will be built by Behrend students.
"This endowment has increased our capabilities in design, prototyping and 3D printing," Chancellor Ralph Ford said. "There's no question that it already is having a tremendous impact."
With the record-breaking success of "A Greater Penn State for 21st Century Excellence," which raised $2.2 billion from 2016 to 2022, philanthropy is helping to sustain the University's tradition of education, research and service to communities across the Commonwealth and around the globe. Scholarships enable our institution to open doors and welcome students from every background, support for transformative experiences allows our students and faculty to fulfill their vast potential for leadership, and gifts toward discovery and excellence help us to serve and impact the world we share. To learn more about the impact of giving and the continuing need for support, please visit raise.psu.edu.
Contact
Robb Frederick
Assistant director, news and information, Penn State Behrend