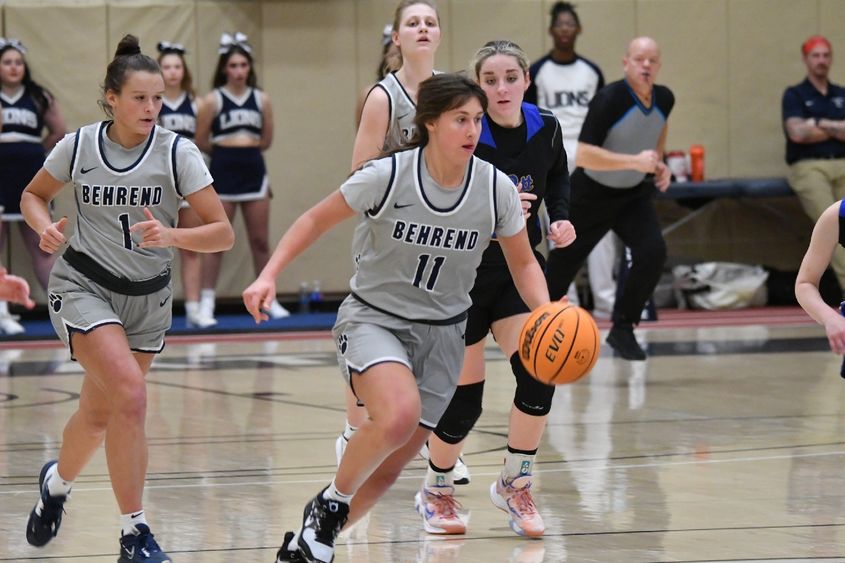 ERIE, Pa. — The Penn State Behrend women's basketball team dominated Pitt-Bradford in a recent 105-45 win in Junker Center. Five players scored double-digit points. The team also defeated Pitt-Greensburg, 90-61.
Behrend's wrestling and swimming and diving teams also were in action last week. Here are the scores and highlights:
Men's basketball
Pitt-Greensburg 66, Penn State Behrend 63
Penn State Behrend 72, Pitt-Bradford 71
Tommy DiRienzo, a junior from Pittsburgh, scored a season-best 24 points against Pitt-Bradford. Mason Blankenberg, a freshman from Ontario, New York, added 15 points.
Women's basketball
Penn State Behrend 90, Pitt-Greensburg 61
Penn State Behrend 105, Pitt-Bradford 45
Madilyn Boyer, a freshman from Saxonburg, scored 23 points against Pitt-Greensburg. Morgan Altavilla, a freshman from Pittsburgh, added 21 points.
Men's swimming and diving
Grove City 167, Penn State Behrend 112
Tim Compton, a sophomore from Pittsburgh, won the 200 butterfly (1:58.01) and the 500 freestyle (4:58.92). Jacob Earley, a freshman from Erie, won the 1-meter and 3-meter diving events.
Women's swimming and diving
Grove City 180, Penn State Behrend 99
Aliya Webster, a junior from Bradford, won the 1000 free (11:47.31) and the 500 free (5:46.73).
Wrestling
Case Western 43, Penn State Behrend 12
Thiel 48, Penn State Behrend 12
Kyle Trim, a sophomore from Bemus Point, New York, pinned two opponents at the Mel Berry Duals at Thiel College. He wrestles as a heavyweight. Zach Dellinger, a freshman from Williamsville, New York, won by pin in the 125-pound bout against Thiel.
Scores, updates and video links for Penn State Behrend athletics are posted at psblions.com.
Contact
Robb Frederick
Assistant director, news and information, Penn State Behrend
Jill Yamma
Sports information director, Penn State Erie, The Behrend College