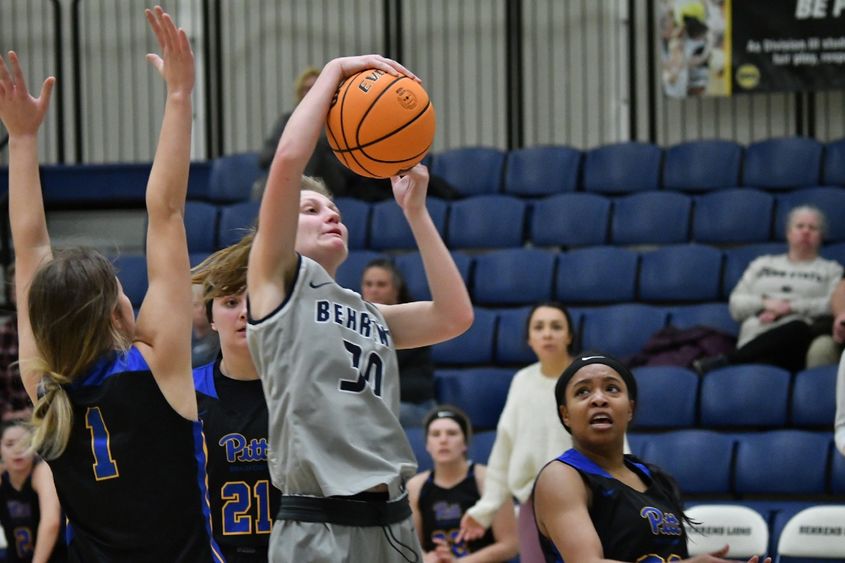 The Penn State Behrend women's basketball team completed a regular-season sweep of Penn State Altoona with an 88-56 win on Feb. 11. The team travels to Alfred State on Feb. 15.
Behrend's volleyball, track and field, tennis, bowling and wrestling teams also were in action last week. Here are the scores and highlights:
Men's basketball
Penn State Altoona 76, Penn State Behrend 69 (OT)
Penn State Behrend 81, Pitt-Bradford 49
Tommy DiRienzo, a junior from Pittsburgh, scored a career-high 34 points against Penn State Altoona. Matt McDonough, a freshman from Pittsburgh, scored 31 points against Pitt-Bradford. McDonough made 10 three-pointers – a single-game record for a Behrend player.
Women's basketball
Penn State Behrend 88, Penn State Altoona 56
Penn State Behrend 107, Pitt-Bradford 47
Madilyn Boyer, a freshman from Saxonburg, scored 21 points and grabbed 18 rebounds against Pitt-Bradford. Morgan Altavilla, a freshman from Pittsburgh, and Rachel Majewski, a sophomore from Erie, each scored 16 points.
Men's volleyball
Penn State Behrend 3, St. Vincent 1
Penn State Behrend 3, Mt. Aloysius 1
Penn State Behrend 3, Medaille 0
Kyle Hoffman, a freshman from Carlton, recorded 14 kills against St. Vincent. Alex Jackson, a junior from Cochranton, had 21 assists against Medaille.
Men's track and field
Samuel Hetrick, a junior from New Bethlehem, won the high jump at the Spire Collegiate Indoor Games, clearing a height of 2.07 meters. He is tied for fourth in the national rankings for the event. Antonio Stello, a senior from Punxsutawney, set a school record in the 200-meter race, finishing in 22.19. He placed ninth.
Women's track and field
Savanna Carr, a senior from Franklin, set a personal-best time in the 3,000-meter race at the Spire Collegiate Indoor Games. She finished in 10:30.09, placing second. Behrend's distance medley relay team – Bethany Litwiler, Emily Ferrans, Lindsey Hartle and Izzy Spires – placed fifth, finishing in 14:09.50.
Men's tennis
Otterbein 7, Penn State Behrend 2
Ritvik Nadikude, a freshman from Hyderabad, India, won at No. 1 singles with scores of 6-1 and 11-9. He partnered with Jonathon Laier, a sophomore from Lansing, Michigan, to win at No. 1 doubles, 8-7.
Women's bowling
Penn State Behrend 809, Penn State Altoona 722
Penn State Behrend 779, Holy Family 637
Penn State Behrend 859, Pitt-Bradford 790
Pitt-Bradford 840, Penn State Behrend 774
Sidney Basta, a sophomore from Latrobe, ranked sixth in a field of 45 bowlers at the Br. Patrick Lacey memorial Tournament at St. Vincent. Her average score was 169.80.
Wrestling
Zach Dellinger, a freshman from Williamsville, New York, placed second at the Allegheny Mountain Collegiate Conference championships, held at Junker Center. He wrestled in the 125-pound weight class. Kyle Trim, a sophomore from Bemus Point, New York, placed third in the heavyweight class. Dylan Barber, a senior from Brookville, also placed third. He wrestled in the 197-pound bouts.
Scores, updates and video links for Penn State Behrend athletics are posted at psblions.com.
Contact
Robb Frederick
Assistant director, news and information, Penn State Behrend
Jill Yamma
Sports information director, Penn State Erie, The Behrend College