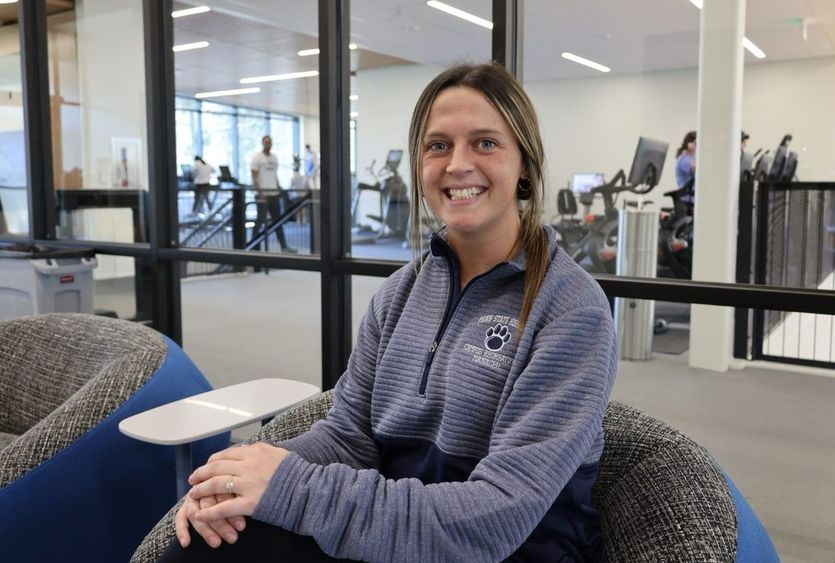 ERIE, Pa. — The new Erie Hall at Penn State Behrend is the culmination of 18 months of construction and more than a decade of planning and preparation. The $28.2 million project, which began in September 2021, was funded in part by Behrend students, who contributed nearly 40% of the project cost, with funds from the Student Initiated Fee.
"Erie Hall happened because of our students' commitment to this project. They saw the need, stepped up and made it happen," said Ken Miller, senior director of administration and student affairs.
The 52,700-square-foot building features a three-court gymnasium, fitness and aerobics rooms, training space and support for the college's NCAA Division III baseball, softball, tennis, cross-country, track and field, and wrestling teams. Erie Hall also is the new home of the college's Personal Counseling offices, bringing mental and physical health and wellness programs together under one roof.
There are six squat racks, scores of free weights and strength training stations and rows of treadmills, ellipticals, and other cardio and strength machines.
One thing you won't see in the new facility: bleachers.
"Erie Hall was built primarily for recreational use by the Behrend student body," said Kelly Wilson, the college's new campus recreation manager. She will oversee activities at the new facility.
We talked with Wilson, who gave us a preview of the new Erie Hall:
Was the lack of spectator seating intentional?
Wilson: Yes. Junker Center will continue to be a home base for our teams and athletic events. But several of the teams — baseball, softball, tennis, cross-country, and track and field — now have locker rooms in Erie Hall, as they play nearby. In addition to a locker room, the wrestling program also has a large practice room, on the lower level. That space can be converted into a multipurpose room, if needed.
What are you most excited for students to see?
Wilson: Everything, really. It's a massive space for students to use. As visually stunning as it is from the outside, it's just as beautiful inside. I think it will inspire more students to work out, because there is plenty of room to spread out.
Why is this sort of facility so important on a college campus?
Wilson: I think students need it. College can be stressful, and exercise is proven to help with anxiety and stress management. Personal Counseling plans to offer workshops on those topics, as well as nutrition and healthy-living strategies, in one of the fitness rooms.
Will there be group fitness classes or drop-in game opportunities?
Wilson: Yes. Erie Hall gives us the space to greatly expand our intramurals program. We have equipment to play a lot of different sports, including pickleball and badminton. We're bringing in instructors for group classes, such as spin, Pilates and HIIT. And we will have at least one court open at all times for drop-in play.
One thing I am excited to do is revive lunchtime drop-in events like basketball and yoga for faculty and staff members. Erie Hall will be a great environment for individuals in different departments to get to know one another and for students and faculty to connect outside of the classroom.
Know before you go
The new Erie Hall is now open. Here are some tips for planning a visit:
Bring your Penn State ID. Swipe access is required for admission to the fitness and recreation space and locker rooms. The building also can be used as a pass-through between the Erie Hall and Reed parking lots.
Pack your sneakers. No wet shoes are permitted in the workout areas.
The building offers a variety of fitness and exercise space:
Three gymnasium courts, which are marked for basketball, pickleball and badminton play. One of the courts has a multipurpose rubber surface.
Three fitness rooms, including a spin cycling room.
Six squat racks.
Dozens of cardio and strength machines, including rowing machines, stepmills, ellipticals and treadmills.
Day-use lockers.
Contact
Heather Cass
Publications and design coordinator
Penn State Erie, The Behrend College