Twenty-two students traveled to Fort Myers for Behrend's Alternative Spring Break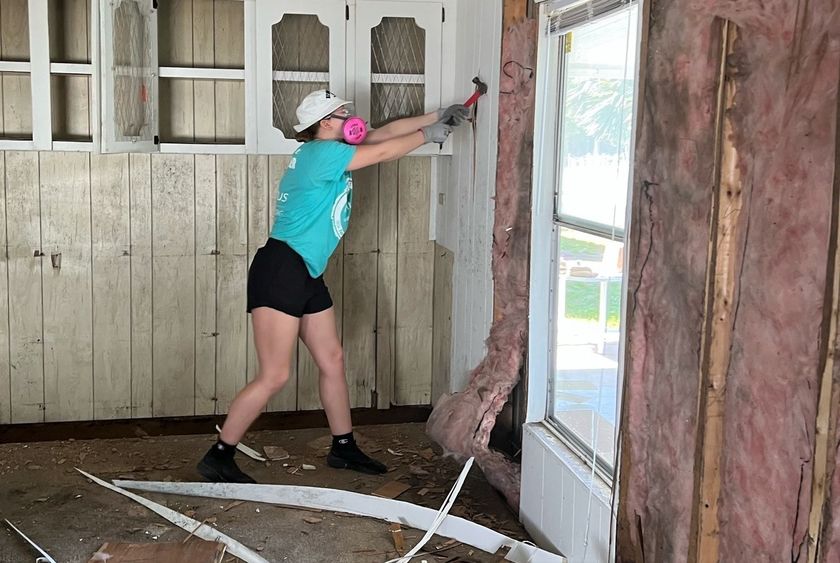 ERIE, Pa. — Fort Myers, Florida, has long been a top destination for students on spring break. This year was different, however: In September, Hurricane Ian, a Category 4 storm, roared ashore with 150-mph winds, destroying buildings and beaches and killing 149 people.
Olivia Hodgson went anyway.
"I am not the kind of person to sit still for very long," said Hodgson, a senior at Penn State Behrend. "I could go and sit on the beach for a week, but to me, that seems like a waste of time. I would rather use my spring break to serve something greater than myself."
Hodgson, an environmental science major, is one of 22 Behrend students in Fort Myers this week for the college's Alternative Spring Break program, an immersive service-learning trip coordinated by the Office of Civic Engagement.
Hodgson is serving as a team leader on the trip. As a freshman, she traveled to San Antonio, Texas, for a week of service. Two subsequent trips were reconfigured by the COVID pandemic: In 2021, students connected virtually to raise money for families whose homes were damaged by Western-state wildfires. In 2022, the Alternative Spring Break group completed a series of home-focused service projects in Erie.
"I have witnessed and experienced some really emotional moments on those trips," Hodgson said. "They give me new perspective, and I think about them often."
The damage in Fort Myers is on an entirely different level. Hurricane Ian was the deadliest storm in Florida since 1935. It caused more than $113 billion in damage.
"When that storm hit, we knew it was going to be a big one," said Chris Fox, the director of civic engagement at Penn State Behrend. Fox worked with Community Collaborations International to coordinate this year's trip.
The students are staying in a church. During the day, they assist with home repairs and environmental restoration projects and help at food, furniture and clothing banks. In the evenings, over shared meals, they reflect on the day's work and the community's ongoing needs.
"It's a unique experience, and a bonding one," Fox said. "I think there is a lot of meaning in it."
The days aren't easy, however.
"It can be hard to see some of the things we see," Fox said. "There is a lot of growth that happens in a short period of time."
Grant Walker, a first-year student, volunteered for the trip. He wanted to be part of a group that commits to a community in need.
"I wanted to surround myself with a diverse group of individuals who are motivated by helping others and are compassionate about leaving the world better than they found it," he said. "I live 15 minutes away from Penn State Behrend. Nothing I'd be doing at home would even come close to the impact I can have in Florida."
Fox cautioned the students to level their expectations. There is only so much they can accomplish in a week, he noted.
"We are not going to rebuild a house in a week," he said. "Sometimes, it's enough just to be there, and to show that you care. That can keep a community going."
Contact
Robb Frederick
Assistant director, news and information, Penn State Behrend