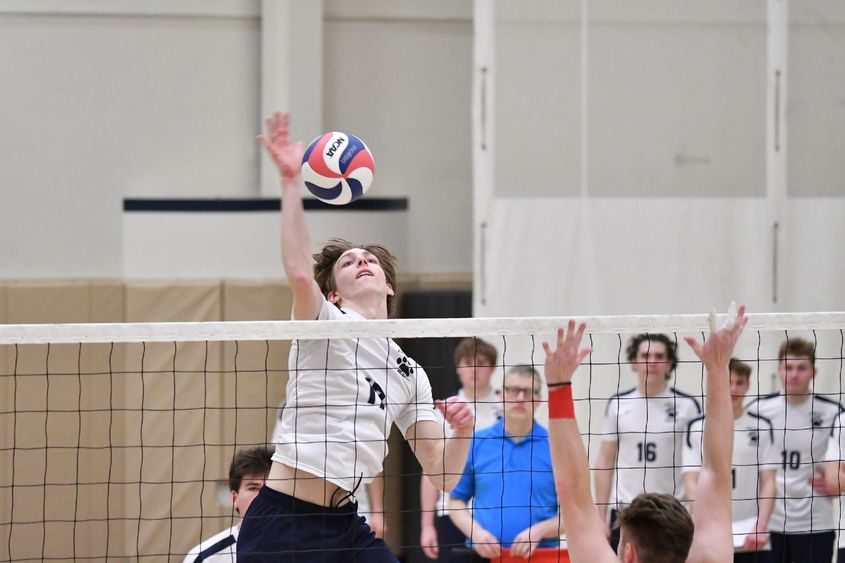 ERIE, Pa. — The Penn State Behrend men's volleyball team held on against Hiram for a five-set win on March 25. Owen Wienczkowski, a junior from Waterford, had a career-high 18 kills on 33 attempts.
The Lions are 10-1 in Allegheny Mountain Collegiate Conference play. They host Carlow University on March 29.
Behrend's baseball, softball, volleyball, track and field, tennis and bowling teams also were in action last week. Here are the scores and highlights:
Baseball
Mt. Union 16, Penn State Behrend 10
Isaac Stouffer, a senior from Punxsutawney, and Mac Ciocco, a sophomore from Venetia, each had three hits. Each had a double and two RBIs.
Softball
Geneva 4, Penn State Behrend 3
Geneva 2, Penn State Behrend 1
Jocelyn McNany, a sophomore from Cranberry Township, batted three-for-three in the nightcap against Geneva. She and Emi Curcio, a junior from Perryopolis, each hit a double.
Men's volleyball
Penn State Behrend 3, Hiram 2
Penn State Behrend 3, Medaille 1
Adrian Martinez, a senior from San Juan, Puerto Rico, had a match-high 18 digs against Medaille. Alex Jackson, a junior from Cochranton, had 38 assists against Hiram.
Men's track and field
Seventh (of 14 teams) at the Carnegie Mellon Invitational
Samuel Hetrick, a junior from New Bethlehem, won the high jump, clearing a height of 2.02 meters. Islam Daghestani, a senior from Meadville, won the pole vault, clearing a height of 4.30 meters.
Women's track and field
Thirteenth (of 15 teams) at the Carnegie Mellon Invitational
Julia Balaski, a freshman from Mercer, set a school record in the javelin with a 38.10-meter throw. She placed first.
Men's tennis
Penn State Behrend 8, Penn State Altoona 1
The Lions won all six singles matches, completing a season sweep over Penn State Altoona.
Women's tennis
Penn State Behrend 9, Houghton 0
Erica Jasinski, a senior from Fairview, won at No. 1 singles, 6-1, 6-4. Jana Kamel, a freshman from Erie, won at No. 2 singles, 6-2, 6-1. They also paired up to win at No. 1 doubles, 8-5.
Women's bowling
New Jersey City 858, Penn State Behrend 787
Penn State Behrend 865, New Jersey City 822
New Jersey City 4, Penn State Behrend 3 (Baker format)
Penn State Behrend 896, La Roche 811
Penn State Behrend 838, La Roche 823
Medaille 919, Penn State Behrend 799
Medaille 1,020, Penn State Behrend 741
Abigail Lanker, a sophomore from Sunbury, Ohio, bowled a career-best 245 in the traditional match against La Roche.
Scores, updates and video links for Penn State Behrend athletics are posted at psblions.com.
Contact
Robb Frederick
Assistant director, news and information, Penn State Behrend
Jill Yamma
Sports information director, Penn State Erie, The Behrend College