March 29 program will include recruiters from Bausch & Lomb and Nissan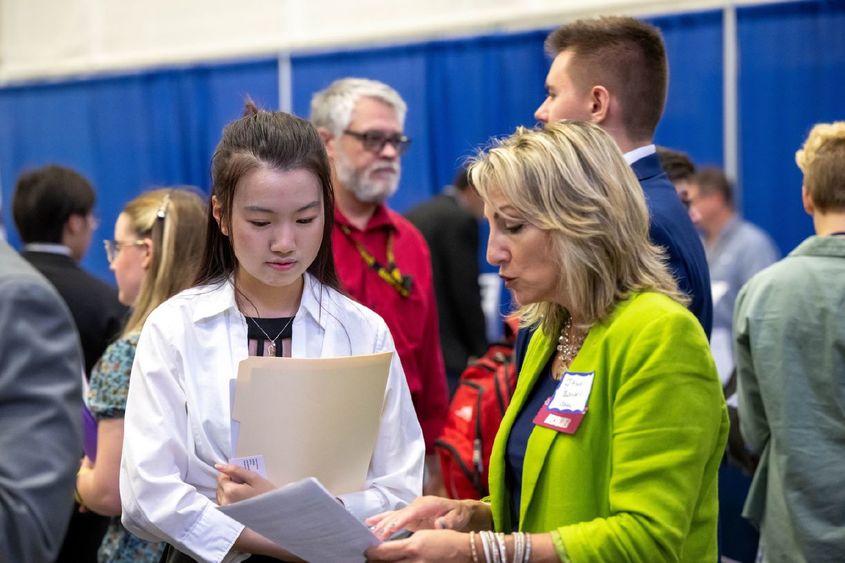 ERIE, Pa. — The spring Career and Internship Fair at Penn State Behrend will feature 165 companies, including Bausch & Lomb, Nissan and Westinghouse Electric. The March 29 program will be held in the Junker Center from 11 a.m. to 3 p.m.; it is open to students and alumni from all Penn State campuses and students at all other local universities.
Recruiters are looking to fill full-time, part-time, co-op and internship positions. That includes opportunities for first- and second-year students who hope to get a head start on their career path, said Michelle Hartmann, director of Community and Workforce Programs.
Here are three things to know before you go:
It's all about networking.
The September career fair drew more first-year students than any other group, Hartmann said. Students who are earlier in their academic path often can secure internships and can test their networking skills, she said.
"Go," she said. "Talk to people. Ask what qualifications you can be working on and how you can be prepared."
The earlier a student begins those conversations, the less pressure there is, said Lauri Enterline, associate director of Career Services.
"Attending the career fair when you don't have that anxiety allows you to build your networking skills," she said.
Not sure what to say when you talk with a recruiter?
"Always ask a question," Enterline said. "Be curious. It's just a conversation."
It's not too early to score an internship.
According to the National Association of Colleges and Employers, students who complete internships are 85% more likely to obtain full-time employment after graduation.
"Employers do look for first-year and second-year students for internships," Enterline said. "By the second year, it is important to find a role that is within your area of study."
Even if an employer does not currently have openings, students who take initiative stand out.
"Employers like to build a pipeline," Hartmann said.
Preparation + practice = opportunity
The recruiting environment is robust right now, but that doesn't mean opportunity will fall into a student's lap — even with an outstanding GPA. Behrend students can take advantage of free resources that will help them make the most of their job search, Enterline said.
"It is critical to prepare and practice interviewing," she said.
The Career Services team offers interviewing tips and practice, resume writing and even a Career Closet, where students can borrow professional attire.
Students should print their resume, practice an elevator pitch, dress professionally, and research companies and be ready with questions. Some companies will conduct preliminary interviews with candidates during the career fair. Others will return to Behrend later in the week to follow up with individual students.
"Students should go to the career fair prepared for an interview," Enterline said. "We can help with that. We can explain why recruiters ask certain questions, and how you should answer them."
Students should attend the fair to build relationships. Those who don't secure an interview won't necessarily leave empty-handed, Enterline said. Exposure to the career fair environment can help first-year students be more comfortable in the recruiting process, she said.
"Have an expectation to learn something new," she said.
Contact
Robb Frederick
Assistant director, news and information, Penn State Behrend