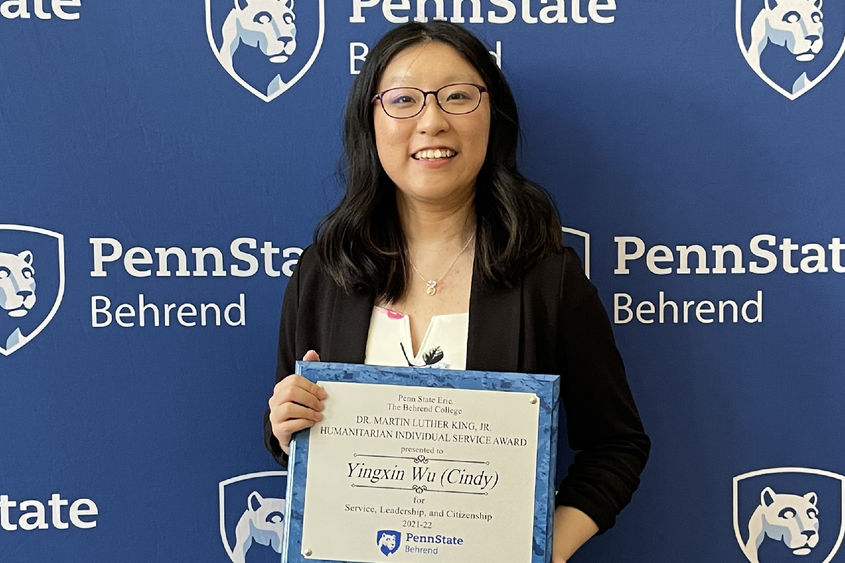 ERIE, Pa. — Yingxin "Cindy" Wu, a senior majoring in nursing at Penn State Behrend, has been named recipient of the 2023 Ralph Dorn Hetzel Memorial Award.
Named for Penn State's 10th president, the Hetzel Award recognizes a combination of high scholastic attainment together with good citizenship and participation and leadership in student activities.
Nominators said Wu is actively involved in a variety of student organizations tasked with improving the student experience. They said she embodies what it means to be a scholar, a leader and an active member of the Penn State and Erie communities.
Wu, an international student from China, is an active member in the International Student Services office as an event participant and leader.
"Cindy actively works to develop spaces on campus for international students to not only feel welcome but to be seen and supported," a nominator said. "Through her role in the Student Government Association as the diversity, equity and inclusion chair, Cindy has been a voice for our international students and has allowed more awareness of what goes on beyond Behrend Campus. She has been so involved on campus and has not allowed the pandemic to slow down her plans to make Behrend great."
Wu also resurrected a campus club, the Lion Entertainment Board, which helps organize events for students. Wu became the sole member of the club and recruited 15 members on her way to becoming its president. 
"Through the Lion Entertainment Board, Cindy uses her voice to advocate for inclusive programming. We are constantly collaborating on events, often with organizations that serve our multicultural students," a nominator said. "Cindy has taken point on many of these collaborations and has focused on how we can make each partnership beneficial for one another. She has showcased her dedication to providing opportunities for smaller clubs by collaborating and highlighting them through our existing following of students."
Wu used her position with the entertainment board to spotlight events that promote diversity. She's organized movie nights in partnership with the South Asian Student Organization and dinners with the Global Eats program.
Wu also raised funds for THON by running 12 miles and biking 45 miles during THON weekend.
"Her co-curricular experiences over her four years at Behrend have taught her so much about resilience, leadership, adaptability in the importance of being part of a team," a nominator said. "She is a fierce advocate for international students on campus and, I believe, a huge reason why so many of our international students feel that sense of belonging on campus."