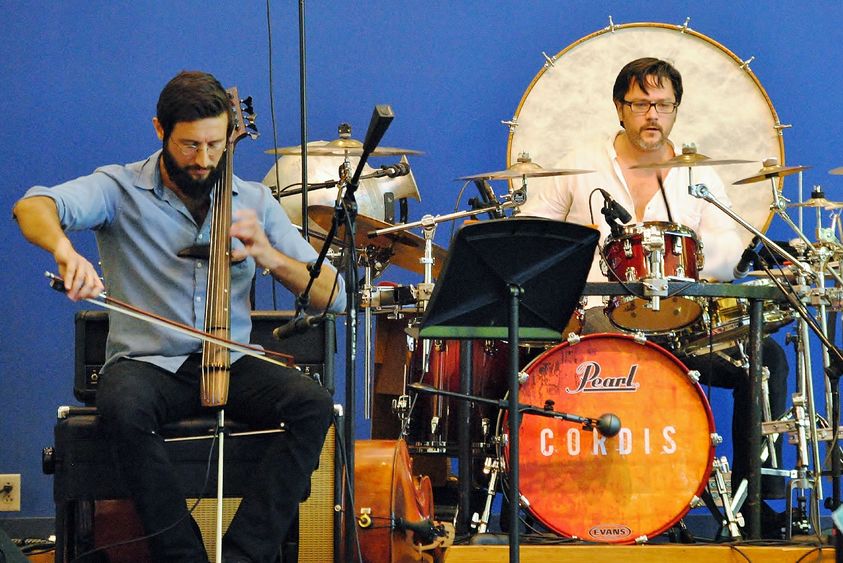 A new $1 million endowment created by the Kay Hardesty Logan Foundation will expand and extend Music at Noon: The Logan Series, which makes concert-level chamber music accessible to new audiences through a series of informal lunchtime performances at Penn State Behrend.
The endowment will ensure the continuation of Music at Noon, which began in 1989 with a gift from Kay Logan, a musician, educator and local arts advocate. Logan, who was the principal flutist with the Columbus Symphony for 20 years, died in 2016.
"Music at Noon: The Logan Series has been the cornerstone of our arts programming at Penn State Behrend," Chancellor Ralph Ford said. "For 34 years, the series has introduced Behrend students and countless others in the community to world-class chamber music through informal, interactive performances that strip the mystique away from the genre. We are grateful for this additional support from the Kay Hardesty Logan Foundation, which will enable the Logan Series to continue in perpetuity."
Music at Noon concerts are open to the public at no charge. A portion of the seating in McGarvey Commons is reserved for students from Diehl Elementary School.
The performers, who have included Grammy Award-winners ETHEL, the Harlem Quartet and the Turtle Island Quartet, also stage one-day residencies at Diehl. They also sit in with music classes at Behrend.
"One of Mrs. Logan's goals with the series was to break down unseen barriers between audiences and performers," said Gary Viebranz, teaching professor of music and director of instrumental ensembles at Behrend. He has directed the Music at Noon series since 2007. "That's been particularly effective at the elementary-school level, through our partnership with Diehl. This is something that many of the students there have never had the opportunity to experience, and may never again. It can spark an interest in music that continues throughout their lifetimes."
Logan chose to host the concerts at Penn State Behrend in part because the college does not offer a music major. She wanted to encourage students in business, engineering and other disciplines to think philanthropically about art and "nurture that benevolent mindset," Viebranz said.
"Since the passing of Mrs. Logan in 2016, the foundation has endeavored to endow those programs that were closest to her heart," said Marty Merkley, president of the Kay Hardesty Logan Foundation. "The Music at Noon series at Penn State Behrend was at the top of her list, and we are pleased to establish this endowment to secure the future of the series."
Music at Noon also has received financial support from the Pennsylvania Council on the Arts, the National Endowment for the Arts, the Erie Arts & Culture Project and the John Nesbit and Sarah Henne Reese Charitable Foundation.
Several of the groups that have been featured in Music at Noon have gone on to international acclaim. Imani Winds, a quintet that performed at Behrend in 2005 and again in 2010, would later play Carnegie Hall, Lincoln Center and the Kennedy Center. The group has twice been nominated for Grammy Awards.
The Scottish singer Julie Fowlis, who contributed two songs to the 2012 Disney/Pixar film "Brave," performed at Behrend in 2013, 2018 and 2022. She has always been a fan-favorite, Viebranz said, in part because of how easily she connects with the audience between songs.
"We understand humanity a little better when we get a glimpse into these areas that we don't often experience," Viebranz said. "These great artists are normal people, just like the rest of us, and students often are inspired by just how relatable they are."
"That's something that stays with you," he said. "It goes a bit deeper than just attending a concert."
--
With the record-breaking success of "A Greater Penn State for 21st Century Excellence," which raised $2.2 billion from 2016 to 2022, philanthropy is helping to sustain the University's tradition of education, research and service to communities across the Commonwealth and around the globe. Scholarships enable Penn State to open doors and welcome students from every background, support for transformative experiences allows our students and faculty to fulfill their vast potential for leadership, and gifts toward discovery and excellence help us to serve and impact the world we share. To learn more about the impact of giving and the continuing need for support, please visit  raise.psu.edu.
Contact
Robb Frederick
Assistant director, news and information, Penn State Behrend