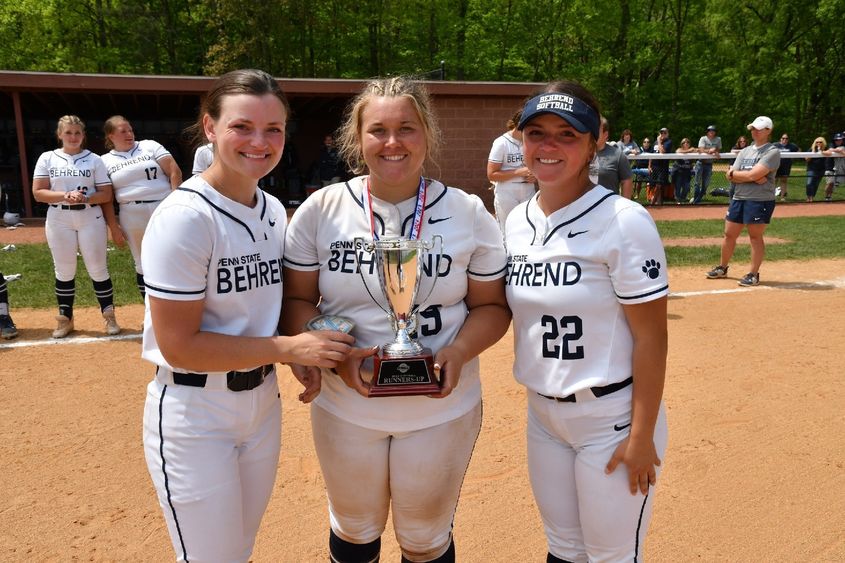 ERIE, Pa. — The Penn State Behrend softball team lost to Penn State Altoona in the Allegheny Mountain Collegiate Conference championship series, falling 10-2 and 9-4. Jocelyn McNany, a sophomore from Cranberry Township, hit a two-run home run in the first game. Sierra Williams, a sophomore from Grove City, did the same in the nightcap.
Behrend's baseball and track and field teams also were in action last week. Here are the scores and highlights:
Baseball
Alfred State 7, Penn State Behrend 4
Penn State Altoona 11, Penn State Behrend 9
Zac Bogats, a senior from Coraopolis, hit a two-run homer in the fifth inning against Alfred State. He drove in another run in the sixth.
Softball
Penn State Altoona 10, Penn State Behrend 2
Penn State Altoona 9, Penn State Behrend 4
Penn State Behrend 2, Mt. Aloysius 0
Penn State Behrend 10, La Roche 2
Abby Tingley, a freshman from Union City, pitched a four-hit shutout against Mt. Aloysius. She struck out seven batters.
Men's track and field
Dan Dabrowski, a junior from Harborcreek, placed second in the discus at Allegheny with a 50.98-meter throw. Samuel Hetrick, a junior from New Bethlehem, placed second in the high jump, clearing a height of 2.04 meters.
Women's track and field
Olivia Nola, a sophomore from Erie, set a school record in the 1,500-meter race at Baldwin Wallace. She finished in 4:35.00 — a qualifying time for the All-Atlantic Region Track and Field Conference.
Scores, updates and video links for Penn State Behrend athletics are posted at psblions.com.
Contact
Robb Frederick
Assistant director, news and information, Penn State Behrend
Jill Yamma
Sports information director, Penn State Erie, The Behrend College