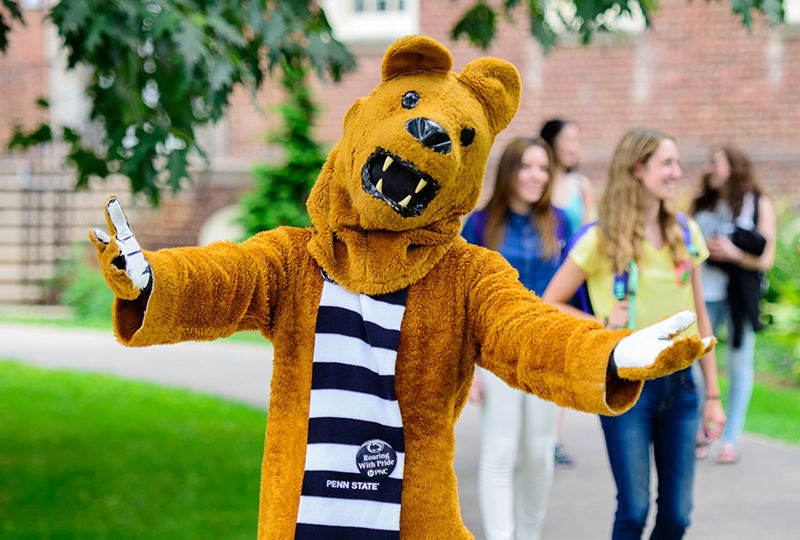 As part of our regular "We Are!" feature, we recognize 10 Penn Staters who have gone above and beyond what's asked of them in their work at the University.   
This week, on behalf of the entire Penn State community, we'd like to say thank you to:
Janie Crow, administrative support assistant for marketing and communications at Penn State Harrisburg, whose nominator wrote: "Janie has had a great transition within the Penn State Harrisburg community. She continues to support the Office of Marketing and Communications with various administrative tasks. Furthermore, she is extensively engaged with the community by attending multiple forums and community events." 
Sabrina Delgado, a senior studying health policy and administration in the College of Health and Human Development, whose nominator wrote: "As a founding member and President of the It's On Us peer education program, Sabrina's work has grown the program and inspired others to be part of the change, all while working to end sexual violence." 
Glenn Feagley, inventory control and distribution manager at Lion Surplus, whose nominator wrote: "Glenn and his team at Lion Surplus do an amazing job for the University! They did an outstanding job managing the Nittany Lion Inn inventory — it was a huge lift for them in a small amount of time, and they did it with such cheerfulness. I appreciate their support!" 
Sandy McBride, education program specialist at Penn State Harrisburg, whose nominator wrote: "Sandy coordinates the Career Studies Program — an inclusive program for students with intellectual disabilities. Her light shines brightly on campus with her students and those that she collaborates with to run this program effectively. She is dedicated to her work and advocates for inclusion." 
John McShea, assistant director of brand strategy in the Nese College of Nursing, whose nominator wrote: "John constantly exemplifies excellence. He's a natural leader with high moral standards and he does not shy away from difficult questions. His work is always accurate and authentic. John makes an impact." 
Michelle Newcomb, IT support specialist at Penn State Behrend, whose nominator wrote: "The Personal Counseling office moved into a new building on campus and Michelle was our go-to person for moving computer equipment and phones. She was flexible to be there when we needed things done so the office could continue to provide support to our students without any downtime." 
John Praetzel, IT generalist at Penn State Behrend, whose nominator wrote: "During and after the move of the Personal Counseling office into a new building on campus, John made sure our phones, copy and fax machine, and outside secure door were all programmed quickly for staff use so we could continue to support our students without missing a beat. Thank you, John!" 
Kelly Weaber, assistant director of student affairs at Penn State Harrisburg, whose nominator wrote, "Kelly embodies exactly what it means to be a resource and advocate for our students. She is a wealth of knowledge and an immense support for the entire Penn State Harrisburg community, and our campus is incredibly fortunate to have her. I am grateful for the opportunity to have her as a colleague." 
Collin Wildridge, program coordinator at the Center for Spiritual and Ethical Development, whose nominator wrote: "Collin is a very creative and thoughtful individual. He has brought a lot of fresh ideas to our office in the short time he's been here. I am grateful for him and the partnership we have developed. Collin has worked to create meaningful opportunities for students, staff, faculty and the community." 
Alicia Wondoloski, director of research development and award administration at Penn State Harrisburg, whose nominator wrote: "The Harrisburg campus held its first annual Research and Discovery Day.   Alicia coordinated the event, from organizing participants for panels, lining up faculty/students to present their research, and/or providing a poster for the poster session. The day was a big success, thanks to Alicia's coordination." 
Thank you Janie, Sabrina, Glenn, Sandy, John, Michelle, John, Kelly, Collin and Alicia — and to everyone who helps make Penn State such an incredible community!  
Do you know someone who deserves a shout out? If you do, consider nominating that person by filling out a short online form.