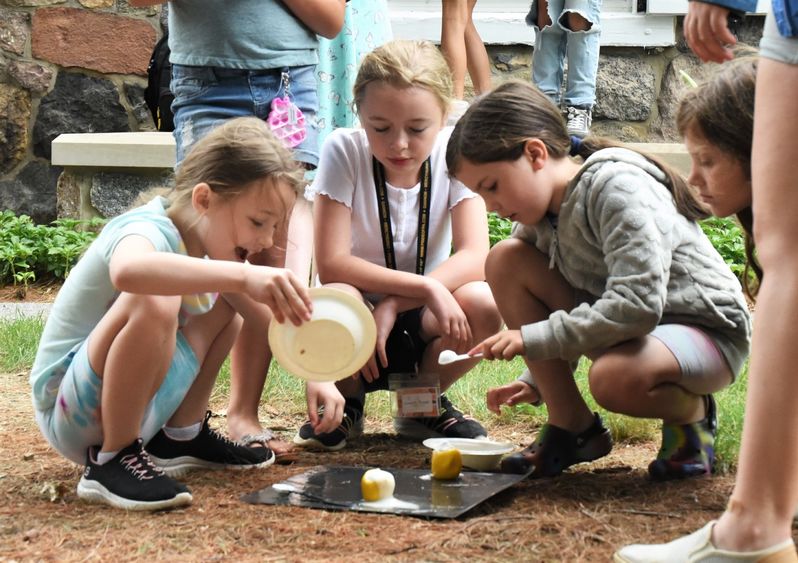 ERIE, Pa. — Cooking classes have always been part of College for Kids, the six-week summer enrichment program at Penn State Behrend.
This year, instructor Allyson Minor wanted to try something different. She developed a Food STEM course that used mad-scientist recipes — Mentos in soda, and bread left on a window ledge — to teach youth about the many ways that science affects their food.
"Cooking and baking classes have always been very well received by students, but space to host those classes is limited," said Andrea Grady, the College for Kids coordinator. She oversees the summer schedule, which includes more than 100 courses for youth ages 6 to 14.
"Allyson wanted to build on that interest and give students an opportunity to connect cooking and science," she said.
Minor, who also teaches at Miami University of Ohio, used lemon juice to simulate volcanos. When the citric acid in the lemons reacts to a base — say, baking soda — it releases carbon dioxide, which bubbles up like foam.
It's messy, so Minor staged that experiment outdoors, on the lawn next to Behrend's Glenhill Farmhouse.
Back in the classroom, she tweaked a cookie recipe, teaching the students how a variable can change the outcome of an experiment. In this case: How will the taste of a cookie change, if it's baked with brown sugar instead of white?
"That, to them, was fascinating," Minor said. "They hadn't thought about how science works in things they eat."
For another project, students used gumdrops to build models of the molecules for oxygen and acetone. They iced, and then ate, cookies shaped like squares on the periodic table of elements.
"I liked baking the cookies — and eating them," said Lilyanna Seip, 9. "I bake a lot of food with my mom, so I knew this would be fun."
Another project relied on the "yuck" factor: Students added water to bread and left it in a sandwich bag on a window ledge. As the week progressed, they watched as mold grew on the bread.
"I really liked that," said McKenna Kelly, 10. "We had to guess how much water to put on the bread and then put it in the sun to see what would happen. We also got to see which candy bars sink, and which float, and made a hypothesis about why."
That fun-based, hands-on approach to learning is essential to College for Kids, Minor said. She sees the classes as a way to stem the "summer slide" in learning.
"Everyone loves food," she said, "but it's fun to watch them see things in a new way and apply science to it. The lightbulb goes on."
Contact
Robb Frederick
Assistant director, news and information, Penn State Behrend