Erie team has won matches against Wake Forest, Kansas State and the University of Kentucky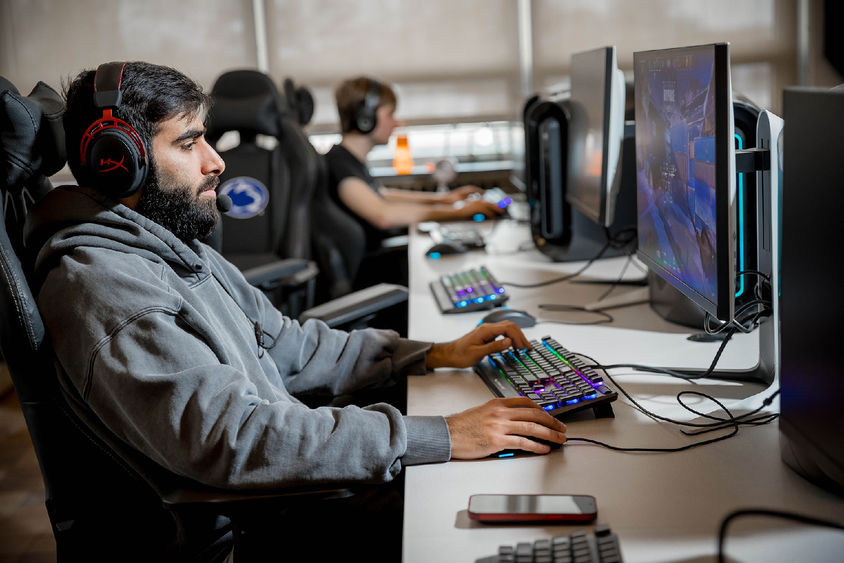 ERIE, Pa. — On the screen, the character steps forward, into the courtyard. He's in the open, exposed, so he pushes, moving with purpose, his legs pumping, past the stacked crates and the potted plants and the Pizzeria de Marzio.
His player's name is Clayton Lau, a 2022 graduate of Penn State Behrend and a founding member of the college's esports team. In the game — called "Valorant," a five-on-five tactical shooter — he usually plays Cypher, the surveillance agent, or Killjoy, the German sentinel, whose big showstopper move is a Lockdown blast, which disarms the other team for up to eight seconds.
Lau also plays "League of Legends" — the "granddaddy" of free-to-play video games. At one peak, according to the Wall Street Journal, 7.5 million people were playing it at any given minute.
"That game is so well-optimized, it can run on a toaster," Lau said.
Maybe, but this is much better: In 2021, Penn State Behrend renovated the lobby of Perry Hall to create a competitive esports center, a high-tech computer hub equipped with 28 Alienware PC stations. Each computer connects to a 27-inch performance-gaming monitor with a refresh rate of more than 200hz. That's three times faster than the screen on a typical desktop.
Two larger, ceiling-mounted monitors allow spectators to watch the matches. A broadcast room enables students to stream play-by-play in real time. The audience for esports is massive: More than 5 million people watched the League of Legends world championship in 2022. The final matches were held at the 18,000-seat Chase Center in San Francisco, which sold out.
"We knew the interest was there, and that if we created a dedicated, well-equipped facility, the program would be successful," said Scott Smith, a systems administrator at Behrend and the coach of the college's esports teams. He quickly recruited 86 players, who compete in five game franchises: "League of Legends," "Valorant," "Overwatch," "Super Smash Bros Ultimate" and "Rocket League," which is bumper-car soccer in a "Mad Max" Thunderdome.
The teams, which compete in the Eastern College Athletic Conference, have won matches against Wake Forest, Kansas State and the University of Kentucky.
"It's a very balanced playing field," Smith said. "It's not as money- or facilities-driven as some other sports."
That raises a question that's trickier than the boss-level battle in the game "Dark Souls": Is esports a legitimate sport?
"Absolutely," said Jordan James, a founding member of the Behrend club. "My generation has definitely accepted that it is."
James likens esports to an Olympic specialty — a refined, highly competitive, niche athleticism, much like archery, or badminton, or curling. The International Olympic Committee is open to the idea: It staged the Olympic Esports Series, with live finals in Singapore, this summer.
James came to Behrend because of the esports team: "I liked that I could get in on the ground and start shaping the thing," he said.
He didn't fully anticipate the friendships that would develop during those hours in the gaming lounge, he said. Many of the teams eat their meals together. Several players have become roommates.
"There is definitely a social aspect to it," James says. "To work well as a team, you have to have good relationships with the other players. You have to have that bond. If you don't work well outside of the game, you won't work well in it."
When the "Valorant" round ends, Lau plays again. This time, it's the Lotus map, where rotating doors open to new rooms.
"I like the variety in this," he said. "In traditional sports, you can't just hop from different fields and play with different people. Here, you can. For four minutes, you can escape whatever is weighing on you that day.
"People need that, I think," he added. "Sometimes, you just want to change up your scenery and compete."
Contact
Robb Frederick
Assistant director, news and information, Penn State Behrend