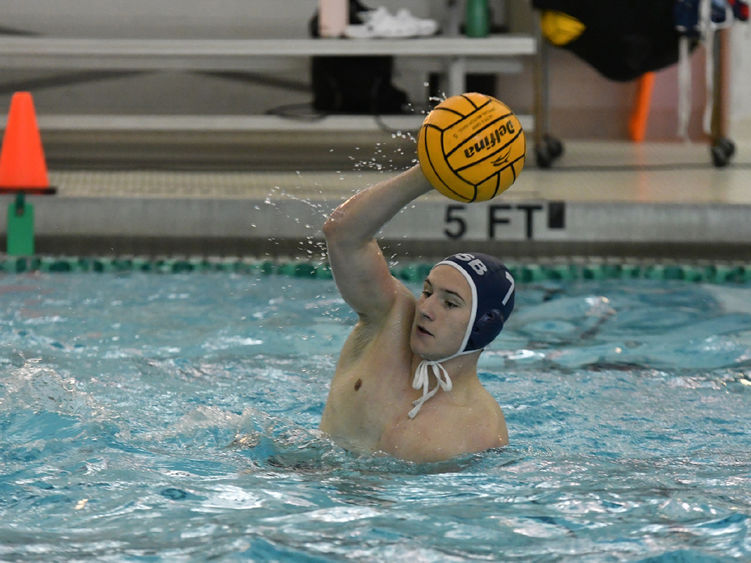 ERIE, Pa. — The Penn State Behrend men's water polo team defeated Washington & Jefferson on day one of the Behrend Invitational, winning 20-16. Jack Holl, a junior from Greenwich, Connecticut, scored six goals.
Behrend's soccer, volleyball, cross-country, golf, tennis, bowling and water polo teams also were in action last week. Here are the scores and highlights:
Men's soccer
Penn State Behrend 1, Mt. Aloysius 0
Penn State Behrend 5, Pitt-Bradford 0
Since the start of Allegheny Mountain Collegiate Conference play, the Lions have outscored their opponents 26-2.
Women's soccer
Penn State Behrend 6, Mt. Aloysius 0
Penn State Behrend 10, Pitt-Bradford 0
Audra Kuzma, a junior from Center, scored three goals and added an assist against Pitt-Bradford. Rachel Sickeri, a freshman from DuBois, and Lauren Kiser, a sophomore from Altoona, each scored twice.
Women's volleyball
Penn State Behrend 3, Mt. Aloysius 2
Penn State Behrend 3, Pitt-Bradford 0
Hannah Phillips, a senior from Pittsburgh, had 19 kills and 16 digs against Mt. Aloysius. Maura Benim, a sophomore from Erie, added 12 kills and 15 digs.
Men's cross-country
Sixth (of 11 teams) at the Houghton Invitational
Kody Klein, a junior from North East, placed 20th in a field of 151 runners. He finished the 8K race in 26.28.4.
Women's cross-country
Fourth (of 10 teams) at the Houghton Invitational
Olivia Nola, a junior from Erie, placed third in a field of 88 runners. She finished the 6K race in 23.03.6.
Men's golf
Third (of nine teams) after day one of the Allegheny Mountain Collegiate Conference championships.
After one round of play, Jake Caldwell, a senior from Belle Vernon, was in seventh place in a field of 44 golfers. He shot a 79.
Men's tennis
Allegheny 9, Penn State Behrend 0
Women's tennis
Penn State Behrend 9, La Roche 0
The Lions won five singles matches with scores of 6-0, 6-0.
Women's bowling
Penn State Behrend 889, Wilmington 804
Penn State Behrend 873, D'Youville 778
Mt. Aloysius 749, Penn State Behrend 700
Penn State Behrend 853, Daemen 770
Mercyhurst 927, Penn State Behrend 875
Penn State Behrend 743, Pitt-Bradford 713
Roberts Wesleyan 936, Penn State Behrend 789
Niagara 859, Penn State Behrend 756
Daemen 810, Penn State Behrend 761
Sidney Batsa, a junior from Latrobe, placed 10th in a field of 59 bowlers with a traditional average of 180.20. Emily Warrene, a sophomore from Tarentum, posted the highest single-game score for the Lions — a 213 against Mt. Aloysius.
Men's water polo
Austin 13, Penn State Behrend 7
Penn State Behrend 20, Washington & Jefferson 16
Augustana 25, Penn State Behrend 8
Mercyhurst 12, Penn State Behrend 11
Goalie Ethan Friedman, a sophomore from Valley Center, California, made 21 saves against Austin.
Scores, updates and video links for Penn State Behrend athletics are posted at psblions.com.
Contact
Robb Frederick
Assistant director, news and information, Penn State Behrend
Jill Yamma
Sports information director, Penn State Erie, The Behrend College