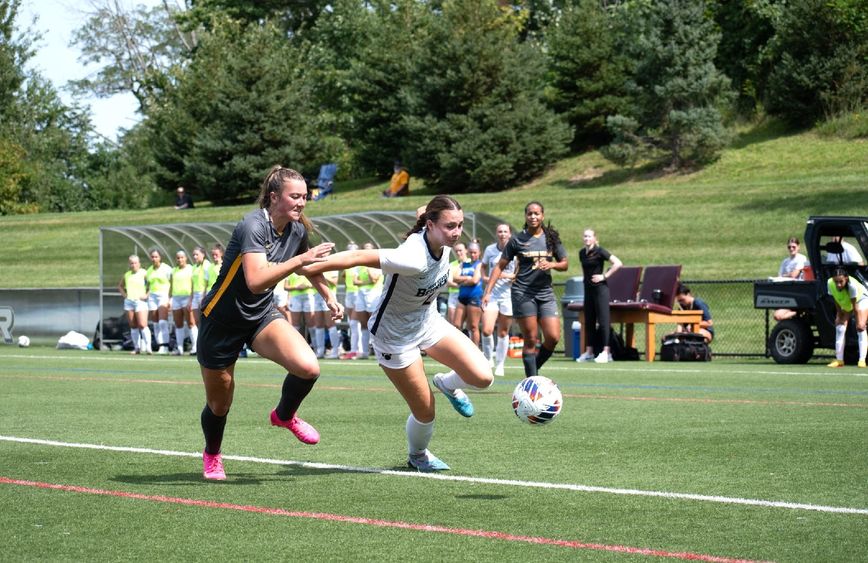 ERIE, Pa. — Trinity Prestash, a junior from Philipsburg, scored four goals in the women's soccer game against Carlow. Penn State Behrend won the game, 7-0. The Lions are now 11-4-1 and are undefeated in Allegheny Mountain Collegiate Conference action.
Penn State Behrend's volleyball, swimming and diving and water polo teams also were in action last week. Here are the scores and highlights:
Men's soccer
Penn State Behrend 4, Carlow 0
Penn State Behrend 2, Fredonia 0
Blake Cooper, a junior from Murrysville, scored two goals against Fredonia and two more against Carlow.
Women's soccer
Penn State Behrend 7, Carlow 0
Penn State Behrend 2, Fredonia 1
Megan Krulisky, a junior from Clermont, Florida, scored the game-winner against Fredonia, hitting the net in the 78th minute. Goalkeeper Riley Morningstar, a sophomore from North Huntingdon, made seven saves.
Women's volleyball
Penn State Behrend 3, Carlow 0
Hannah Phillips, a senior from Pittsburgh, had 18 kills and a season-high .607 attack percentage against Carlow. Sara Nobach, a senior from Lower Burrell, had a match-high 20 digs.
Men's swimming and diving
Penn State Behrend 199, Westminster 94
Anthony Tumino, a sophomore from Hershey, won the 50 free (22.53) and the 200 backstroke (2:03.22). He also swam in the 200 medley relay and the 400 freestyle relay races, which the Lions won.
Women's swimming and diving
Penn State Behrend 160, Westminster 138
The Lions won the top three spots in the 200-meter individual relay. Isabel Sheridan, a sophomore from Allentown, finished first, in 2:26.19. Jadyn Danylko, a sophomore from Erie, won the 200 fly (2:28.97) and the 100 fly (1:02.64).
Men's water polo
Washington & Jefferson 12, Penn State Behrend 10
Connecticut College 14, Penn State Behrend 9
Johns Hopkins 20, Penn State Behrend 6
MIT 23, Penn State Behrend 3
Jack Holl, a junior from Greenwich, Connecticut, scored three goals against Washington & Jefferson. Eli Anderson, a senior from Encinitas, California, and Chase Cordon, a senior from Canyon Lake, California, each scored two.
Scores, updates and video links for Penn State Behrend athletics are posted at psblions.com.
Contact
Robb Frederick
Assistant director, news and information, Penn State Behrend
Jill Yamma
Sports information director, Penn State Erie, The Behrend College