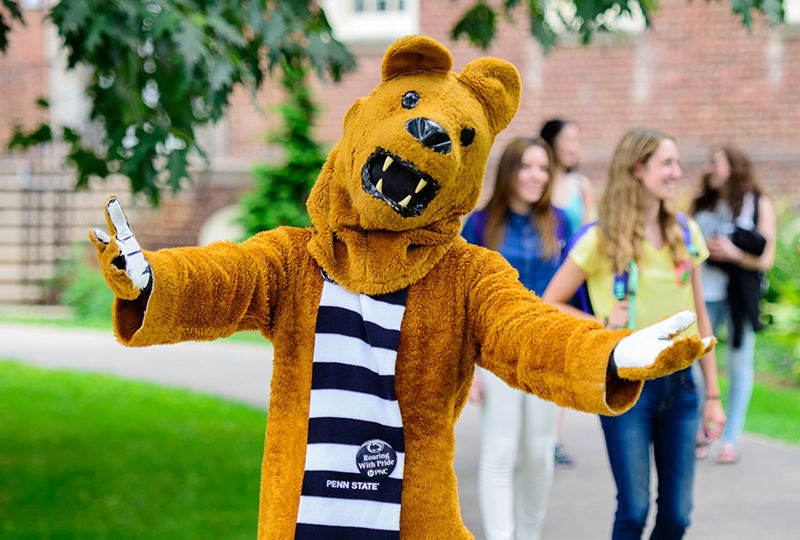 As part of our regular "We Are!" feature, we recognize 11 Penn Staters who have gone above and beyond what's asked of them in their work at the University. 
This week, on behalf of the entire Penn State community, we'd like to say thank you to: 
Chip Roberts, registrar at Penn State Greater Allegheny, whose nominator wrote: "Chip deserves a 'We Are!' He works on behalf of the students, faculty and staff; helps students navigate processes to schedule classes; works on course schedule offerings to meet student and faculty needs; leads major student events; monitors campus event system; and has achieved 'Apple Teacher' designation." 
Erin Eckley, administrative support coordinator for University Faculty Senate, whose nominator wrote: "Erin brings kindness, diplomacy and efficiency to the Faculty Senate as staff support, working hard behind the scenes to assure that everything runs smoothly and that everyone's voice is heard. She's the best supervisor to her team!" 
Abby Wolfe, records specialist in Undergraduate Admissions, whose nominator wrote: "Abby is always willing to help her coworkers and with special projects. She is always positive around others and gets her work done. I appreciate her willingness to be there as needed!" 
Jackie Selby, administrative support coordinator for Penn State Extension's Better Kid Care, whose nominator wrote: "Jackie holds Penn State Better Kid Care together. As the primary source of institutional knowledge, she troubleshoots technology issues, crafts processes to enhance our work and skillfully navigates budgets. Her generous encouragement means the world to me." 
Christine Ostrosky, administrative support assistant at Penn State Hazleton, whose nominator wrote: "Chrissy is a dedicated student advocate. She supports students both in and outside of the classroom. This has been especially on display this year as she planned our campus' Welcome Weekend. She worked tirelessly to ensure that the weekend is welcoming and inclusive for all students." 
Sherry Miller, director of personnel and business operations for Penn State Global, whose nominator wrote: "I am consistently impressed with Sherry's ability to juggle the needs of multiple leaders in Penn State Global who need her time and guidance. Sherry is always willing to assist and provide advice for the best solutions. She is kind and patient and incredibly helpful. We're lucky to have her." 
Matthew Uncles, building services clerk for the College of Engineering, whose nominator wrote: "Matt is always smiling, polite and overall joyful. He always does everything to help others, even things outside of his regular duties. If he doesn't have the resources needed he will find out who does and get them for you. His work and attitude are a great demonstration of University values in every aspect." 
Amanda Eller, administrative support coordinator in the Black School of Business at Penn State Behrend, whose nominator wrote: "Amanda is a quiet storm who has taken on the role of many while the office was short staffed for more than two years. She does a stellar job in her own duties while ensuring all that is required in the office goes smoothly. Her hard work and dedication do not go unnoticed." 
Dana Brem, assistant director for global engagement at Penn State Global, whose nominator wrote: "Dana approaches his role with thoughtfulness and always goes the extra mile to ensure that our global community feels valued and supported. He constantly seeks fresh, creative ways to foster cross-cultural connections, enriching the lives of our international students and our University as a whole." 
Rhonda Shaffer, proposal and award generalist in the College of Medicine, whose nominator wrote: "Rhonda is an exceptional team member who always offers a can-do attitude! She makes grant submissions seem less cumbersome by laying out actionable steps and communicating effectively with study teams. Working with her is rewarding because I know that 'Rhonda's got it!'" 
Jamie Behers, business operations manager at the Stuckeman School in the College of Arts and Architecture, whose nominator wrote: "Jamie deserves a gold medal for her time and dedication in having studios up and running for our fall semester. She spends extra hours organizing and re-organizing student desks to accommodate a growing student body. She does this with a smile because she believes in "We Are...Penn State!" 
Thank you Chip, Erin, Abby, Jackie, Christine, Sherry, Matthew, Amanda, Dana, Rhonda and Jamie — and to everyone who helps make Penn State such an incredible community. 
Do you know a Penn Stater who deserves a shoutout? If you do, consider nominating that individual by filling out a short online form.