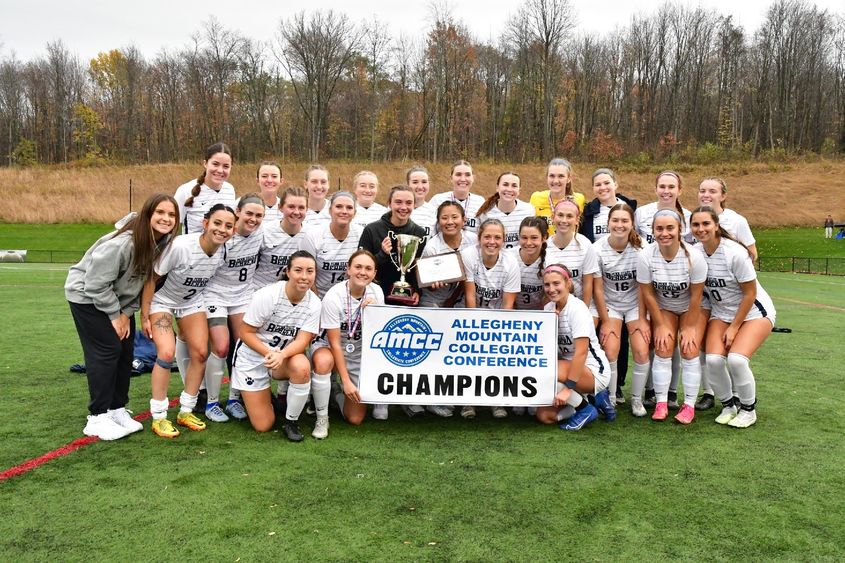 ERIE, Pa. — The Penn State Behrend women's soccer team won the Allegheny Mountain Collegiate Conference championship in a post-overtime shootout. Goalkeeper Riley Morningstar, a sophomore from North Huntingdon, blocked two shots, and another hit the goalpost.
The Lions travel to Rochester, New York, for the first round of the NCAA Division III Tournament on Saturday, Nov. 11.
Behrend's bowling, water polo, volleyball, swimming and diving, and wrestling teams also were in action last week. Here are the scores and highlights:
Men's soccer
Alfred State 2, Penn State Behrend 1
The Lions fell in the semifinal round of the AMCC tournament. Blake Cooper, a junior from Murrysville, scored in the 66th minute.
Women's soccer
Penn State Behrend 0, Pitt-Greensburg 0 (3-0 on penalty kicks)
Penn State Behrend 4, Mt. Aloysius 0
Kristi Buckenheimer, a senior from Beaver, scored twice against Mt. Aloysius, giving the Lions the lead in the AMCC semifinal match.
Women's volleyball
Penn State Behrend 3, La Roche 0
Penn State Behrend 3, Hiram 0
Penn State Behrend 3, Wells 0
Breana Reynolds, a senior from Cranberry Township, hit a career-high .786 against Wells, recording a team-best 12 kills. Meg Goodsel, a senior from Corry, had 33 assists and 12 digs against Hiram.
Men's swimming and diving
Penn State Behrend 187, Pitt-Bradford 82
Glenn Fowkes, a freshman from Vandergrift, won the 100 backstroke (55.06) and the 200 backstroke (2:05.32). He also swam with the 400 medley relay team, which won. Jacob Earley, a sophomore from Erie, won the one-meter and three-meter diving events.
Women's swimming and diving
Penn State Behrend 173, Pitt-Bradford 57
Camryn Watters, a freshman from Greensburg, won the 50 free (26:35) and the 200 backstroke (2:15.99) after swimming with the 400 medley relay team, which won. Lauren Stephens, a freshman from Fairview, won the one-meter and three-meter diving events.
Men's water polo
Penn State Behrend 8, Washington & Jefferson 7
Augustana 22, Penn State Behrend 5
Austin 14, Penn State Behrend 6
Penn State Behrend 13, Connecticut College 10
Eugene Kruger, a junior from Pleasanton, California, scored three goals against Washington & Jefferson. Goalkeeper Ethan Friedman, a sophomore from Valley Center, California, made 12 saves. Ryan Carpico, a junior from Skippack, scored three goals against Austin.
Wrestling
Fifth (of 10 teams) at the Tonee Ellis Memorial Tournament
Peyton Hearn, a senior from Conneaut Lake, placed second in the 157-pound weight class, winning three bouts before a loss in overtime in the championship. Brodie Little, a freshman from Falconer, New York, won four bouts by pin in the 165-pound weight class.
Women's bowling
Saint Vincent 888, Penn State Behrend 756
Penn State Behrend 690, La Roche 648
New Jersey City 793, Penn State Behrend 725
Penn State Behrend 727, Mt. Aloysius 658
Penn State Altoona 719, Penn State Behrend 718
Alvernia 883, Penn State Behrend 823
Ursuline 872, Penn State Behrend 741
Penn State Behrend 762, Pitt-Greensburg 635
The Lions finished the two-day Bobcat Baker Tournament with a total pinfall of 6,680 and an average game score of 148.4.
Scores, updates and video links for Penn State Behrend athletics are posted at psblions.com.
Contact
Robb Frederick
Assistant director, news and information, Penn State Behrend
Jill Yamma
Sports information director, Penn State Erie, The Behrend College