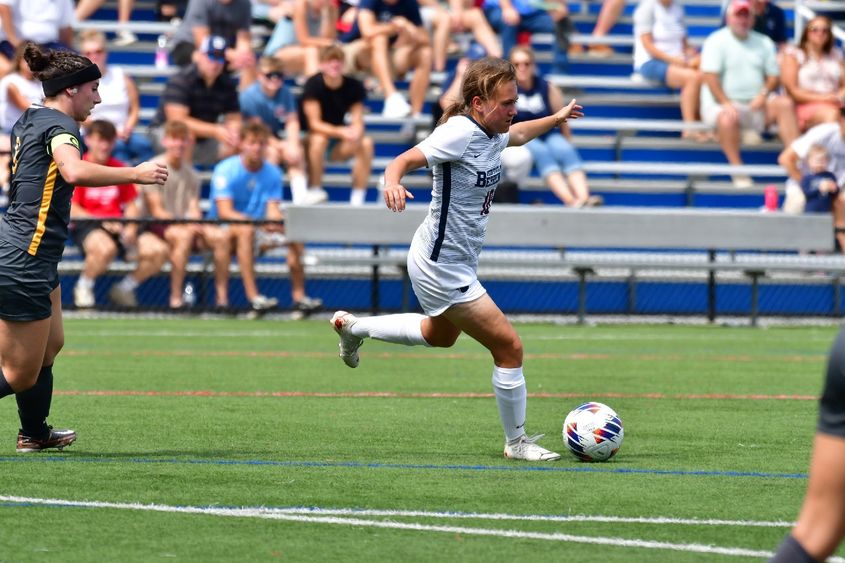 ERIE, Pa. — The Penn State Behrend women's soccer team exited the NCAA Division III tournament with a 2-1 loss to Rochester on Nov. 11. The Lions end their season with a record of 13-5-2.
Behrend's basketball, volleyball, cross country, water polo, wrestling and bowling teams also were in action last week. Here are the scores and highlights:
Men's basketball
Penn State Behrend 81, Thiel 62
Matthew McDonough, a sophomore from Pittsburgh, scored 22 points against Thiel. Tommy DiRienzo, a senior from Pittsburgh, scored 19 points and grabbed 10 rebounds.
Women's basketball
Asbury 95, Penn State Behrend 65
Alma 69, Penn State Behrend 60
Rachel Majewski, a junior from Erie, scored 21 points against Alma. Alexis Furyes, a junior from Medina, Ohio, scored 15 against Asbury.
Men's soccer
Penn State Behrend 1, Franciscan 0
The Lions outshot Franciscan, 14-8, in the second round of the Eastern College Athletic Conference championships. Goalkeeper Sam York, a senior from Akron, Ohio, made three saves.
Women's soccer
Rochester 2, Penn State Behrend 1
Maddie Haggerty, a freshman from West Seneca, New York, scored off a direct kick in the 60th minute. Goalkeeper Riley Morningstar, a sophomore from North Huntingdon, made five saves.
Women's volleyball
Alfred State 3, Penn State Behrend 0
Hannah Phillips, a senior from Pittsburgh, had 16 kills and a .371 attack percentage. She was named to the AMCC All-Tournament Team.
Men's cross country
Twelfth (of 25 teams) at the NCAA Division III Regional Championships
Kody Klein, a junior from North East, paced the Lions, finishing the 8K race in 25:28.0. He placed 26th in a field of 176 runners.
Women's cross country
Twelfth (of 20 teams) at the NCAA Division III Regional Championships
Olivia Nola, a junior from Erie, placed 31st in a field of 145 runners. She finished the 6K race in 22:45.1.
Men's water polo
Gannon 24, Penn State Behrend 17
Mercyhurst 12, Penn State Behrend 11
Eli Anderson, a senior from Encinitas, California, scored five goals against Gannon. Eugene Kruger, a junior from Pleasanton, California, scored four.
Wrestling
Eighth (of 17 teams) at the Washington & Jefferson Invitational
Penn State Behrend 26, Pitt-Bradford 13
Matthew Caldwell, a freshman from Wheatfield, New York, won by pin in the 197-pound bout against Pitt-Bradford. Peyton Hearn, a senior from Conneaut Lake, won by technical fall in the 157-pound bout. He finished with a score of 18-1.
Women's bowling
Hilbert 754, Penn State Behrend 751
Roberts Wesleyan 851, Penn State Behrend 820
Saint Vincent 797, Penn State Behrend 764
Penn State Behrend 731, Pitt-Greensburg 706
Mercyhurst 858, Penn State Behrend 715
Penn State Behrend 747, Ursuline 735
D'Youville 884, Penn State Behrend 810
Penn State Behrend 690, Baldwin Wallace 688
Daemen 818, Penn State Behrend 771
William Smith 923, Penn State Behrend 803
Bella Pilyih, a senior from Pittsburgh, led the Lions at the Daemen Storm Fall Classic, finishing with an average score of 174.40 in the traditional matches. She placed 17th in a field of 76 bowlers.
Scores, updates and video links for Penn State Behrend athletics are posted at psblions.com.
Contact
Robb Frederick
Assistant director, news and information, Penn State Behrend
Jill Yamma
Sports information director, Penn State Erie, The Behrend College