Welcome to Penn State Behrend's 2020 Spring Commencement.
Friday, May 8, 2020
6:30 p.m.
Erie Insurance Arena
Candidates for graduation should report by 5:15 p.m. There is no limit to the number of guests, and no tickets are needed.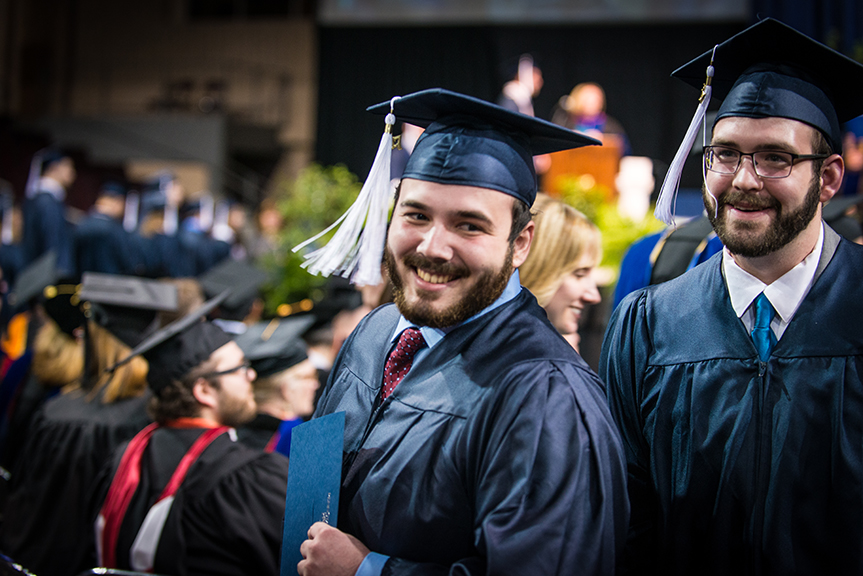 Information for Candidates for Graduation
If you are planning to graduate from Penn State Behrend it is necessary to take the following steps:
Declare Your Intent to Graduate It is your responsibility to notify the University of your intent to graduate (See Policy 86-00). You must declare your intent to graduate by using the "Graduating This Semester" application on LionPATH. The Intent to Graduate Activation Period is listed on the Academic Calendar for each semester. If you miss the activation deadline for your intended semester of graduation, you must contact the Registrar's Office in Metzgar Center.
Ceremony Registration Candidates planning to attend the ceremony need to confirm their participation with the Registrar's Office at the Graduation Fair that will be held in March for the spring ceremony and in October for the fall ceremony. If you miss the Graduation Fair, please contact the Registrar's Office as soon as possible at 814-898-6104.

Are you a student who has not yet met the graduation requirements for their major, but wants to participate in a commencement ceremony at Behrend? Complete the Petition for Participation in Commencement Ceremony (PDF) | (Word) and return it to the Registrar's Office. (The deadline for permission to walk is the late drop deadline.)
Are you a student at another Penn State campus who wants to participate in commencement at Behrend? Refer to the Alternate Commencement Site for information.

Meet With Your Adviser Use LionPATH to request a current degree audit and review it with your academic adviser. You should meet with your adviser each semester. This will ensure that you are on track to meet all degree requirements. If you are missing courses, credits, or grade requirements, you will not be able to graduate. You cannot graduate with missing or deferred grades.
Transfer Your Credits It is preferable to avoid taking classes at another institution during your intended semester of graduation. If you do, you must ensure that Penn State receives your official transcript with the grades on time. If courses are not posted to your transcript on time, graduation will be postponed to the following semester. Be sure to use the Penn State transfer articulation tool to verify how transfer credits will be used on your degree audit.
Academic Dress Undergraduate academic regalia consists of blue gowns with wide sleeves and blue mortarboard caps with tassels. Graduate regalia is distinguished from the undergraduate regalia by black gowns with pointed sleeves and a hood. The uniform of the armed forces is the only other apparel officially recognized and permitted at commencement. Undergraduate academic regalia is available for purchase at the Behrend bookstore and at the Graduation Fairs that precede each ceremony. Gowns are available in regular and plus sizes. Please check your regalia for accuracy, quality, and fit before the day of the ceremony so that it can be exchanged, if needed. Graduate academic regalia is available for purchase online before April 2, 2020 (after April 2, please call the Behrend Bookstore at 814-898-6236).
Properly Wearing Academic Regalia Candidates for the baccalaureate and associate degrees should wear the tassel of the cap on the right front edge. Candidates must wear a gown and a cap with a tassel.The gown must be zipped in order to participate in the processional and ceremony.
Master's Hoods Candidates for a master's degree should carry their hood in the processional and bring it with them to the stage. Your hood will be placed on your shoulders by the Associate Dean for Graduate Studies. Master's hoods are available for purchase online before April 2, 2020 (after April 2, please call the Behrend Bookstore at 814-898-6236).
Photography Lifetouch Photography will take photos of the candidates during the ceremony. To contact Lifetouch visit events.lifetouch.com or call 814-825-1800.
Rings and Announcement Cards During the Graduation Fair, students may purchase class rings and personalized commencement announcement cards. For more information, please contact the bookstore at 814-898-6236.
Check Your Address You will be receiving important graduation information in the mail, so it is important that your address is up to date. You can check your address on LionPATH. Make sure that both your local and permanent addresses are correct.
Diplomas

If you wish to change the way your name will appear on your diploma, you should file a request for a name change promptly through the Registrar's Office. You also can obtain more information about name changes during the Graduation Fair. All diplomas will be mailed from University Park to your permanent residence address approximately three to four weeks after the commencement ceremony. If your diploma was damaged in the mail, please return it to the Registrar's Office at University Park with a note saying it was damaged. After the damaged diploma is received, a new one will be sent at no charge.
Information for Guests
Photography To commemorate this milestone occasion, a professional photograph is taken of each graduate. Prior to commencement, a mailing will be sent that details this arrangement, including how to place an order. To avoid congestion and to maintain decorum in the ceremony, we ask that family and friends refrain from approaching the stage when taking pictures or using a video camera.
Parking

Spring ceremony parking Free parking will be offered after 5:00 p.m. in the Erie Insurance ramp at 124 East 8th St., directly across the street from the arena. (Please note that the Erie Insurance ramp will close one hour after the ceremony ends.) Additional paid ramp and street parking is available throughout downtown. We suggest that guests arrive no later than one-half hour before the ceremony. Additional information will be sent home in April.
Fall ceremony parking Free parking is available at Junker Center and surrounding campus lots.

Travel and Accommodations This site includes information about transportation, directions to Behrend, and nearby hotels.
For More Information
If you have any questions, please contact the Registrar's Office at 814-898-6104 or email REGBD@psu.edu.