Mary Behrend Monument Walk Paver Information
Celebrate your connection to Penn State Behrend with an inscribed paver at the Mary Behrend Monument Walk. Recognize your graduation year, fraternity or sorority, club, team, marriage, or the special Penn State student in your life.
The Mary Behrend Monument Walk honors Mary Behrend and the donation of her family's Glenhill Farm estate to Penn State. The monument is a nine-foot granite obelisk surrounded by benches, trees, gardens, and an inscribed-paver walkway that the college's alumni and friends have embraced to commemorate important dates, relationships, memories, and people connected to Behrend and to Penn State. The monument was installed on campus in fall 2015 and is located next to what was once Mary's painting studio, now the college's Studio Theatre.
In celebration of Behrend's 75th anniversary, pavers have been discounted from $150 to only $75. Celebrate your legacy while celebrating Behrend's 75 years.
For your $75 tax-deductible gift, you receive an installed paver at the Mary Behrend Monument with a custom inscription.
All inscriptions are centered in capital letters (except for names that include a small "c," such as McGarvey).
An inscription can be up to three lines, with a maximum of fourteen characters per line.
Spaces and punctuation count as characters.
Greek letters and any symbols that appear on the keyboard can be used.
A heart symbol also can be included but counts as three characters.
Your tax-deductible contribution to the college will be acknowledged with a receipt. Order by June 30, 2024, to have your paver installed in the fall of 2024. Installation of the pavers takes place annually in late summer/early fall.
When ordering, please add a paver to your cart using the plus sign at the top of the form.
For questions, please call 814-898-6367. If interested in ordering by check, please email Kristen Comstock at [email protected] for an order form.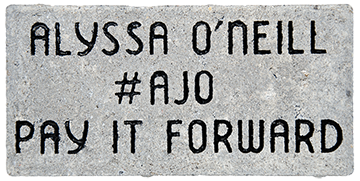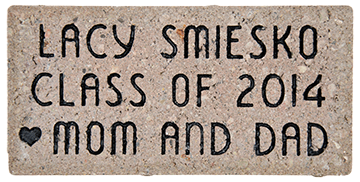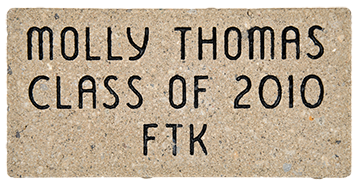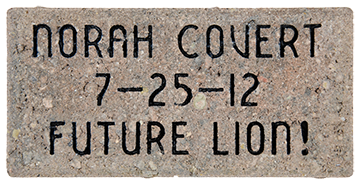 Inscriptions cannot include commercial messages. Discriminatory or inappropriate messages that refer to an individual's or group's sex, race, color, religious creed, national origin, age, or physical disability are not permitted. Penn State Behrend reserves the right to deny any paver purchase application that it deems inappropriate.