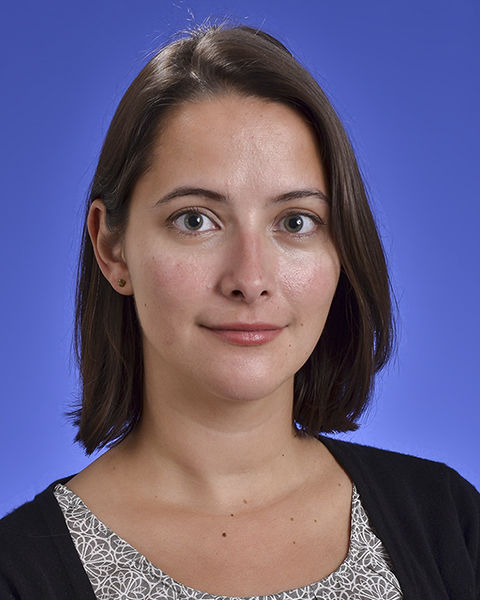 Assistant Professor, Mechanical Engineering

Mailing Address:
AMIC BUILDING
5350 TECHNOLOGY DRIVE
ERIE PA 16510
Biography

Dr. Charlotte Marr de Vries is an Assistant Professor of Mechanical Engineering at Penn State Behrend. She received her B.S. in Mechanical Engineering from the University of Massachusetts in 2009. She received her M.S. (2013) and Ph.D. (2014) in Mechanical Engineering from the Pennsylvania State University.

---

Teaching

ME 345W: Instrumentation, Measurement, and Statistics
ME 357: System Dynamics

---

Research

Dr. de Vries's research interests lie in design methodology, specifically medical design and design for human variability (DfHV). DfHV promotes the design of artifacts, tasks, and environments that are accessible, safe, and economical for users of all demographics. Her doctoral dissertation focused on quantifying the variability of scapula in order to model changes in shape due to the effects of osteoarthritis. This model aims to provide surgeons and implant designers with suggestions to improve surgical outcomes.

---

Service

Member of American Society of Mechanical Engineers from 2009

Member of the ASME International Design Engineering Technical Conferences (IDETC) Broadening Participation Workshop Committee from 2013

Reviewer for Journal of Mechanical Design.
Research Interests

Engineering Design Process, Prototyping, Scholarship of Teaching and Learning, Human centered design, Design for Human Variability, Glenoid deformation due to osteoarthritis,
Publications

Teaming Tribulations: A Design Course Simulation Game - June 25, 2023


Universal Design Analysis for Improving the Usability of Fused Filament Fabrication 3D Printers - August 14, 2022
Collaborators: Rebecca Grey, Primary Author; Swapnil Sinha, Co-Author

Evaluating the Effectiveness of a Statics Recitation Course - June 27, 2022
Collaborator: Brian Lani

Evaluating the Effectiveness of a Statics Recitation Course (Work in Progress) - June 29, 2021
Collaborator: Brian Lani

Using 3D Printing to Teach Design and Manufacturing Principles - November 1, 2020
Collaborators: Andrew Valentine; Mariea Sargent ; Faisal Aqlan

Broadening Participation: Over Ten Years of Outreach within the IDETC-DED Community - August 16, 2020
Collaborators: Kate Fu, Co-Author; Elizabeth Starkey, Co-Author; Christine Toh, Co-Author; Nicole Damen, Co-Author; Shraddha Joshi, Co-Author; Brian Sylcott, Co-Author; Kathryn Jacobson, Co-Author

Development of a Mentorship Program between Upper-class and First Year Engineering Students through 3D printing - June 22, 2020
Collaborators: Jill Johnson; Brian Lani

Prototyping a prototype-based project with minimal equipment requirements - July 29, 2019
Collaborators: Qi Dunsworth, Co-Author; Dean Lewis

Making it for Real: Redesign of a First-Year Engineering Project - October 6, 2018
Collaborator: Qi Dunsworth, Co-Author

Using LEGO Kits to Teach Higher-Level Problem Solving Skills in System Dynamics: A Case Study, Advances in Engineering Education - April, 2018
Collaborators: Yi Wu, Co-Author; Qi Dunsworth, Co-Author

Modeling the Variability of Glenoid Geometry in Intact and Osteoarthritic Shoulders, Journal of Mechanical Design - November 1, 2017
Collaborator: Matthew Parkinson

Integrating an Effective Freshman Seminar Experience into a First Year Engineering Design Course - August, 2017
Collaborators: Paul Lynch, Co-Author; Dean Lewis, Co-Author

Limit Biofilm Build-Up in the UPA through the use of Predatory Bacteria - August, 2017


Engagement in Practice: A Process for Creating a New "Council's Own" Junior Girl Scout Badge in Mechanical Engineering - July, 2017
Collaborators: Morgan Stewart, Co-Author; Katherine Fu, Co-Author; Laura Jacobson, Co-Author; Jacquelyn Nagel, Co-Author; Kathy Jacobson, Co-Author; Allison Hughes, Co-Author

Enhance Hands-on Experience of System and Control Using Low Cost LEGO Kits - October, 2016
Collaborators: Yi Wu; Oladipo Onipede; Melanie Ford

Modeling the Variability of Glenoid Geometry in Intact Shoulders - August 21, 2016
Collaborator: Matthew Parkinson, Co-Author

Using LEGO MINDSTORMS in a Control Systems Lab to impact next generation engineers - June 17, 2015
Collaborators: Yi Wu, Co-Author; Melanie Ford, Co-Author; Oladipo Onipede, Co-Author

Teaching Concept Generation to Undergraduate Students within the Time Constraints of a Capstone Course - June 14, 2015
Collaborators: Shraddha Sangelkar, Co-Author; Omar Ashour, Co-Author; William Lasher

Identifying Glenoid Geometries Through Radial Basis Functions for Implant Design - August 17, 2014
Collaborator: Matthew Parkinson, Co-Author

Limiting Disproportionate Disaccommodation in Design for Human Variability, Ergonomics - January 2, 2014
Collaborator: Matthew Parkinson

A Comparison of Design for Human Variability Strategies in Seating Requirements of Anthropometrically Diverse Populations - August 19, 2013
Collaborators: Gregory Roach, Co-Author; Matthew Parkinson, Co-Author

Considering Secular and Demographic Trends in Designing Long Lifetime Products for Target User Populations, Journal of Mechanical Design - August 1, 2011
Collaborators: Christopher Garneau , Co-Author; Gopal Nadadur, Co-Author; Matthew Parkinson, Co-Author

A Real Options-Based Approach to Designing for Changing User Populations of Long-Lifetime Products - January 1, 2011
Collaborators: Gopal Nadadur, Co-Author; Christopher Garneau, Co-Author; Matthew Parkinson

Considering Secular and Demographic Trends in Designing for Present and Future Populations - January 1, 2011
Collaborators: Christopher Garneau, Co-Author; Gopal Nadadur, Co-Author; Matthew Parkinson, Co-Author
Education

Ph D, Mechanical Engineering, The Pennsylvania State University

MS, Mechanical Engineering, The Pennsylvania State University

BS, Mechanical Engineering, The University of Massachusetts Amherst