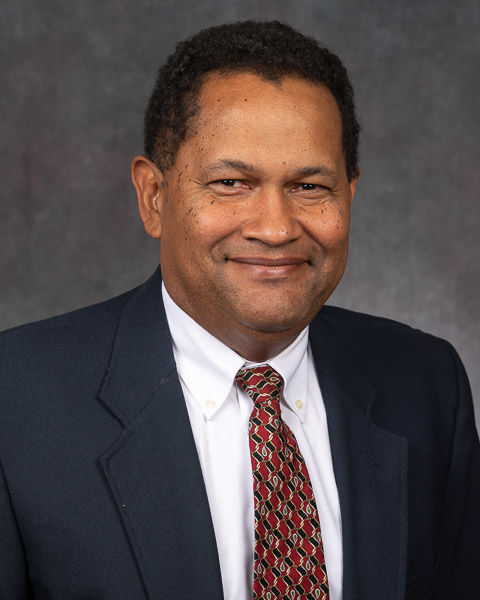 Associate Director of Academics, School of Engineering
Chair, Industrial Engineering
Academic Adviser, Functional Data Analytics
Associate Professor, Mechanical Engineering

Mailing Address:
PENN STATE BEHREND
242 BURKE CENTER
ERIE PA 16563
Biography

Dr. Oladipo Onipede is an associate professor of mechanical engineering at Penn State Behrend. He received the B.S. in Civil Engineering in 1983 from Columbia University, the M.S. in Civil Engineering from Tufts University in 1990, and the Ph.D. in Civil Engineering in 1995 from UCLA, Los Angeles. Dr. Onipede is a member of the Institute of Sound and Vibration (ISV), the Society of Automotive Engineers (SAE), the American Society for Engineering Education (ASEE), the American Society of Mechanical Engineers (ASME), Tau Beta Pi, and the American Institute of Aeronautics and Astronautics (AIAA). Dr. Onipede was the recipient of the Chancellor's Fellowship at UCLA from 1990-1994, the recipient of the General Electric Graduate Fellowship in 1994. And was selected to participate in the Minority Faculty Development, four-day Workshop in Arlington Virginia, sponsored by the National Science Foundation for tenure track engineering faculty from July 30-August 2, 2002.

Dr. Onipede began his career in industry in 1983 and then went back to graduate school in 1989 to finish his civil engineering education working as a research assistant, graduate student assistant, graduate student fellow and an assistant professor of Mechanical Engineering at the University of Pittsburgh. Dr. Onipede started at Penn State Behrend in 2003.

---

Teaching

Courses Taught

Advanced Strength of Materials
Instrumentation, Measurement and Statistics Laboratory
Introduction to Engineering Design
Machine Design
Machine Dynamics
Materials Lab
Mechanical Design Projects
Numerical Methods
Statics
Strength of Materials
Vibrations

Dr. Onipede is also the coordinator for the Senior Design projects in the Spring semester.

Teaching Narrative

University teaching is going through a transition period, especially at the undergraduate level in engineering. One of the motivating forces driving this change is a desire to improve engineering education by making it more applied, relevant, broader and overall more interesting to students. The overall goal is not just to prepare students for an engineering career, but to prepare them to be part of a changing work environment that is technically and culturally diverse. There is also a major interest in increasing student retention and in attracting more women and minorities into engineering programs. These objectives can only be achieved if the engineering education environment evolves to embrace these objectives. I try to keep these issues at the core of my teaching objectives and philosophy. My primary objective as a teacher is to ensure that students learn both the quantitative and qualitative aspects of the subject. This includes both a conceptual understanding of the material and an ability to solve relevant problems. As a secondary goal, I try to give the students an appreciation of the topic, by relating it to particular areas of engineering, science, technology and society in general. To achieve my objectives, the two most important goals for me are what topics and skills do I want the students to learn, and how can I get them to learn these topics and skills. The "what" part of my goals involves close scrutiny of the subject being taught and evaluation of the importance and relevance of each topic and skill to the overall objectives of the course, as well as to the stated Mechanical Engineering program objectives. This may involve putting more emphasis on basic, critical and important topics and deemphasizing or eliminating other topics that are not as crucial. I am a strong believer in objectively assessing and evaluating course outcomes and topics to get a clear measure of what the students learned. The "how" part of my goals is the more challenging aspect because this very much depends on the style of the instructor, the type of course and the particular student body. This involves lecture style, class structure, types and numbers of exams or quizzes, and the general interaction between teacher and students. Sometimes the teacher has to act like a coach and other times the teacher has to be a tutor to individual students. I believe it is important as a teacher to inspire and encourage students, but I also believe that the most effective way to motivate students is through a success based approach. When students feel they are learning and demonstrate what they have leaned (through exams, quizzes, projects, etc.), this motivates them to learn more and value what they have learned. I do not always fully achieve my teaching goals in all my classes but I do strive to become a more effective and successful teacher. I try to keep an open mind towards various teaching approaches and I have explored several methodologies to shape my teaching style. I have embraced concepts such as active learning, technology usage and mastery learning and I continue to explore new methods and approaches to become a more effective teacher. Some of these ideas I developed after discussions with other faculty, reading articles on teaching and education, and participating in teaching workshops and conferences.

I have a keen interest in developing and improving engineering education and I feel Behrend is an ideal place to pursue this interest. Education research is a growing and developing research field in Engineering. It is becoming more important and gaining stature within the Engineering community. No longer will Engineering teachers be able to just teach what and how they want, we will be expected to show that our methods work. We will need to clearly show that our students are learning the topics and achieving course/program outcomes that we state. We will also need to look for ways to continue to refine the topics and outcomes and improve on achieving them. Some of this is already in place, but I believe that eventually our teaching objectives, styles and methods will be heavily influenced by education research outcomes.

---

Research

Research projects completed

Marangoni, R., Onipede, O., and Smolinski, P. [Co-Investigators], Springback in Sheet Steels/Cooling Patterns of Roll Coiled Steel Sheets, US Steel Research Center, $90,000, September 2001-August 2004.
Thompson, J. A., Mueller, J., Onipede, O., and Naples, D. L. [Co-Principal Investigators], Research Experiences for Undergraduates in Physics-Focus on Minorities and Women, National Science Foundation, $199,032, May 2000-April 2003.

Research statement

My research focus has been in the area of computational structural mechanics, with a particular emphasis on structural vibrations, composite materials, smart materials, and coupled field problems. My interest in this area developed in graduate school where I found it fascinating how the structural and mechanical behavior of structural materials can be modeled using physics and mathematics and then solved numerically using a computer. The overall goal of my research is to obtain a better understanding and insight into the coupled structural behavior and characteristics of structural and mechanical systems. Working with large complex engineering models and theories has given me a better insight and appreciation of the simpler mathematical models and theories used in engineering classes. I also feel my research has helped me develop a better appreciation of future trends in engineering and science. Some of the current research topics I am involved in are:

A. Investigation into actively twisted beams using shape memory alloy (SMA) wires

The goal is to make an airfoil section (a wing) twist into a shape that will optimize the lift and/or drag characteristics. This is an applied research project with some unique innovations and several potential applications in Aerodynamic structures. I am collaborating with another Mechanical Engineering faculty member, and have worked with several undergraduate students on this topic. This research involves wind tunnel testing, aerodynamic analysis and finite element analysis. SMA are unique materials that can undergo a phase transformation (by heating) that can result in a significant "pull" force. The challenges still involved with this research are to develop twist patterns that significantly improve lift in an airfoil section while maintaining stability.

B. Coupled field finite element analysis techniques

This is an area of research that involves modeling and analyzing coupled electrostatic-structural systems. The coupling occurs in Microelectromechanical devices (MEMS) such as microbeams and combdrives. I am collaborating with another Mechanical Engineering faculty member, engineers at ANSYS Inc. and several Behrend undergraduate students. Traditionally these two fields have been studied independently by electrical and mechanical engineers respectively. We have investigated the structural stability and vibratory response of these systems and developed fully coupled models for use in finite element analysis.

---

Service

Program

Universal Course Abbreviation Committee (UCA), Member, 2005-2006
Faculty Search Committee, Mechanical Engineering, Member, 2003
ABET

School

School of Engineering, Director Search Committee, Member, 9/2004-2/2005
Recruiting and Retention Committee, Member, 2003-present
Women in Engineering Day, Co-Chair, organization committee for "Women in Engineering Day" held in co-operation with Northwest Pennsylvania Collegiate Academy (City of Erie School District), 2006 and 2007.

College

Center for Teaching and Educational Technologies Advisory Board, Member, 2006-present
Undergraduate Studies Committee, Member, 2005-present
Child Care Committee, Member, 2004-present
NSF-STEM grant faculty mentor
Member of Graduate Committee, Mechanical Engineering Department, University of Pittsburgh, Pittsburgh, PA, 2000-2003.
National Society of Black Engineers (NSBE), Behrend student chapter, Faculty adviser, 2005 to present

Service to the Profession

Reviewer for ASME (Journals and conferences), ASEE conference
Member of ASEE – MIND (minorities in Engineering Division) and Mechanics Division
Fellow and an assistant professor of Mechanical Engineering at the University of Pittsburgh.
Research Interests

Structural Dynamics, Coupled field problems
Publications

A Consistent Approach to Problem Solving in Mechanical Vibrations - November 9, 2018
Collaborators: Amir Danesh-Yazdi, Author; Yi Wu, Author

Business & engineering education: A multiple stakeholder perspective - October 15, 2016


Enhance hands on experience of system and control using low cost LEGO kits - October 12, 2016


A Program to Increase Female Engineering and Science Enrollments through NSF STEM Scholarships, 2012 Frontiers in Education Conference (Soaring to New Heights in Engineering Education) - October, 2012
Collaborators: Ralph Ford; Jane Brady; Michael Byrne; Barbara Gunnison; Ruth Pflueger; Andrew Watters

Effect of dielectric layer on the response times of electrostatic MEMS switches, Proceedings, SPIE Conference Symposium on Micro- and Nanotechnology Sensors, Systems, and Applications III - May, 2011
Collaborators: Sudarshan Nelatury; Robert Gray

Evolution of a System Dynamic Course at Penn State Behrend, 40th Annual Frontiers in Education Conference - October, 2010
Collaborator: Yi Wu

Estimating the Response Time of Electrostatic MEMS Switches, Proceedings, 16th U.S. National Congress of Theoretical and Applied - June, 2010
Collaborators: Sudarshan Nelatury; Robert Gray

Studies on the Iteration Methods for Estimating the Pull-in Parameters of Electrostatic Actuators, SPIE Defense Security & Sensing Conference - April, 2009
Collaborators: Sudarshan Nelatury; Robert Gray

Work in progress – Assessing the un-assessable, Proceedings, ASEE/IEEE Frontiers in Education Conference, Session T1A - 2008
Collaborators: William Lasher, Author; Russell Warley

Work in progress: Developing and maintaining problem solving skills and concepts in statics and thermodynamics, Frontiers in Education Conference - October, 2007
Collaborator: Russell Warley, Primary Author

Effect of Penetrator Size on Dynamic Failure Response of Woven Graphite Epoxy Composites around the Critical Perforation Energy, Journal of ASTM International - April, 2007
Collaborators: O Ojo, Co-Author; Sylvanus Wosu, Co-Author; William Slaughter

Rethinking exams to motivate students, 26th Annual Lilly Conference on College Teaching - November, 2006
Collaborator: Russell Warley

Vibration of micro beams and plates in electrostatic fields, Proceedings, 7th World Congress on Computational Mechanics - July, 2006
Collaborators: Amir Khalilollahi; Kevin Sunealitis

Using exams to motivate students, ASEE Annual Conference & Exposition - June, 2006
Collaborator: Russell Warley

Parametric modal study of multilayer composite electronic boards, International ANSYS Conference - May, 2006
Collaborators: Amir Khalilollahi; Russell Warley

Investigation of springback in high strength anisotropic steels, Journal of Material Processing Technology - 2005
Collaborators: C Gomes; M Lovell

The aerodynamics of an actively twisted wing, 2005 ASME International Mechanical Engineering Congress and Exposition - November, 2005
Collaborators: James Sonnenmeier, Author; A Detar; H Myers

Thermal reliability design and optimization for multilayer composite electronic boards, 2005 ASME International Mechanical Engineering Congress and Exposition - November, 2005
Collaborators: Amir Khalilollahi; Russell Warley

Vibrational characteristics of micro beams, 2005 ASME International Mechanical Engineering Congress and Exposition - November, 2005
Collaborators: I Andeev; Amir Khalilollahi, Co-Author; L Buziewicz

Modeling of electrostatic combdrive fingers, Eighth US National Congress on Computational Mechanics (USNCNM) - July, 2005
Collaborators: L Buziewicz; I Andeev

Stress evaluation of composite springs using dynamical state-space modeling, Eleventh Annual International Conference on Composites/Nano Engineering - August, 2004
Collaborator: Amir Khalilollahi

Stress response of a vibrating thick/sandwich beams using a reduced dynamic model, Eleventh Annual International Conference on Composites/Nano Engineering - August, 2004
Collaborator: Amir Khalilollahi

Study of misaligned lateral combdrive static actuators, Technical Proceedings of the 2003 Nanotechnology Conference and Trade Show - 2003
Collaborators: I Avdeev; M Lovell

Modeling in-plane misalignments in lateral combdrive transducers, Journal of Micromechanics and Microengineering - 2003
Collaborators: I Andeev; M Lovell

Strongly coupled 3-D finite element formulation for modeling microdevices with dominant fringing fields, Seventh United States National Congress on Computational Mechanics - July, 2003
Collaborators: I Andeev; M Gyimesi; M Lovell

Design and simulation of microelectromechanical transducer using uncoupled finite element models, Proceedings, International Society for Optical Engineering, Fifth International Workshop on New Approaches to High-Tech: Nondestructive Testing and Computer Simulations in Science and Engineering - 2002
Collaborators: I Avdeev; M Lovell

Mixed 2D and beam formulation for modeling sandwich structures, International Journal for Computer-Aided Engineering and Software - 2002
Collaborators: I Andeev; A Borovkov; O Kiylo; M Lovell

Modeling the collapse of coiled material, Finite Elements in Design and Analysis - 2002
Collaborators: P Smolinski; C Miller; R Marangoni

Design and simulation of microelectromechanical transducers using coupled/uncoupled finite element models, Fifth International Workshop on Nondestructive Testing and Computer Science and Engineering, The St. Petersburg Academy of Sciences on Strength Problems, Physics and Mechanics Faculty - 2001
Collaborators: I Andeev; L Lovell

Finite element modeling of smart composite plates reinforced by NiTi shape memory alloy wires, Proceedings, International Society for Optical Engineering, Fourth International Workshop on Nondestructive Testing and Computer Simulations in Science and Engineering - 2001
Collaborators: I Avdeev; G Sterlacci

Analysis of springback using a simulation and experimental design, Transactions of NAMRI/SME - 2001
Collaborators: C Gomes; M Lovell; B Norman; J Rajargopal

Computational and experimental dynamics project for an integrated engineering curriculum, Computer Applications in Engineering Education - 2001
Collaborators: P Smolinski; R Hake; M Miller

Beam model for simulation of electromechanical transducers using strong coupling approach, Sixth United States National Congress on Computational Mechanics - July, 2001
Collaborators: I Andeev; M Lovell

Finite element modeling of smart composite plates reinforced by NiTi shaped memory alloy wires, Fourth International Workshop on New Approaches to High-Tech: Nondestructive Testing and Computer Science and Engineering, The St. Petersburg Academy of Sciences on Strength Problems, Physics and Mechanics Faculty - June, 2000
Collaborators: I Andeev; G Sterlacci

Simulation of cold roll forming of steel panels, Sixth International LS-DYNA Users Conference - Simulation 2000 - April, 2000
Collaborator: F Jan

Springback in high strength anisotropic steels, Sixth International LS-DYNA Users Conference - Simulation 2000 - April, 2000
Collaborator: C Gomes

Large twisting of beams using shape memory alloy wire, International Society for Optical Engineering, Seventh International Symposium on Smart Structures and Materials 2000, Smart Structures and Integrated Systems Conference - March, 2000
Collaborator: G Sterlacci

Springback in high strength steels, Fifth International Congress on Numerical Methods in Engineering and Applied Sciences (CIMENICS) - March, 2000
Collaborator: C Gomes

Vibration of pre-twisted composite plates, Fifth International Congress on Numerical Methods in Engineering and Applied Sciences - CIMENICS 2000 - March, 2000
Collaborators: C Gomes; G Sterlacci

Vibration of pre-twisted beams with various boundary conditions, Proceedings, 13th ASCE Engineering Mechanics Conference - June, 1999
Collaborator: G Sterlacci

Twisting and bending of pretwisted piezoelectric plates, International Society for Optical Engineering, Sixth Annual International Symposium on Smart Structures and Materials - March, 1999


Three dimensional free vibration of pretwisted beams, American Institute of Aeronautics and Astronautics Journal - 1998
Collaborator: A Balhadad

Deformation mechanics in cold-roll-formed wide profiles, Fifth International LS-DYNA User's Conference - September, 1998
Collaborator: C Dong

Three-dimensional free vibration of pre-twisted composite plates, Fifth International Conference on Composites Engineering - July, 1998
Collaborator: G Sterlacci

3-Dimensional free vibration of pre-twisted beams, Fourth National Congress on Computational Mechanics - August, 1997


Propagating waves and end modes in pretwisted beams, Journal of Sound and Vibration - 1996
Collaborator: S Dong

Perturbation analysis of laminated anisotropic cylindrical shells, Third International Conference on Composites Engineering - July, 1996


Waves in pretwisted rods of arbitrary cross sections, Symposium on Numerical Methods in Structural Mechanics, ASME Summer Mechanics Conference - June, 1995


On natural vibration in pretwisted beams, Recent Developments in Finite Element Analysis, First edition - 1994
Collaborator: S Dong

Natural vibrations and waves in pretwisted rods, Composites Engineering - 1994
Collaborators: S Dong; J Kosmatka

Natural vibrations and waves in pretwisted rods, United States Army, ARO Workshop - August, 1993
Collaborators: S Dong; J Kosmatka

Selection of noisy measurement locations for error reduction in static parameter identification, American Institute of Aeronautics and Astronautics Journal - 1992
Collaborators: M Sanayei; S Babi

Perturbation analysis of laminated anisotropic shells and plates, American Institute of Aeronautics and Astronautics 33rd Structures, Structural Dynamics and Materials Conference - April, 1992


Damage assessment of structures using static test data, American Institute of Aeronautics and Astronautics Journal - 1991
Collaborator: M Sanayei
Education

Ph D, Civil Engineering, The University of California, Los Angeles

MS, Civil Engineering, Tufts University

BS, Civil Engineering, Columbia university